Hurricane Ike was a strong Category 2 storm that tracked up the Houston Ship Channel, produced storm surges up to 13 feet, flooded thousands of acres of residential and commercial properties and left behind excessive damage from its wind speeds of 110 mph. Nine years later, Hurricane Harvey changed the landscape of the area with torrential rains as a slower-moving storm and was one of the costliest in U.S. history with nearly $125 billion in damages.
Both storms exposed our region's vulnerabilities and the need to improve our structural and nonstructural flood and storm surge mitigation strategies, as well as to incorporate nature-based solutions and infiltration systems to improve our region's resiliency.
The SSPEED Center at Rice University has secured $1 million in new funding for research studies for the Galveston Bay Park Plan from the city of Houston, the Harris County Flood Control District, the Port of Houston and a private investor. The research will include barrier design, project program development, computer modeling of the park plan, and storm surge mitigation.
The Galveston Bay Park Plan envisions a regional, multifunctional facility providing storm surge protection, recreational opportunities, enhanced environmental conditions, improved operational safety for the Houston Ship Channel, and improved fish and wildlife habitats though the construction of a string of islands in the bay under permits issued by the U.S. Army Corps of Engineers. As the ship channel continues to be expanded and dredged, the materials dredged could be used to create the island barriers. The plan works in collaboration with the Coastal Spine Project.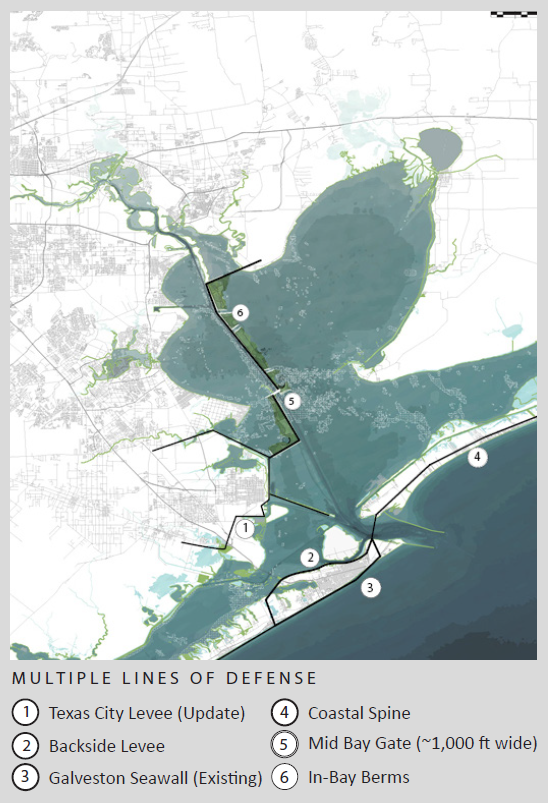 Scientific models show that the convergence of high-category storms, sea level rise and coastal development patterns will continue to enhance the already significant risks facing the ship channel. Without action, the Houston and Galveston Bay region — which is virtually unprotected — remains on the precipice of devastation. Recent legislative moves are threatening further research of this important work. With the support of public and private local leadership, we can protect and bolster the vitality, economy and health of this vibrant and important community. If our elected leadership backs away from this now, then our region's vulnerability will remain unchanged with no meaningful progress completed.
The SSPEED Center is committed to continuing discussions, presentations and community engagement events focused on this issue. The center is hosting an international conference, "Urban and Coastal Flooding: Building a Resilient Future," on Oct. 12-13. Top experts will present on a number of topics, with Q&A and panel discussions for city planners, civic leaders, academics and concerned citizens. In addition, attendees will have the opportunity to see a demonstration of temporary flooding solutions by Dutch Water Prevention.
Academic researchers will join other experts from Houston, New York and The Netherlands to discuss the latest thinking around building a flood-resilient future, implementing nature-based flood solutions and investing in flood protection. International speakers will address climate adaptation in the Dutch Delta and the European approach to flood mitigation, while Houston officials will speak to governmental flood control and watershed modeling to support water resources management. Researchers will present on advanced flood plain analysis using 2D Hydrologic Engineering Center-River Analysis System simulation software, machine learning for flood prediction and management, and advanced flood modeling for critical facilities. There will also be a special section on Houston six years after Harvey, and updates on the Galveston Bay Park Plan.
The Galveston Bay Park Plan is just one part of the conference, but it is one of the SSPEED Center's most impactful contributions to the field in terms of focused research with attainable results. Ultimately, the implementation of the plan is a tangible way we can serve the Houston and Galveston communities by protecting our infrastructure, economy and ecology from a severe storm. We hope that those who care about this region and how to best prepare for the future will join us.
Phil Bedient is the Herman and George R. Brown Professor of Civil Engineering at Rice University and the director of the SSPEED Center.
The views, information or opinions expressed in Urban Edge posts are those of the author and do not necessarily represent those of the Kinder Institute for Urban Research.