The newly-installed digital signs are positioned at 16 of METRO's most popular stops and transit centers as a part of a pilot project, according to a METRO press release. The digital displays will show transit users next-bus arrival times, route updates, safety alerts and other important notifications.
"We know technological innovations can improve the rider experience and make our system easier to use. We are evaluating these devices in a number of areas including performance, accuracy and feasibility," said Randy Frazier, METRO's chief technology officer. "Ultimately we want to find out what technology will serve our riders the best."
The displays vary in size and look - some resemble an oversized e-reader, while others look more like a large color television. The pilot project will last a little more than a month and METRO staff will gather feedback from customers about the displays. The feedback received will be presented to the METRO Board of Directors, which will decide if permanent digital display upgrades should be funded during the next budget planning cycle.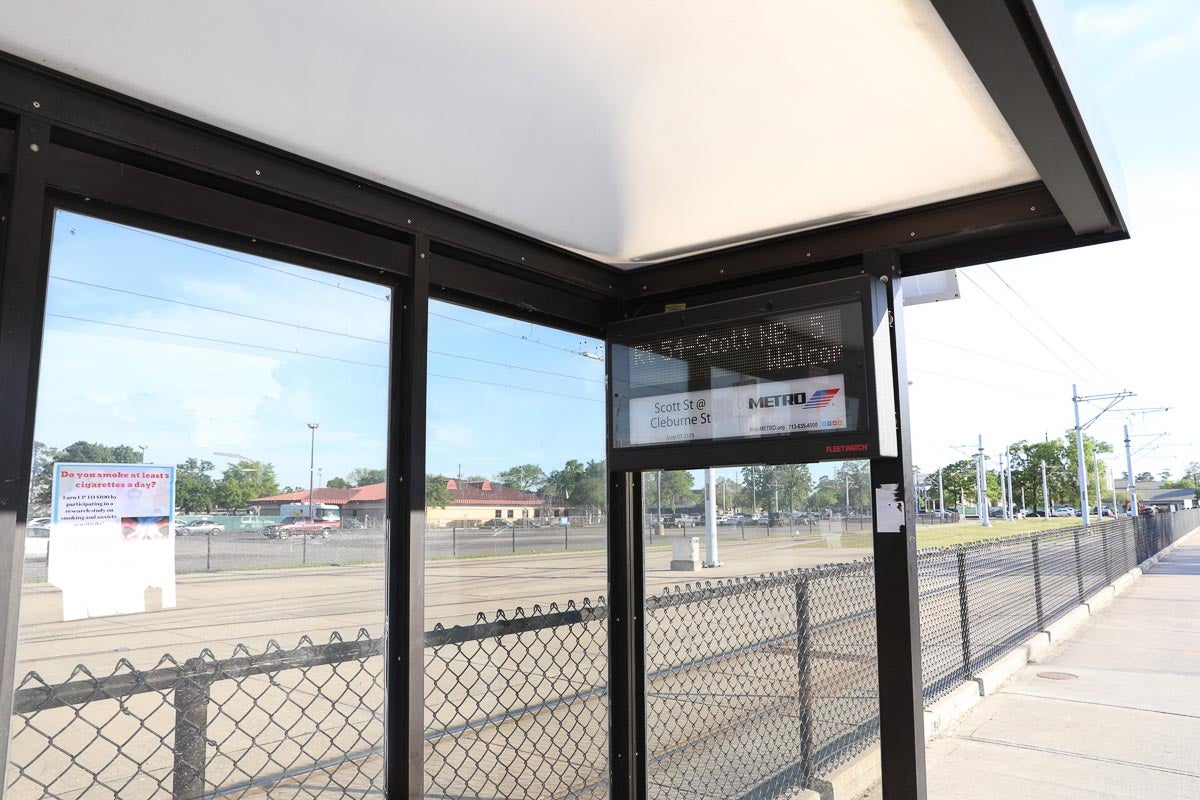 Staying ahead of technology changes and implementing them is a goal of METRO, according to Kim Williams, the chief innovation officer at METRO. On March 27, METRO sponsored a Houston Startup Demo Day through Station Houston. During the Demo Day, three startups pitched their technology and services to a judging panel, which included Williams. Investors Rakesh Agrawal and Remington Tonar and Texas Southern University Professor Carol Lewis joined Williams on the judging panel.
"We're really focused on emerging technology and ways that we can improve our service, so we see the new technology and disruption as a welcome event for us," Williams said. "We are number one at moving people, so we are looking forward to the new technology that will help us do that job even better." She also mentioned that METRO is working to put Wi-Fi on some of their fleet vehicles, too.
The first presenter for Station Houston's Demo Day was Ben Crawford with Lab 540, a tech startup aiming to produce sensors to ease critical infrastructure management of roadways and machine equipment. The sensors, engineered by Crawford, monitor "just about anything" from motors to pumps to temperature variations, among several other things.
In terms of public transportation, Crawford focused his technology's ability to monitor things like cabin temperatures in buses, driving patterns of bus drivers, mechanical issues or water levels on roads during storms. "If you know how deep the water is at that intersection, you can reroute the buses, but you can also use that data over time to better direct funds and account for capital improvements," Crawford said during his presentation.
Trevor Best of Syzygy Plasmonics and Ala Hamden of Reality Imaging and Mapping Technologies also pitched their tech startups to the judges. Best's presentation highlighted Syzygy's technology of producing hydrogen fuel as an alternative, environmentally friendly alternative to METRO buses' diesel-fueled buses. Hamden's startup, Reality IMT, uses 360-degree cameras on public transportation vehicles to analyze and measure infrastructure issues that need maintenance, such as Houston's potholes.
Though at the end of the presentations, Crawford was named the winner of the Demo Day by the panel of judges because of the direct application to the Houston area.
"We really saw the application," Williams said. "Obviously, flooding is an issue that will continue to exist in Houston and the more we can be prepared for that, the better. So we encourage you. We hope you'll continue to evolve and grow your concept even further and we look forward to seeing what you develop it into."
Williams further reiterated the importance of technology innovation for public transportation departments, especially considering Houston's impending growth.
"We're basically expecting the population of Los Angeles to land on top of the 4 million people we already have, so we've got to prepare for our guests. We have to prepare to move everyone around the region and make sure that we are a viable, productive city," Williams said.