In 2015, some 13,230 young people got summer jobs through Washington, D.C.'s summer youth employment program. Another 24,679 got jobs through a similar program in Chicago. In Detroit, 5,594 found employment through the city's jobs program.
In Houston? Only 430 youth were employed through the city's summer jobs program.
Since then, Houston has expanded the program considerably but it still has a ways to go before it matches other big cities.
"We were able to get up to 1,135 jobs last summer in 2016 but it was still grossly below the 5,000 the mayor had requested," said Juliet Stipeche, the mayor's director of education.
In 2017, that number grew to 5,238 with a goal of 10,000 youth employed in summer jobs with the city's Hire Houston Youth by 2020.
The program looked to private partners, including non-profits to help expand the job opportunities available but Stipeche said it still faces challenges when compared to other, more robust programs in other cities.
"In other cities, they have more state, local and federal dollars they can use to subsidize the youth's employment at various government jobs and a few in corporations," she explained.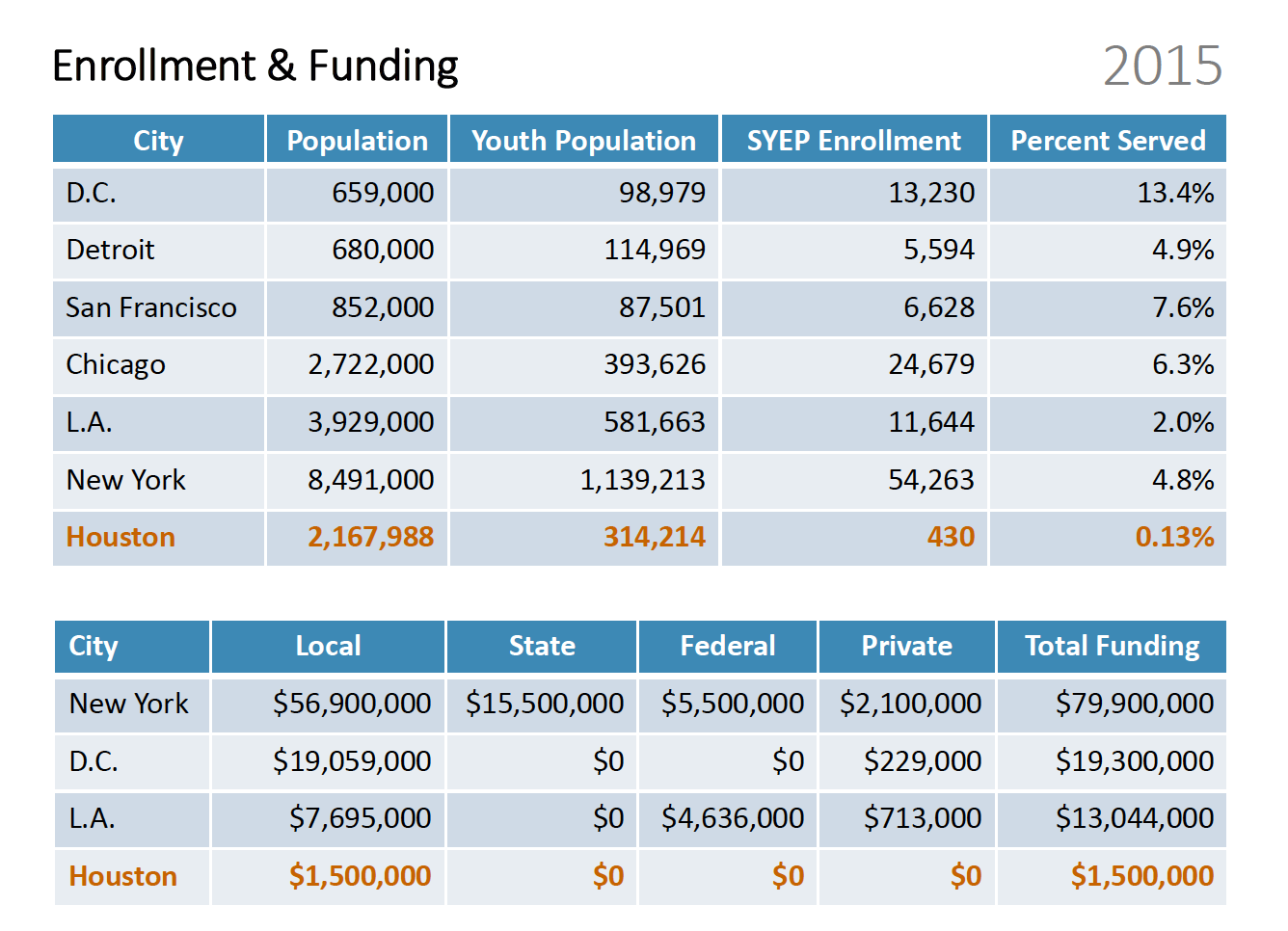 But the program has shown growth, nonetheless.
In a presentation to the city council in July, Stipeche credited the program's growth to increased funding as well as more partnerships with local businesses. In one year alone, she said, applications for the program went from more than 3,000 in 2016 to more than 9,000 in 2017.
"You can see how this program has become something that has filled a tremendous vacuum," Stipeche told the council members. She estimated the young people involved in the program were able to take home some $11 million in paychecks, a significant number when considering that almost half of the participants came from homes whose annual household incomes were below $24,600.
Summertime employment for teenagers has dropped steadily since the 1970s and 80s but, in an analysis by the Pew Research Center in 2015, found that the employment rate took specific hits after recessions in 1990-1991, 2001 and again after the Great Recession. The analysis also found that it wasn't just summer jobs that took a hit but all youth employment, though the burden was not equally shared. White teenagers were more likely than their peers to have summer jobs and indeed participants in Houston's summer youth employment program cited "skin color" as one of the barriers to getting a job in a survey of participants.

The decline, though, shouldn't necessarily be read as a lack of interest. In fact, for many young people, summer jobs offer critical income. Earning money for college and for their families were among the top five reasons Houston participants said they wanted a summer job.
"The highest areas of interest in this job program are in the areas of very high need; Sunnyside, Hiram Clarke, Fifth Ward...well they want to work and they want employment opportunities," said Stipeche.
In addition to helping connect Houston's young people to paying jobs, the program is also meant to help them set up bank accounts, learn about office-place expectations and become financially literate. The overwhelming majority of surveyed participants said they learned more about high-growth jobs and employer expectations, according to Stipeche.
"It's been very revealing in regards to the challenges that young people are facing in the city of Houston today," said Stipeche of feedback gathered from the participants. "When I see somebody say something preventing them from succeeding might be an abusive relationship, we think, 'Oh my gosh, how can we bring in other resources and supports to help with things that aren't part of the traditional jobs program?'"
Stipeche said they're also considering reaching out to and partnering with the county because some of the participants at the job fairs that offered on-the-spot hiring came from outside the city.
"We have young people as far north as Conroe and as far south as Galveston who have participated in some part of this Hire Houston Youth program," Stipeche said in her presentation.
Several council members questioned the program's demographics. Roughly two-thirds of the Houston applicants were African-American, according to the report from Stipeche, while roughly a quarter of applicants were Hispanic.
"We need to see a lot more Latinas and Latinos as part of these numbers," said council member Karla Cisneros.
"That's a problem," added council member Robert Gallegos.
Mayor Sylvester Turner pushed back. "We reached out to every community, no one was turned down based on race," Turner said, adding, "To suggest this administration was being insensitive is over the top and unfair, totally, and without basis. Our job is to reach out, to encourage people to come, to go into every community and that's exactly what we have done."
Though council member Larry Green also pushed back, saying black unemployment numbers, in particular, were "quite dismal," Stipeche said they are "working on making sure that the participation in the program is reflective of our community's diversity."
After the meeting, in a separate interview, Stipeche said, "It's something we are aware of," adding, "We all need to do a better job at promoting this program to all communities."