This post is the fourth of a series of five articles written by Rice University undergraduate students who participated in the spring semester Kinder Houston Area Survey course. Read the first, second and third post.
By the late 1990s, Houston's unflattering reputation for neglecting these quality-of-life issues pushed the business community to reform its most damaging practices and invest in the city's infrastructure in an effort to turn Houston into a healthier and more attractive urban destination. Since then, members of the business community and government entities have been able to work together to achieve significant progress in improving the city's quality of life and attracting a new generation of highly educated millennials to the region.
Hurricane Harvey brought devastating pictures of flooded streets and homes to national attention in a way that now threatens to damage Houston's image as an increasingly attractive and livable city. Local government has proposed various flood resiliency measures, which include raising taxes and imposing new restrictions on land development across the region. While business leaders have begrudgingly supported increased regulations in the past, Houston and its residents are still holding on to their reputation for being staunchly individualistic and opposed to most government regulations.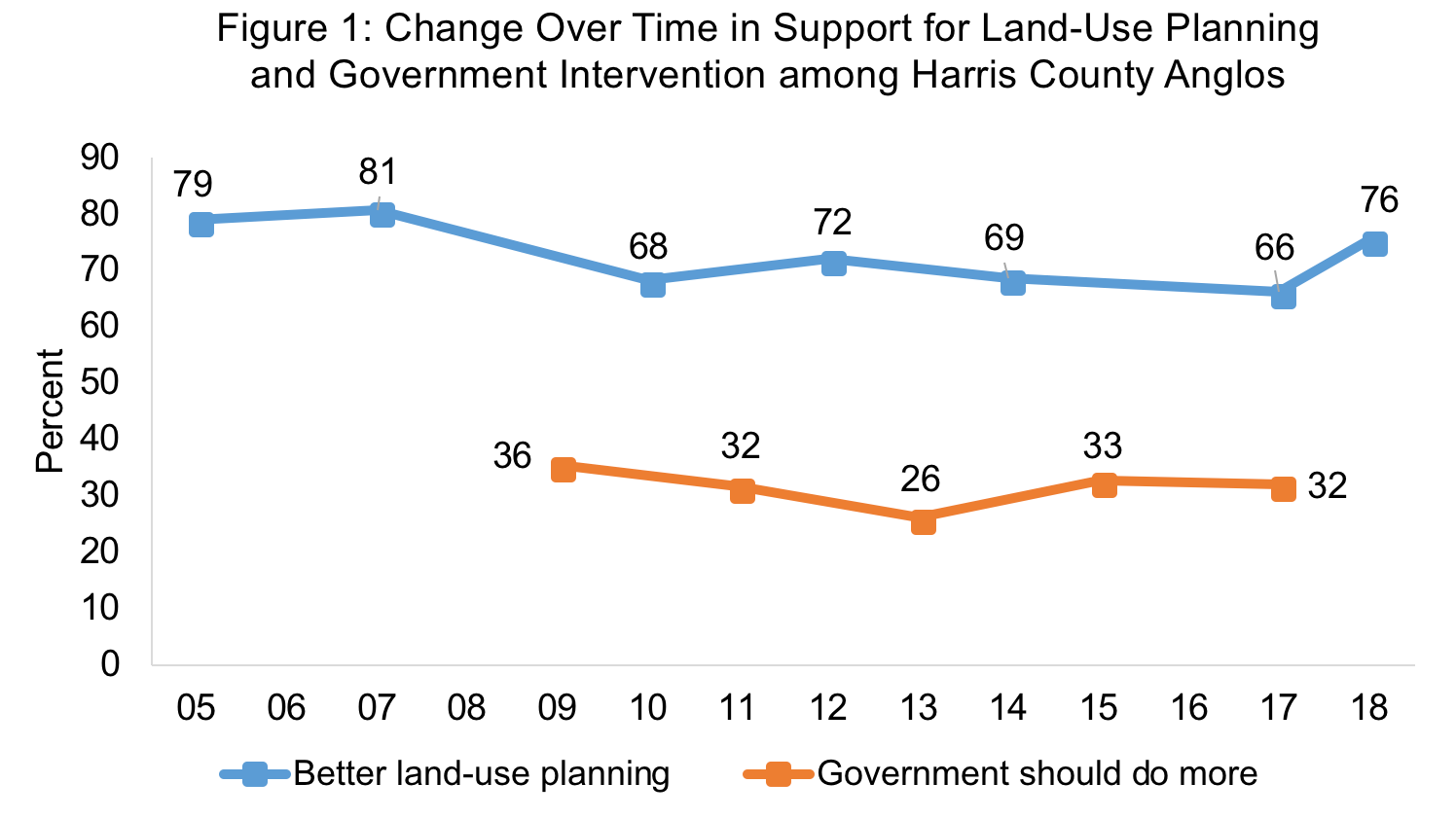 Data from this year's Kinder Houston Area Surveyindicate that Houstonians are more prepared to accept land-use regulations than historical narratives would suggest. Since at least 2005, large majorities of Anglo Houstonians have expressed strong support for more land-use planning (see Figure 1). After Harvey, the 2018 survey found an increase of ten percentage points from the previous year in area residents' support for more land-use planning.
Houstonians are still opposed to government intervention in general. The number who agreed that "government should do more to solve our country's problems" has remained below 40 percent; but the percent agreeing increased from 26 to 32 percent between 2013 and 2017.
A variety of Harvey-related questions from this year's survey indicate that Houstonians are surprisingly open to government interventions that are explicitly designed to increase flood resilience. Over 90 percent of all area residents support requiring property owners to notify potential buyers or renters if the property being considered has flooded recently. By a majority of 55 percent, they support raising taxes to buy out more homes in flooded areas and 72 percent call for using public money to protect industries along the Ship Channel from flood surges. As indicated in Figure 2, there were no meaningful differences between Anglos and the overall Harris County population in support for these initiatives.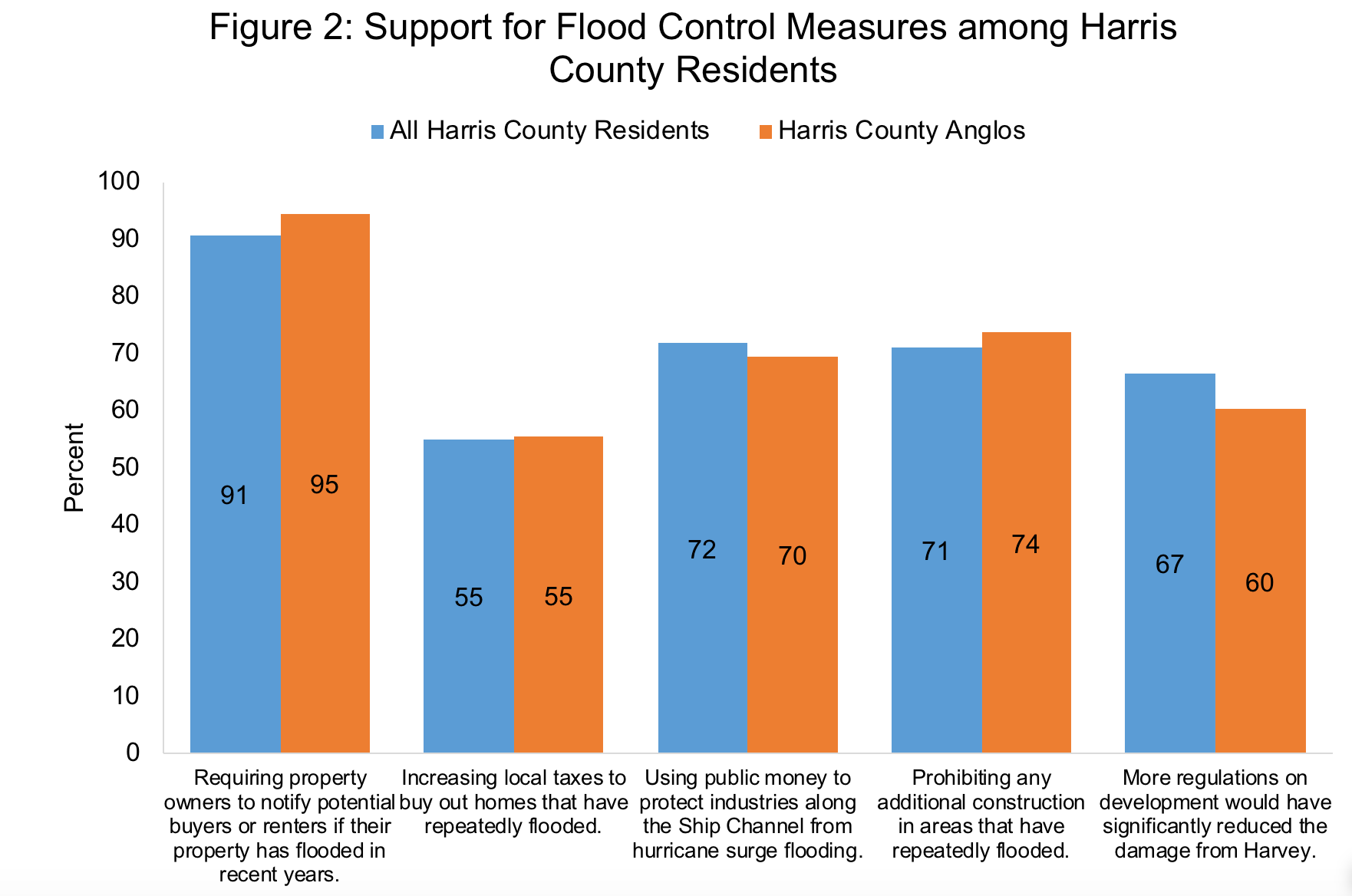 Houstonians' uncharacteristic endorsement of these policy proposals, with levels of approval far above their support for government intervention in general, suggests that Harvey may have been an historic wakeup call for area residents. The storm seems to have generated support for a more activist government, at least with regard to policies intended to mitigate the impact of future flooding. These attitude changes bode well for the city's ability to address today's challenges – but only if developers and business leaders are able to respond to these public concerns and cooperate with government entities to build a more resilient and prosperous urban region in the years ahead.