Houston looks to be on its way to becoming the country's third-largest city.
Growth in Chicago, which currently holds the title, slowed to a crawl in 2014, based on recently-released estimates from the U.S. Census Bureau.
Meanwhile in Houston, the strong population growth for which it's known continued to persist.
"It isn't possible - it's probable that Houston will grow to be the country's third largest city," said Dowell Myers, a demographer at University of Southern California.
If both cities maintain their average growth rates of the last four years, Houston would surpass Chicago as the country's third most populous by 2030.
Houston's population, which now stands at 2.23 million, increased by an average 1.59 percent over the last four years.
At the same time, Chicago's population averaged just a 0.23 percent annual increase and now stands at 2.72 million. As a result, all signs point to Space City likely eclipsing the Windy City in the population rankings.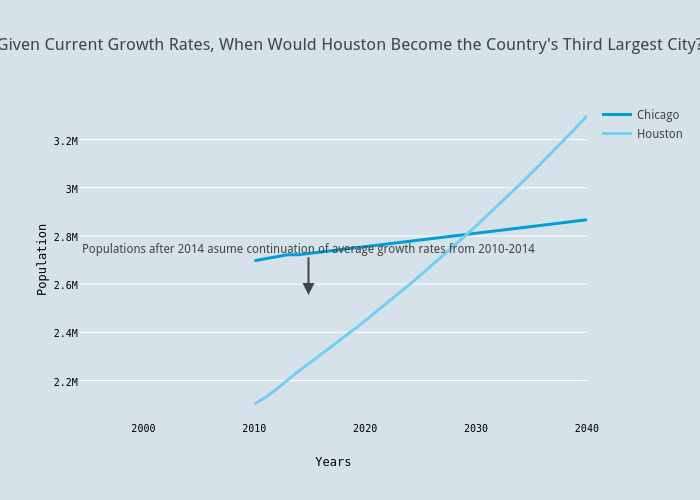 There's nothing especially scientific about assuming both cities will continue growing at their current rate. Nonetheless, Myers said there's good reason to expect Houston to surpass Chicago sometime relatively soon.
"It has the employment trajectory, and it has the land area," Myers said. "The Sun Belt cities are attracting growth because they have the land area. And because of that, they're destined to surpass the landlocked, older cities like Chicago."
The growth discrepancy between the two cities was especially stark in 2014. Chicago added just 82 people, an infinitesimal increase of 0.003 percent. Houston, meanwhile, added nearly 36,000 new residents, increasing its population by 1.6 percent.
Chicago's lack of growth relative to Houston is pretty simple, Myers said. It's got considerably less land to grow into.
Even still, there might be more to it. In Next City magazine, journalist Stephen Smith last year wrote that Chicago's population growth was slowing in part because of exclusionary zoning rules that restrict new construction in the city's sought after northern neighborhoods.
Stephen Klineberg, founding director of the Kinder Institute and architect of the Kinder Houston Area Survey, said Houstonians have been excited about the prospect of being the country's third largest city for years.
"Frankly, I'm indifferent to it," he said. "However, it's a good opportunity to remind us of how different this city is. It's a very different dynamic, and it reminds us how different this place is to those of us who are used to East Coast cities."
The best demonstration of just how different it is, he said, is the fact that the land areas of Philadelphia, Baltimore, Detroit and Chicago can all fit within the boundaries of Houston.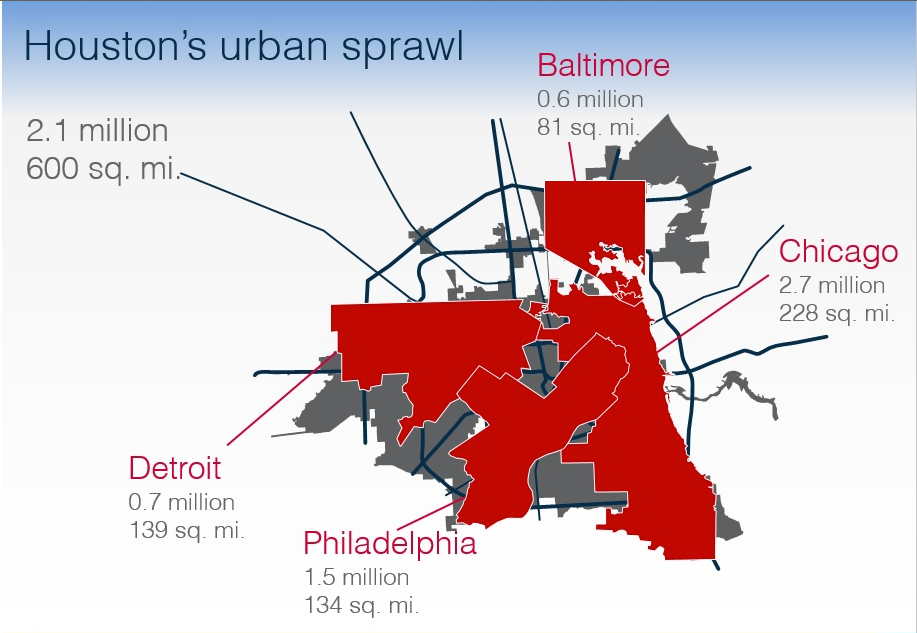 "That 600 square miles (of Houston) contains 2.2 million people," Klineberg said. "Those four other cities in the same space contain 5.5 million people. It's a true issue of density."
Since most people move around a region for jobs and housing without much concern for which jurisdiction they're in, the city-level comparison is mostly relevant as an answer to the trivia question, "what is the country's third largest city?"
More important, Klineberg and Myers both said, is the change between populations of the two metro regions.
But even in terms of their broader metro areas Houston is growing so much faster than Chicago that assuming a continuation of current trends, it too would soon surpass Chicago in total population. It would take a little longer, though.