It's the first cool week of fall in Houston and the sky has been a gloomy gray all day. But the school director from Yes Prep's Gulfton campus is preparing for a plunge into a tank of cold water.
"The principal is ready and waiting for you guys," the DJ announces over the speakers, "Principal Oscar Romano is in the dunk tank."
The charter school campus is one of almost 20 schools in a two-mile radius within the dense, diverse southwest Houston neighborhood of Gulfton and one of several that came together to participate in this year's fall festival on the grass field by St. Luke's United Methodist Church's Gethsemane campus.
"This field is St. Luke's and forever and ever it was just kind of a brown patch of dirt that kids would come and play on," explained Anne Whitlock, founding director of Connect Community, an organization partnered with the local KIPP charter school to help connect the broader community with an array of resources. "But when [the church] took over this, they made a commitment to the neighborhood that they were going to invest and one of the things that is lacking here is green space." So they cleaned up the field that now provides space for the YMCA and KIPP. "And it's also the epicenter for all the community activities that we do," said Whitlock.
The fair used to be mostly just KIPP Connect students, but this year Whitlock said, they made an effort to engage other area schools, including Jane Long Academy, Sutton Elementary School, Las Americas Newcomer School, Yes Prep and Étoile Academy Charter School. The move not only brought together students, with their array of polos and school logos, but also some of the area's traditional public schools and charter schools. After Romano finishes his turn in the dunk tank, a faculty member from Las Americas climbs into the tank.
In addition to the dunk tank, climbing wall, face painting and other fair games and activities, there are also booths from community groups like Houston Volunteer Lawyers and Legacy Community Health.
"I think a lot of people miss that information," said John Kosova, a member of St. Luke's and volunteer at the fall festival who also lives in southwest Houston. In a community like Gulfton, where roughly 60 percent of residents were born outside of the United States and many arrive as refugees, connecting people to resources and services can be challenging. At Las Americas, for example, there are some 34 languages represented, according to the school. "When people get together," said Kosova, "they will share. It makes this community peaceful and safe."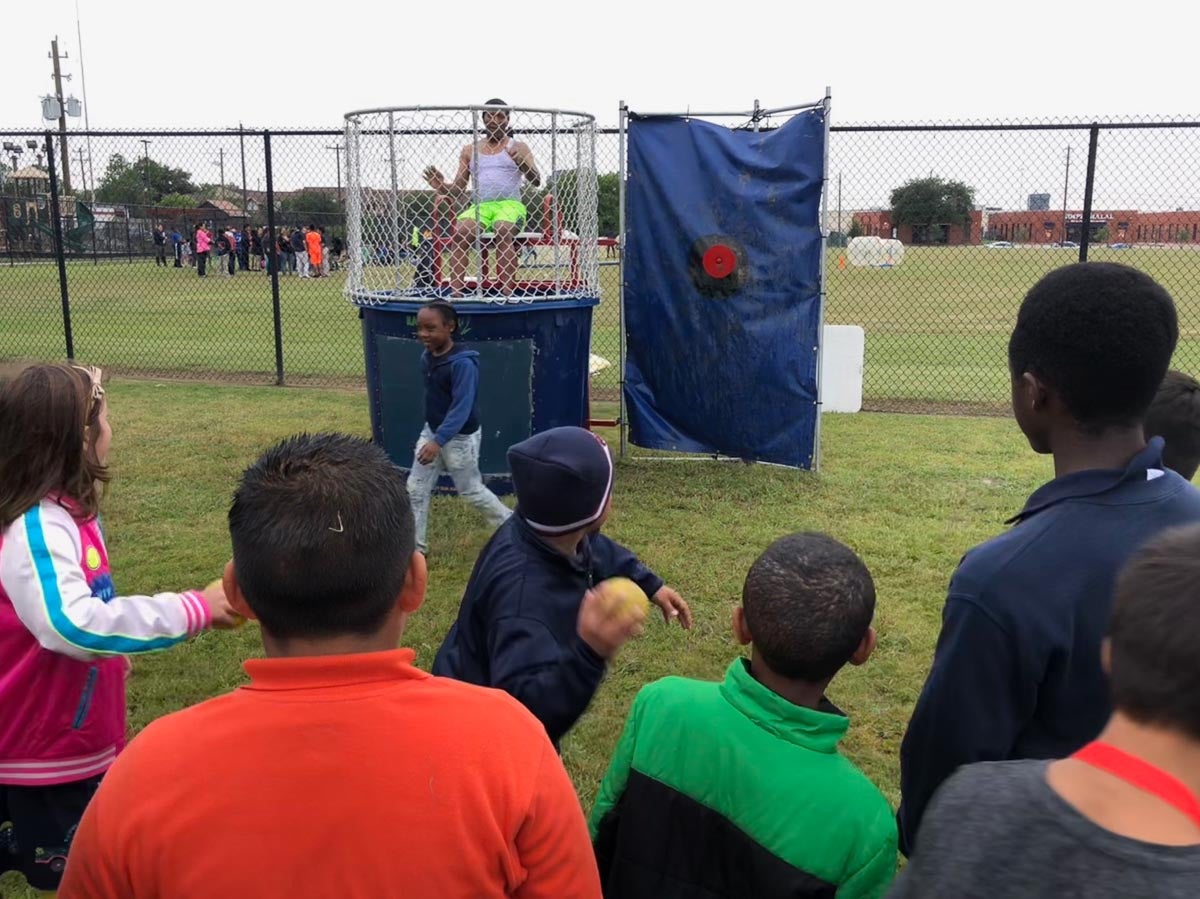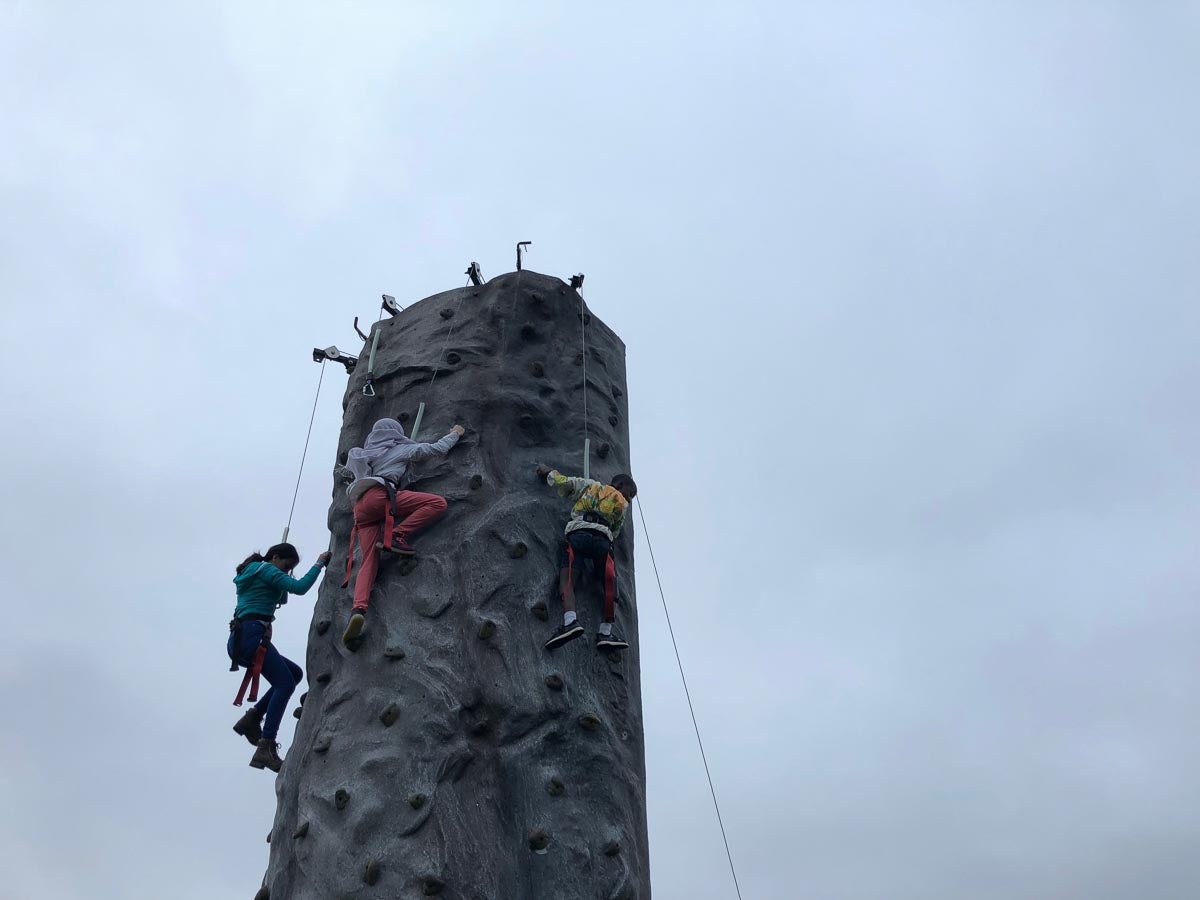 Gulfton is the city's densest neighborhood, home to dozens of aging apartment complexes, largely built in another era of Houston's development as luxury living for young, white professionals. With almost 50,000 residents in the area, there is only one park that a group of local mothers, Las Madres del Parque, help keep clean and work with the city to improve.
Along with affordable housing and safe, walkable streets, Gulfton community members stressed the need for more "inviting and accessible parks and public spaces" in the neighborhood's Complete Communities action plan, approved by the city council as part of the mayor's initiative to direct investment to five long-underserved pilot neighborhoods across the city. Part of the plan's goals include looking for spaces to build new parks, "including vacant retail lots, school sites for SPARK Parks, utility easements and right-of-ways." With only 40 percent of area residents within a 10-minute walk of a park or green space currently, the plan establishes a goal of 100 percent by 2023. The lack of green space makes space like the field between the church and KIPP Connect all the more critical.
"We've got people coming from all over the world," said Whitlock, many of whom, she said, are used to spending social time outdoors. "So whenever we do things, they say, 'Thank you so much, this reminds me of home to come together under the stars and talk to our neighbors,' because there are no civic spaces in the neighborhood."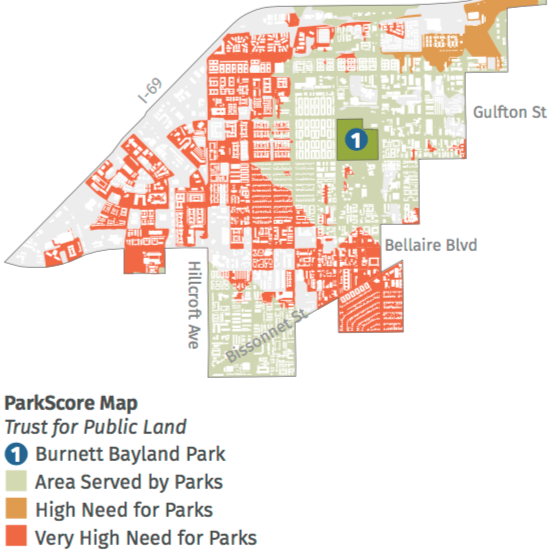 Nida Zeechan lives in the apartment building across the street from the field. She brings her young children here to play. "There is a lot of things they do in this field," she said. "They welcome everyone, they don't care where they are coming from," said Zeechan, who lived in Pakistan before coming to Gulfton three years ago. "They just love to connect people."
In a neighborhood where almost twice as many households don't own a car as in the city overall and 15 percent walk, bike or take transit to work, Zacheen said she can walk to many of her everyday destinations. "If we need transportation, the people are so friendly, we can get a ride," she said
Eventually, KIPP Connect will use part of the field to expand its school but Whitlock's vision includes a storefront Legacy Health clinic, space that can be rented out for community events and gathering and support for the YMCA. "There's a huge desire for a swimming pool," she said of the ways the build out might connect with the community. "We've got to figure out what that looks like." The large, fenced-in field, where kids at the fall festival play soccer inside inflatable, clear plastic balls that send them bouncing off each other, will remain.
Without dedicated funding of its own, the Complete Communities initaitive has relied on things like grants and partner organizations for early projects. In the case of Gulfton, spaces like the one that's hosted the fall festival for years demonstrate what residents, along with community groups and institutions, can do, and have been doing, simply by sharing space and coming together.
"The people who live here are really supportive," said Zeechan. "They give you all the information so you can survive easier," she said. "I'm here to connect with people."