At least once or twice a month, the Maryam Islamic Center in Sugar Land welcomes visitors from across the Houston area. "Some come from high school, some [from] middle school, churches and universities," explained Tauqer Shah, the imam and religious advisor at the center. The visitors tour the center, learn about Islam and ask questions.
"They are reaching out to us much more," he said. "In the last three years, I would say it has increased a lot."
The region's diversity is often highlighted and, when asked about it in surveys, residents report increasingly positive views. In 2018, 66 percent of Harris County respondents said the area's ethnic diversity "will eventually become a source of great strength for the region," according to the latest Kinder Houston Area Survey. "What is striking is that everyone is supporting the diversity," said Stephen Klineberg, founding director of the Kinder Institute and the author of the annual survey.
But more specific questions suggest limitations to that. The survey also asked specifically about respondents' attitudes toward Muslims, asking them to rate their feelings on a 10-point scale. The percentage of people who had positive feelings (7-10 on the scale) increased between 2010 and 2018 but was still just 48 percent overall.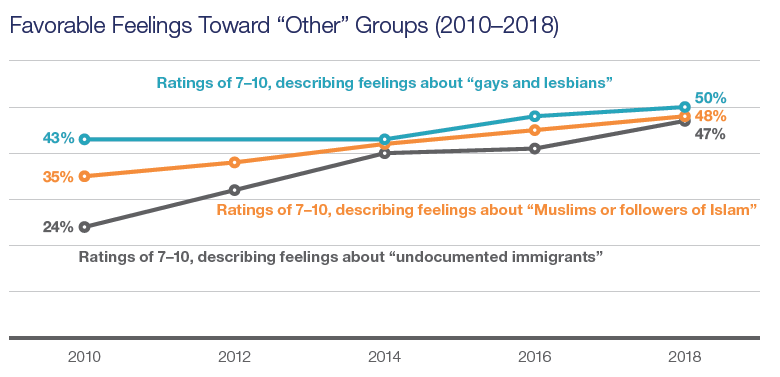 The survey interprets these results, along with increasingly positive attitudes toward undocumented immigrants and gay and lesbian people, as proof that "when representative samples of area residents are asked in the privacy of their homes about their views of other groups, the picture that emerges is quite different from the impressions of deepening hostility that are often experienced in electoral campaigns and political rhetoric."
And in some ways Shah agrees that the nationally charged rhetoric does not match up with most of his experiences here in the Houston area as a Muslim man. But 48 percent is far from 100 percent.
"There's much more awareness," said Shah, "but at the same time, it all depends, right? When we say awareness, yes, there is awareness but is it accepting?"
Earlier this month, for example, a Muslim woman wearing a hijab was attacked in northwest Harris County. The woman, a nurse, was driving home from her job when she was reportedly almost hit by another vehicle. When she pulled over, the driver of that car turned back and then got out of his car shouting anti-Muslim epithets, according to media reports. He allegedly hit her with the handle of a knife and stabbed her before his passenger persuaded him to get back into the car.
Incidents like that, said Shah, do resonate with the broader, diverse community of Muslims.
And then there are the stories his students share with him. "They do hear these kind of negative and racial remarks from their friends at school," he said. "Maybe it's said as a joke but it does affect the children…I wouldn't say it's an every day thing, but even something like that, it stays with you for a long time."
In a recent national study, 42 percent of Muslim respondents said their school-age children had experienced bullying. That study also showed that experiences vary within what it called the most diverse faith community, according to the report. Non-white Muslims, for example, reported experiencing racism from both the broader Muslim community and the general public and Muslim women were more likely than Muslim men to report experiencing discrimination. "They are also more likely than Muslim men to report increased anxiety and fear for their personal safety in the wake of the 2016 election results," according to the study. Meanwhile, anti-Muslim groups have also proliferated across the country in recent years, rising for the third year in a row in 2017, according to the Southern Poverty Law Center. "After tripling from 2015 to 2016, they grew by another 13 percent, from 101 chapters to 114 in 2017."
Many of the mosques and Islamic organizations in the Houston area have responded by hosting open houses, engaging in interfaith groups and encouraging dialogue.
In 2017, Houston-area Muslims participated in the national "Meet A Muslim Day." And though a Houston-based physician behind the effort told the Houston Chronicle that he hadn't seen much anti-Muslim backlash in Houston, the newspaper reported that, in 2015, he said he was taken off a flight when a fellow passenger on board a plane at Hobby Airport "reported him to authorities out of fear and suspicion of terrorist ties."
The same year, the art organization Ghana ThinkTank brought its Mobile Mosque installation to Houston after receiving responses to a prompt about the area's diversity, including one response from a young Houston Muslim who said: "Even though Texas is so religious, I feel like five times a day I have to hide just to pray."
Like the national Meet A Muslim Day effort, local mosques have also organized outreach events. "We give them a tour and we give them a little presentation," said Shah. "We go over the fundamentals of Islam and then just kind of an overview of what Islam is. And then we close it off with questions and answers. They ask questions about the hijab, jihad, is Islam a violent religion? We discuss and we answer them. That's why we are here."
But those interactions take their own kind of toll. "It is exhausting," said Shah, "it is hurtful and it's not just one misconception that's out there, there's a lot." And in his personal life, he worries as well for his wife and two young daughters. "She wears the hijab," Shah said of his wife. "Every time she steps out of the house, it does worry me a little bit."