Housing affordability is a persistent and mounting challenge faced by cities across the United States as home prices outpace wage growth by nearly two to one. Houston, long touted for its affordability, has not been immune to this national trend over the past decade, despite the region being unencumbered in creating low-density sprawling communities as its supply solution.
Nearly half of all Houston households are considered to be Asset Limited, Income Constrained, Employed (ALICE), and this number may rise precipitously with the one-two punch of the COVID-19 pandemic and the oil crash to the local economy — estimated to cause between 200,000 and 300,000 job losses in the region.
LINK Houston and the Kinder Institute for Urban Research teamed up to explore where affordable housing and high-quality, affordable transportation co-exist in the city. The results of that work are being released today in the co-authored report, Where Affordable Housing and Transportation Meet in Houston.
A second blog post coming out tomorrow will delve into the work of the Affordable Housing and Transportation Task Force, including tools developed to help people and communities gain a more complete picture of their housing and transportation costs when making housing choices.
But first, let's examine the housing and transportation landscape in Houston.
The housing plus transportation dilemma in Houston
Households typically are considered "cost-burdened" when paying more than 30% of their income on housing alone. Housing affordability concerns are particularly alarming in cities like Houston because the region came of age after the invention of the automobile and, as a result, was designed around the car. That means Houstonians must contend with an outsized cost in personal transportation — necessary for many residents to reach jobs — as well as housing.
When factoring in transportation costs, the "cost-burden" increases significantly for Houstonians, who, on average, spend roughly 45% of their income on housing and transportation combined. For those with low- to moderate-income levels, this cost also acts as a 'barrier to entry' to the city, which, in turn, limits their access to jobs, education and leisure.
PlanHouston — the city's general plan completed in 2015 — identified housing affordability as one of its top priorities. Since then, a number of initiatives have highlighted the issue of housing affordability, including Resilient Houston, which calls for an 'equitable, inclusive, and affordable city.' A city that also 'grows up, not out.'
Though policy and design have contributed to this dilemma, personal choices are also a factor. For instance, even though Houstonians' desire to live in urban communities has risen since 2008, population growth beyond Houston's city limits continues to outpace that of the urban core.
The difference in how one pays for transportation versus housing may be indicative of an occurring cognitive bias known as the denomination effect. This leads people to underestimate the cost and consumption of transportation because it functions as a pay-as-you-go expense, with smaller but more frequent transactions compared to the routinely fixed cost of housing. This is why it is important to provide people with resources that help them better understand the combined costs when considering both housing and transportation decisions.
Now, let's see where housing is affordable to Houstonians.
Concentrations of affordable housing in Houston
In Houston, 44% of rental units are affordable to moderate-income households (those earning less than 120% of area median family income), and approximately one in three — or just under 15% — of those affordable dwellings are in strong transportation areas.
Currently, the city's affordable housing stock is concentrated in neighborhoods outside Interstate 610 Loop, particularly along the southwest and southeast freeway corridors, west along Richmond and Westheimer corridors and in neighborhoods outside of Beltway 8 along FM 1960 on the northwest side.
When gross rent is used as a measure of affordability, most of the eastside communities and northern parts of the city are identified as affordable, though these areas have a low-density development pattern and not many dwelling units. The southwest neighborhoods indicate a large number of affordable housing units as well as low rent, due to the prevalence of multifamily apartments.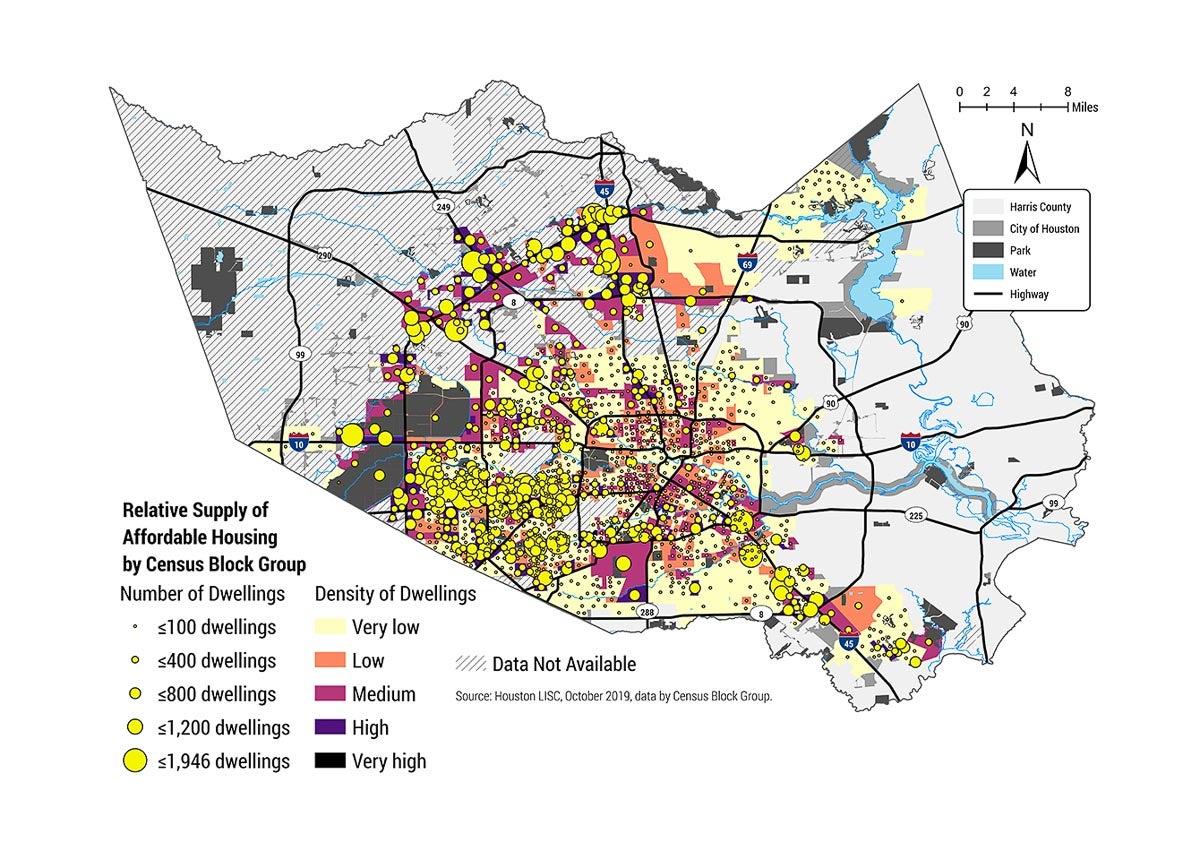 What is considered accessible transportation and where does it overlap with affordable housing?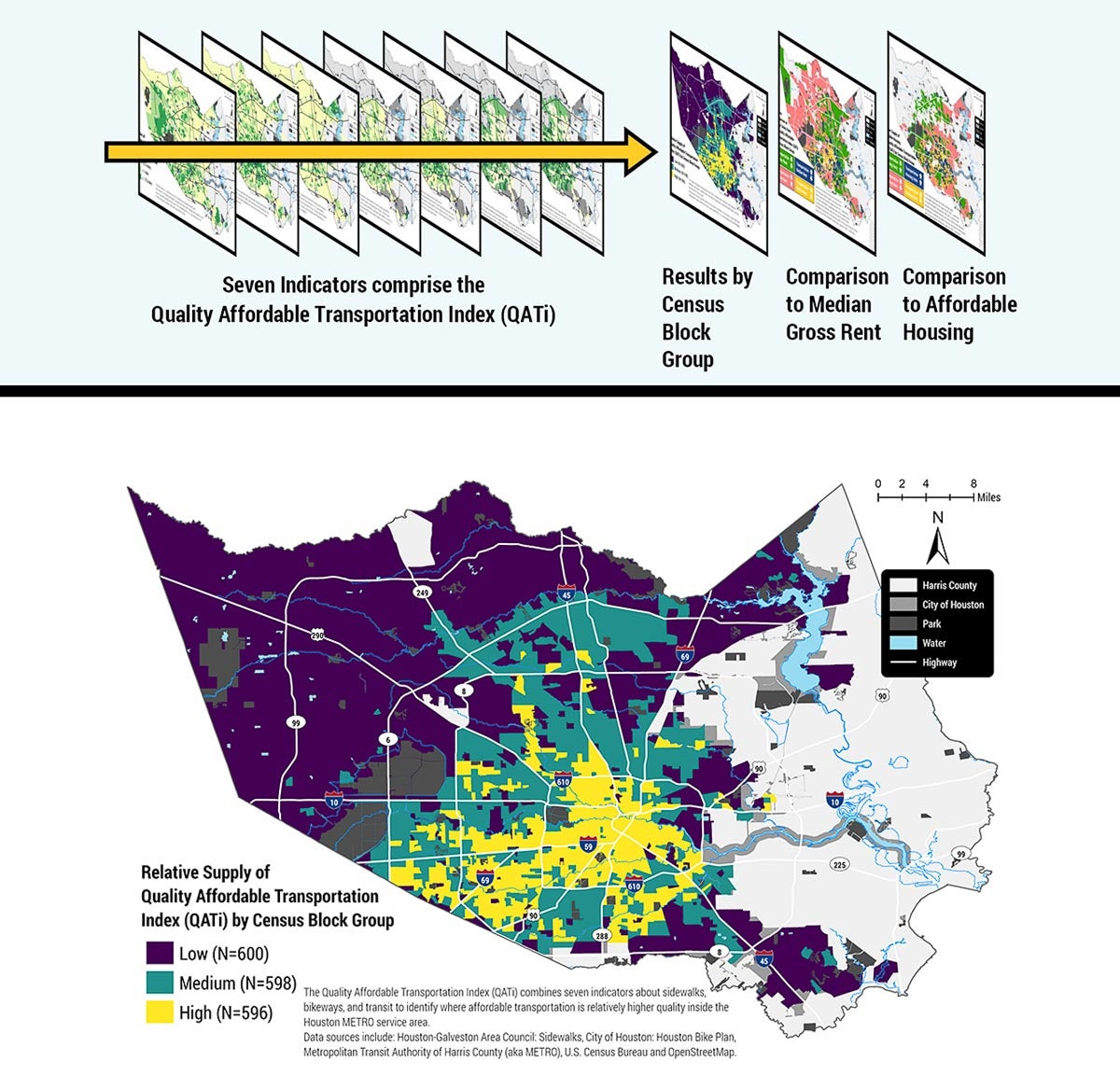 The practical issue for Houstonians is whether areas with affordable housing are located near a quality transportation system. To answer this question, the Quality Affordable Transportation index (QATi) was created for this report. The index presents the relative quality of transportation by census block group for people walking, biking and riding transit. We found that, in general, most inner-Loop communities indicated high on the QATi. In contrast, in communities farther from Downtown and the region's major job centers, the QATi turned out low.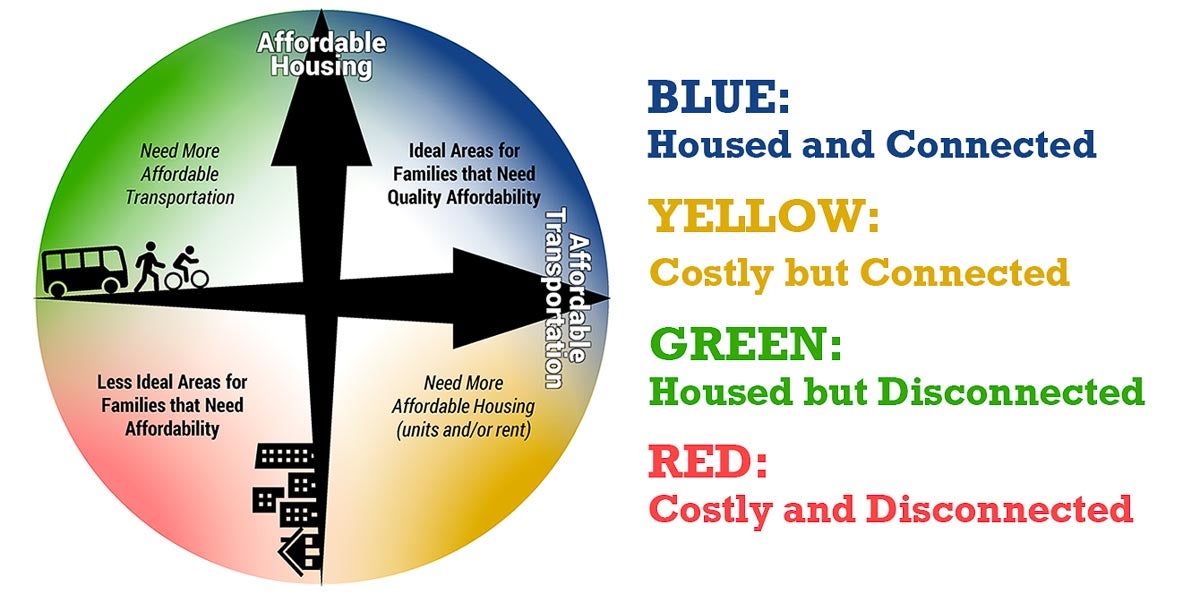 We found several "housed and connected" areas where affordable housing and affordable transportation exist simultaneously (blue on the map below). These neighborhoods are identified as "ideal" and it is crucial to preserve affordable housing in them.
In addition, we also found "costly but connected" areas (yellow on the map below) where affordable housing stock is low or rent is high, but the quality of transportation is high and affordable. Since these areas are well-connected through a sound transportation system, public interventions such as project-based affordable housing programs or tax incentives could lead to an increased supply of affordable housing.
Furthermore, "housed but disconnected" areas (green on the map below) are neighborhoods where affordable housing is abundant or rent is low, but the transportation options are not optimal. Transportation investments would make a significant impact for cost-burdened households in these areas and should be closely examined. Houstonians in these areas may also be driving more than they would like and could make the switch to transportation choices that are more sustainable if they were provided.
The red areas are deemed as having higher housing costs and lacking in transportation access — investments here would require much more effort on both the housing and transportation side of the equation to reduce household expenses.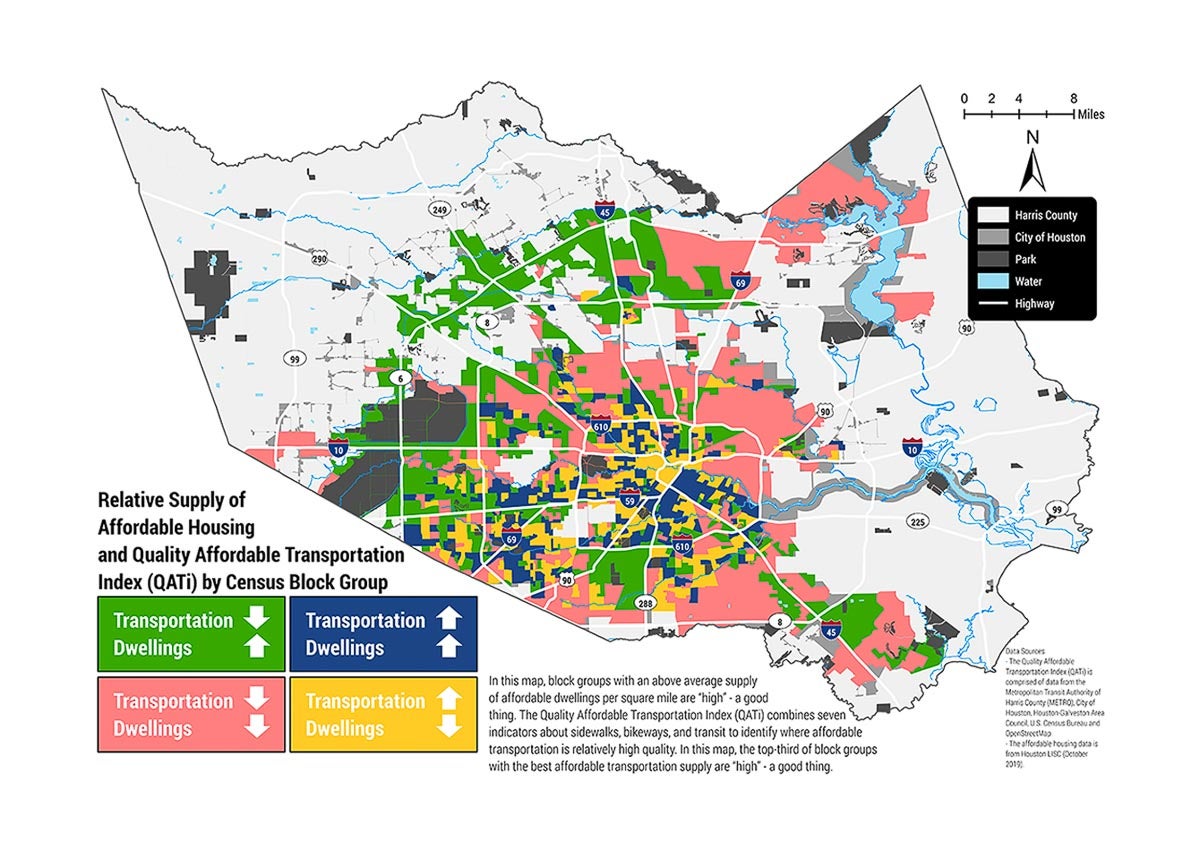 Aligning housing and transportation
While local decision-makers and individuals tend to view housing and transportation separately, effectively addressing affordability for Houstonians means considering the combined cost of housing and transportation expenses. In the report, we recommend the following steps (in addition to using the tools provided) to align housing and transportation development in order to address affordability issues in Houston:
1. Preserve and build affordable housing in areas with high-quality, affordable transportation.
2. Increase opportunities to walk, bike and use transit near affordable housing.
3. Map and monitor affordable housing and affordable transportation to demonstrate and direct the beneficial impacts of policies and investments in affordability for residents.
4. Assess, compare and prioritize potential affordable housing sites to improve access to affordable transportation.
5. Develop resources to help people understand how housing and transportation impact overall affordability.