Texas' Harris (3), Collin (4), Tarrant (8) and Bexar (9) counties are all among the top ten American counties experiencing the greatest growth between 2017 and 2018, according to the new Census figures. From 2010 to 2018, Harris County led the country in growth with Tarrant (6), Bexar (7) and Dallas (8) counties following.
Just over 55 percent of all American counties had a population increase from 2017 to 2018 with 56 percent of U.S. counties having a natural increase in population in 2018, which is down from last year.
By metropolitan area, Dallas-Fort Worth-Arlington had the largest growth with a gain of 131,767 residents in 2018, followed by Phoenix-Mesa-Scottsdale, Ariz. with an increase of 96,268 and Houston-The Woodlands-Sugar Land in the third spot with an increase of 91,689 residents. The increases in population are attributed to migration, both domestic and international, and a natural increase in births outweighing deaths.
Despite these gains, the state's explosive growth has slowed down every year since 2015, due to natural increase — the rate at which births outpace deaths — and international and domestic migration have declined. In 2015, Texas' population grew by almost 510,000 people in a single year, but in 2018, the population grew by almost 380,000.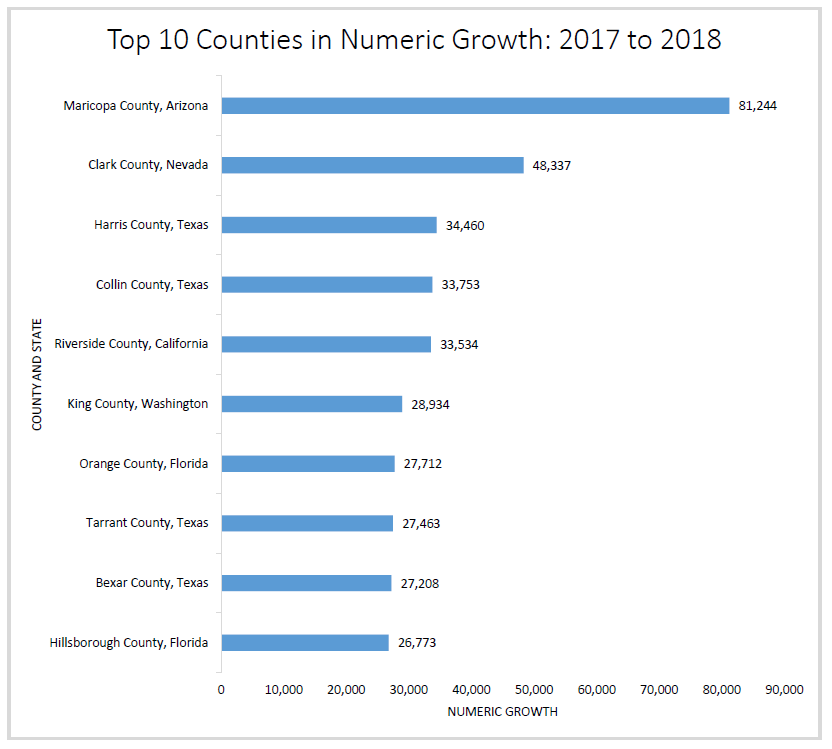 While the Dallas and Houston areas are known for their high population size and growth, overall, the metropolis areas seeing the largest increases in the country are actually not among the most populous cities in America.
"One interesting trend we are seeing this year is that metro areas not among the most populous are ranked in the top 10 for population growth," said Sandra Johnson, a demographer in the Census Bureau's Population Division. "Though no new metro areas moved into the top 10 largest areas, Phoenix, Seattle, Austin, and Orlando all experienced numeric increases in population since 2010, rivaling growth in areas with much larger populations. This trend is consistent with the overall growth we are seeing in the south and the west."