Some 8.7 million students attend schools without any counselors on staff, according to an analysis from the American Civil Liberties Union. But roughly 1.7 million of those students are in schools that do have police officers. Likewise, some 3 million students are in schools with cops, but no nurses, and still more are in schools with police officers, but no social workers or psychologists, according to the analysis, which describes this as "a severe shortage of the staff most critical to school safety and positive school climate—school-based mental health providers."
The report used staffing data from the 2015-2016 school year reported to the U.S. Department of Education's Civil Rights Data Collection and looked at discipline outcomes and disparities. Though schools had been required to report information on counselor staffing, recent changes now require them to report "the number of social workers, nurses and psychologists employed for the first time in history," according to the report, offering new insight into the mental health resources available to students.
In Texas, some 41 percent of students, representing almost 2.2 million students, are in schools with police officers but without either a nurse, psychologist, social worker or counselor.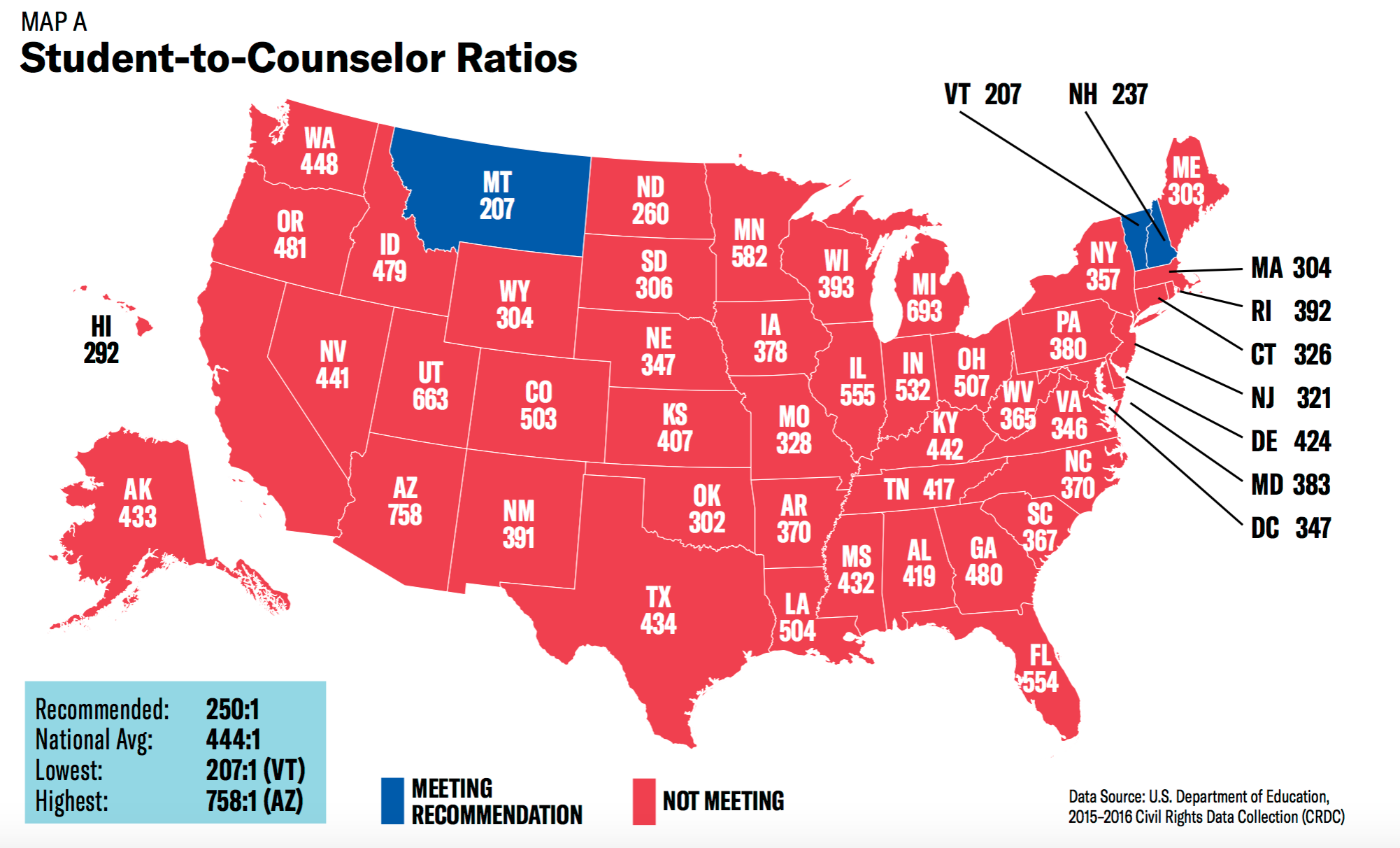 In partnership with the University of California, Los Angeles' Civil Rights Project, ACLU also produced a county-level analysis that found roughly 1 percent of students in Texas were in schools with police officers but no counselor. In Harris County, that average was higher, at 4.5 percent.
Following several school shootings, including the 2018 Santa Fe High School shooting that killed 10 people, lawmakers debated policy responses to bolster school safety including expanding mental health resources and security-related changes. Following the shooting, Deborah Fowler and Morgan Craven of the policy advocacy group Texas Appleseed, wrote in a report, "the tragic school shootings in Parkland, Florida and Santa Fe, Texas, so close in time to each other, present an opportunity to either move Texas further toward research-based school discipline policies, proven to better ensure school and student safety – or, conversely, to move state and local policy backward, with regressive responses that are understandably rooted in fear, but that do more harm than good."
Bills discussed Tuesday in the Texas legislature included provisions to add mental health staff, arm teachers, allow armed school marshals to open carry and let school districts hire an unlimited number of marshals, among other things.
Citing research that suggests that police presence in schools does not curb violent incidents, the ACLU analysis argued, instead, it creates disparate and negative impacts for particular student groups. Analyzing arrests and law enforcement referral data from the 2015-2016 school year, the report "highlights the disproportionate harm that school police have on students of color (especially, Black, Native American, Hawaiian/Pacific Islander and Latinx students) and students with disabilities."
The report found that "[w]hile schools without police had an average arrest rate for students with disabilities of 17 per 10,000 students, schools with police had an average arrest rate for these students more than three times as high, at 51 per 10,000 students."
Low-income districts and schools bear the brunt of this staffing imbalance. "When there are no other behavioral resources at hand, some teachers request help from law enforcement," the report explained. "This results in an increased criminalization of our youth: we found that schools with police reported 3.5 times as many arrests as schools without police."
The report called the "prioritization of police" troubling and cautioned that the "growth of school policing and school hardening devour resources from already underserved schools and contribute to hundreds of thousands of youth being funneled into the criminal justice system."