Supporting public spaces is seen as a way to foster social cohesion, reducing segregation and isolation and even resiliency. Concerns about the disappearing public sphere have long been discussed. But some argue we already have the answer (or at least part of it): libraries.
After Hurricane Sandy, sociologist Eric Klinenberg remembers showing some architects and engineers around an affected neighborhood. "Near the end of our walk, one of the design teams approached me with an idea: every community needs a reliable gathering place. It should be open daily and fully accessible to everyone," he wrote in a recent post. "It should be staffed by trained professionals who welcome people of all ages, ethnic groups, social classes and abilities. It should be capacious, with flexible space that can be adapted to suit local needs and used during emergencies."
After Hurricane Harvey here in the Houston area, there were similar considerations about where to locate events that would coordinate and concentrate services for affected households.
"The designers were excited by this insight," continued Klinenberg. "They told me they were working on a new building type—a 'resilience center,' they called it—that would serve all these purposes. It was a terrific idea, I told them. But if they looked more closely, they'd see that most American communities already have these kinds of places. We call them branch libraries, and we walk by them every day."
Across the country, many libraries are finding new ways to engage their communities, including supporting personal digital archiving, offering fitness classes and equipment, hosting coding classes that can even be completed for high school credit and more.
As an ode to libraries and the role they play, here's a roundup of some of the most stunning, recently renovated public libraries and built or lesser known structures (we all know New York's Stephen A. Schwarzman Building is pretty iconic).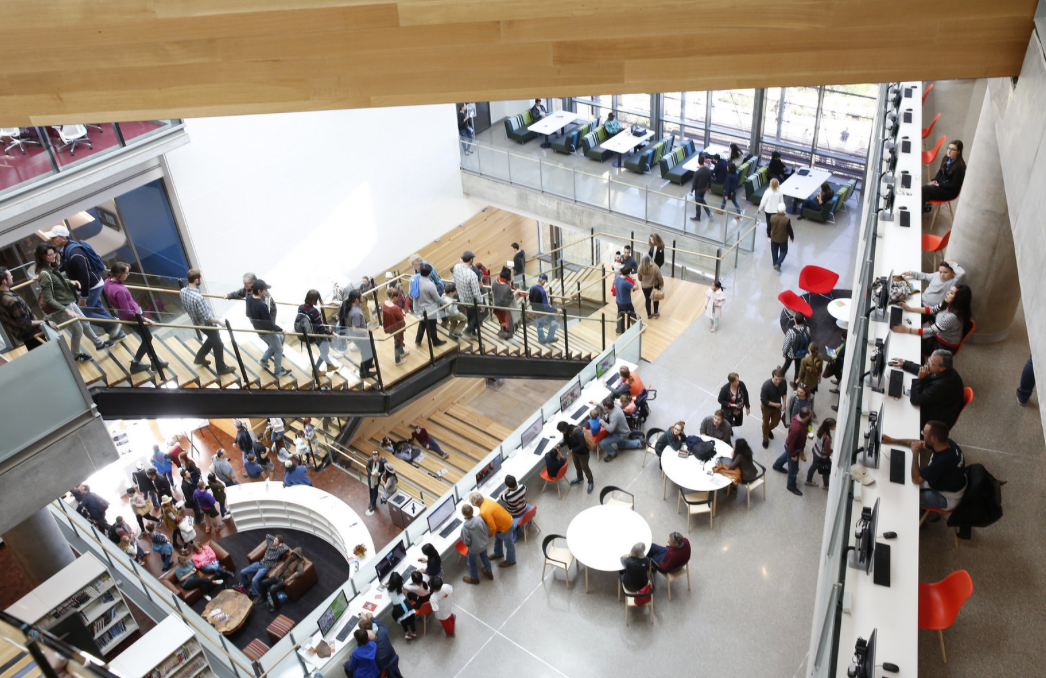 Austin Central Library
The recently opened Austin library is just off the water and features a range of innovative features inside and out. In addition to hundreds of thousands of available titles, the programming inside fosters a spirit of community gathering with study spaces, a cafe, art gallery and more. The building itself is LEED certified and includes a rooftop butterfly garden, rainwater reuse system and outdoor reading areas.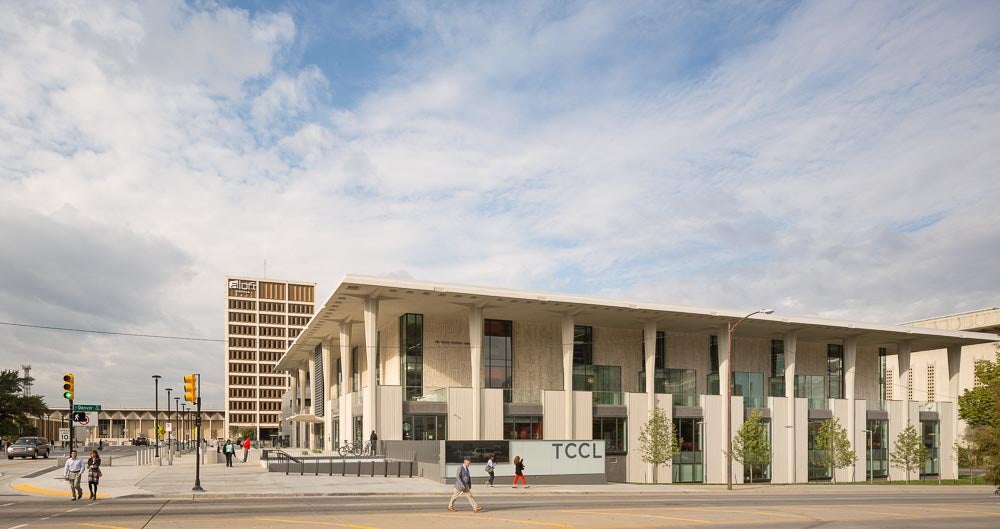 Tulsa City-County Central Library
Another LEED-certified stunner, Tulsa's central branch was intended to be a temple for books. A recent revitalization helped update the look and added a plaza and public garden. And even with the addition of a parking garage, the "overall impervious surfaces on the site were reduced" in the redesign, according to Architect Magazine.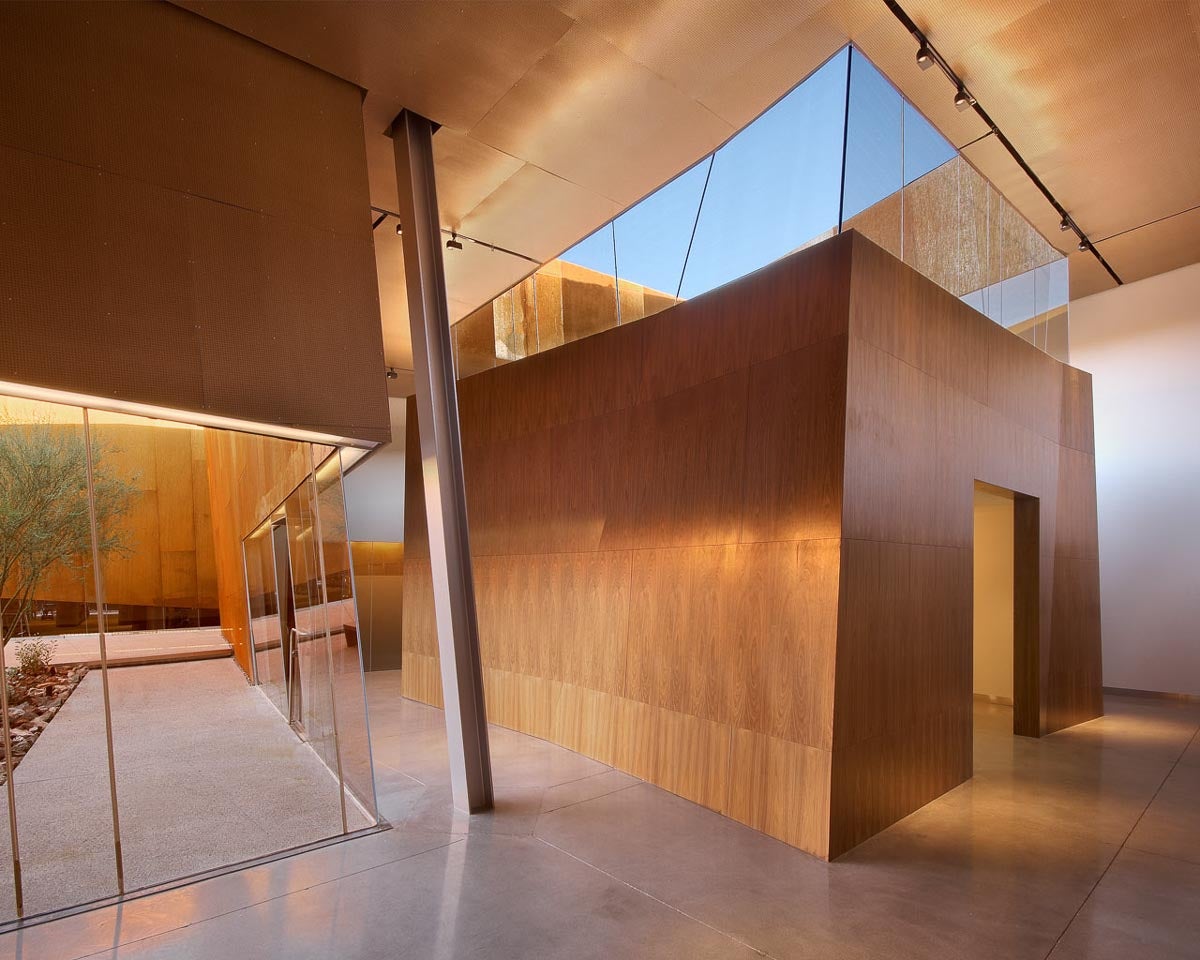 Arabian Library
This branch in Scottsdale is one of several striking Arizona public libraries. The forms and colors are an artful reflection of the boulders of the desert landscape surrounding the building. It is essentially the Monument Valley of branch libraries.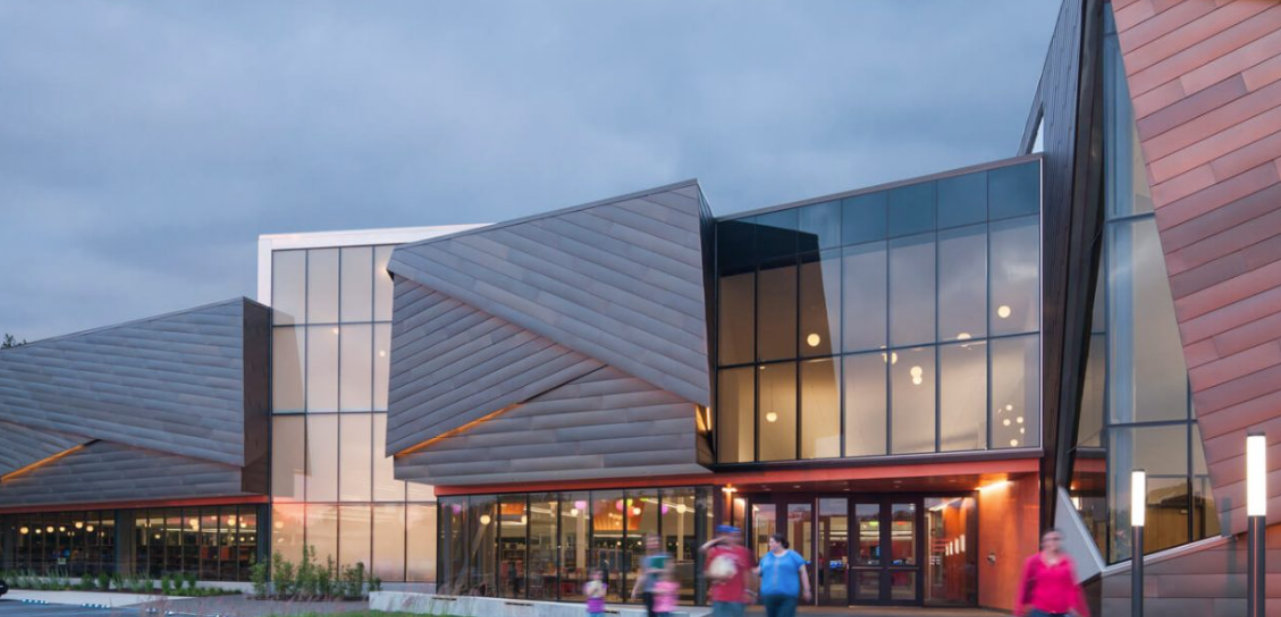 Louisville Free Public Library Southwest Regional Library
Stormwater management, lots of natural light and materials like recycled rubber helped earn the building its LEED certification as well as its stunning profile. "Both the client and design team should be commended and celebrated for creating an ambitious project that has established a memorable identity for a community library," noted the AIA Kentucky Honor Awards Jury when the building was recognized. "The project has created a sense of place for reading, sitting, and simply being in that connective moment between architecture and landscape."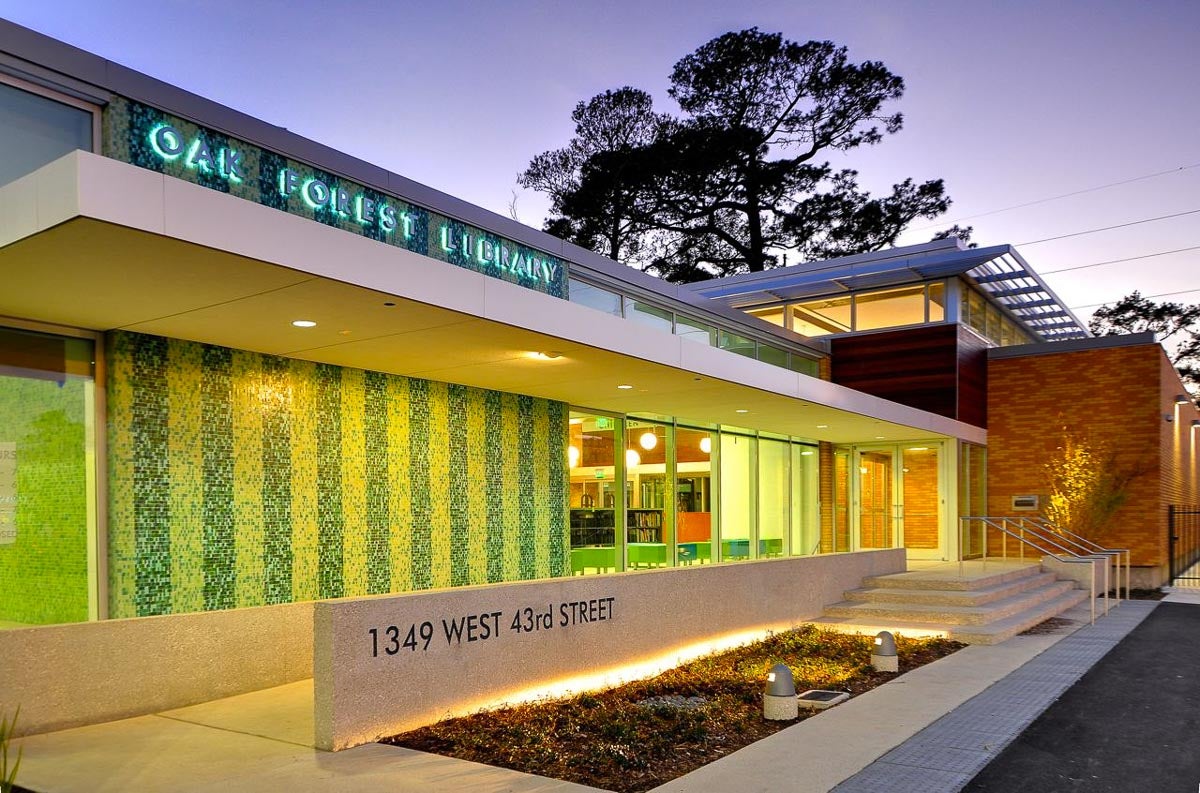 Oak Forest Neighborhood Library
The mid-century Houston branch library had fallen below system standards when a renovation breathed new life into the building, which reopened in 2011. The mix of old and new now makes it one of the most unique in the system. Instead of adding new parking in the renovation, the design team instead optimized the property's open spaces, which includes an outdoor reading deck, and earned various LEED Innovation in Design credits, according to High Performing Buildings magazine.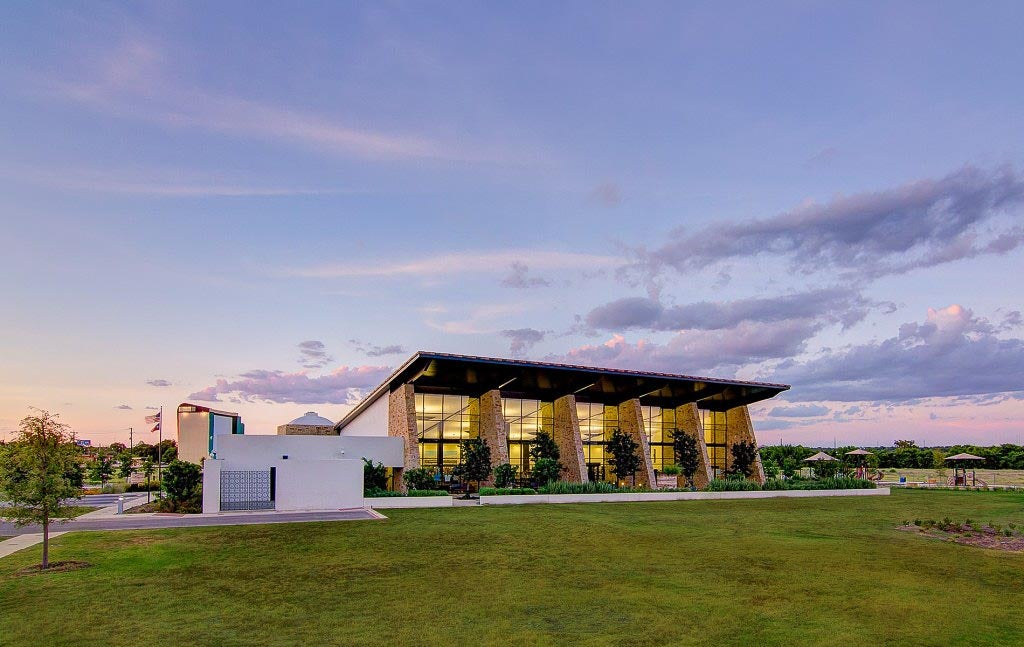 Mission Branch Library
Once the site of a drive-in movie theater, San Antonio's Mission Branch Library opened in an underserved neighborhood and has been served as "a catalyst and model for new development along the newly formed Roosevelt Avenue Corridor district," according to Architect Magazine. The structure draws on the area's rich architectural offerings, using patterns from nearby missions, local craftsmen-created cross vaults, stucco, sandstone and cement encaustic tile. The library also features a playground and exercise equipment.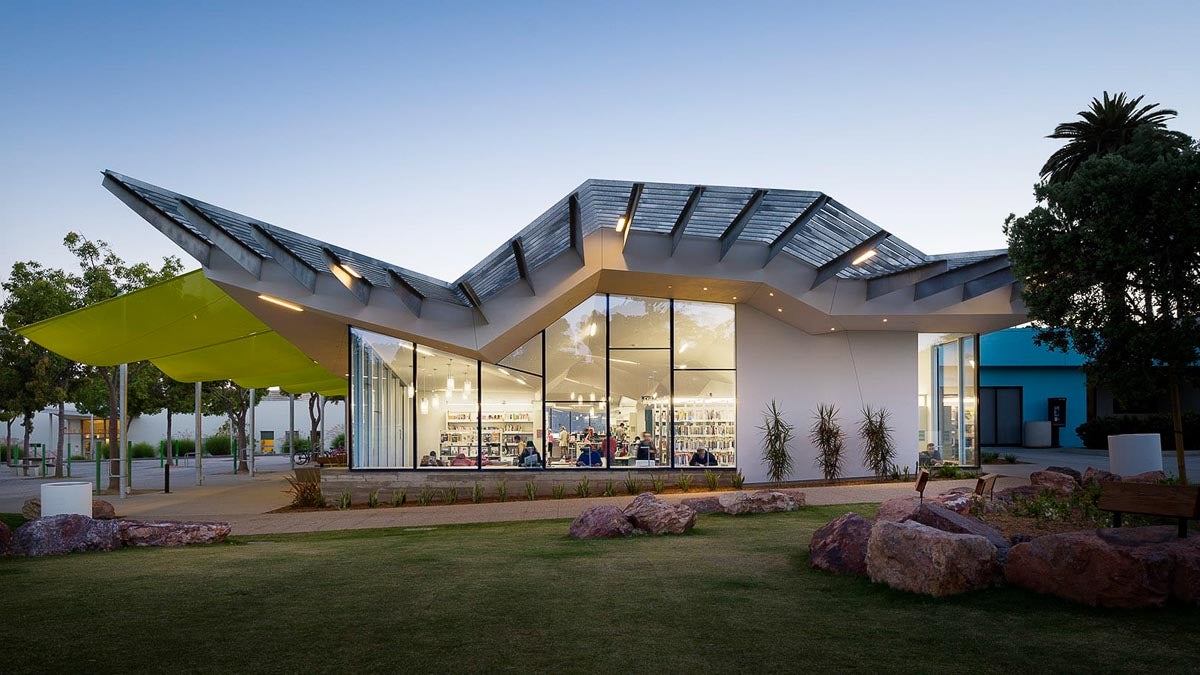 Pico Branch Library
Santa Monica's first new library in almost 60 years is the product of community-informed designs that sought to enhance the site's green space. The American Institute of Architects with the American Library Association/Library Leadership and Management Association awards jury said the library offered "an excellent example of a 'living room-type' informal library setting" and noted the mixed-use nature of the property that also features a regular farmers market and rainwater harvesting system.

St. Louis Public Library's Central Library
Perhaps the most impressive thing about the old-meets-new renovation undertaken back in 2010, is that it added roughly 40,000 square feet of new public space, including a theater. The challenge for the design team was to take a century-old, block-length hunk of granite with divided interior spaces and open it up the more flexible programming needs of today's libraries. They even added a new entrance that speaks to the two eras of the building. ""You can kind of choose the library you want to walk into," Waller McGuire, the executive director of the St. Louis Public Library told CityLab after the two-year renovation was complete. "I've had patrons tell me they do it that way – some days they feel like coming into the historic library, some days they feel like coming into the new library. And I feel like Yes! We got it right." The location also hosts regular architecture tours to help tell the story of the building.