To determine the ranking, CityLab journalists Carlotta Mellander and Richard Florida developed the Metro Car-Free Index, which analyzes a city's share of households that don't have access to their own vehicle, share of commuters who take transit to work, share of commuters who bike to work, and share of commuters who walk to work.
The CityLab data was pulled from the American Community Survey's five-year estimates for 2017 for 328 U.S. metropolitan areas, which were broken down by large-, medium- and small-sized metro areas. The map below shows where people are most able to go car-free. The darker shades are where residents are most able to live comfortably without a vehicle.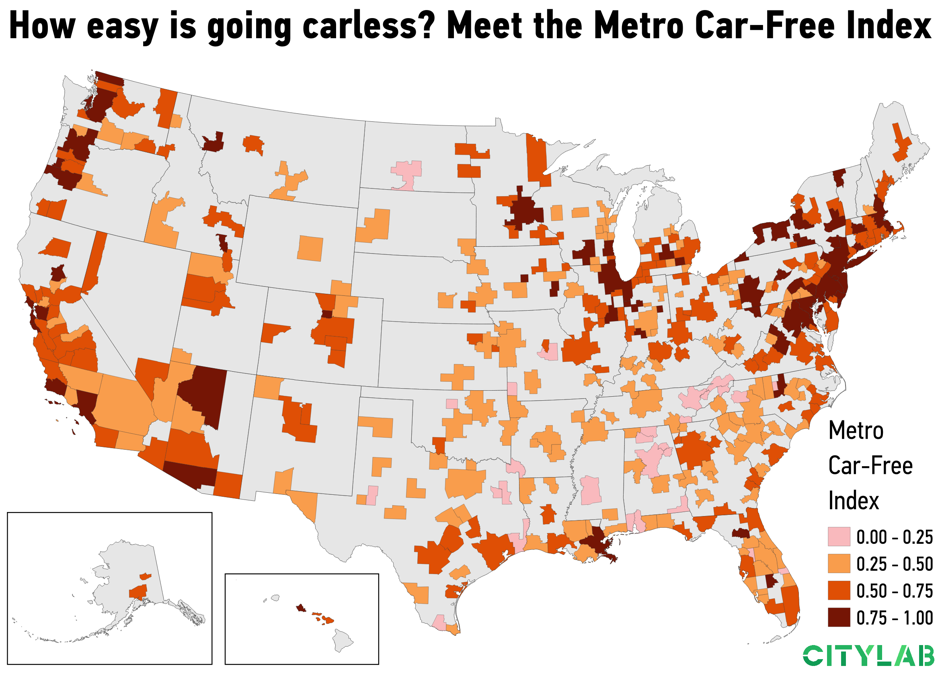 "The two largest car-free clusters are those stretching down the Northeast's Acela corridor, from Boston to Washington, D.C., and the Pacific Northwest, from Seattle to Portland," Florida writes. "By contrast, much of the Deep South is highlighted in light orange or pink, signifying much higher car dependency."
Nationwide, Dallas is the sixth worst large metro to live car-free, according to the CityLab ranking. The areas in and surrounding Austin, San Antonio, Corpus Christi, and Houston are Texas' best areas to live without a vehicle.
The finding about the Dallas area raises the question of how Texas cities invest in public transportation. Dallas' DART rail system spans 90 miles, with 62 stations in 13 cities, while, Houston's METRO light rail is 23 miles long with 44 stations, all of which are located in central Houston. With similar ridership numbers, Houston's system proves to be more efficient with 2,700 passengers per mile on weekdays, compared to around 1,000 in Dallas.
"Ironically, despite the expense of owning a car, going carless in America often requires having money," Florida writes. "It helps if you can afford living close to where you work or near good transit, or in a walkable neighborhood with most of life's necessities close by."