More than 60% of households in Houston say they've faced serious financial problems because of the coronavirus pandemic. Those problems include using up all or most of their savings (41%) and serious problems paying their credit card bills, loans or other debt (41%), according to a five-part polling series examining the health and economic impact of the coronavirus on households in the four largest U.S. cities — New York, Los Angeles, Chicago and Houston.
Though half or more of households in all four cities reported serious financial struggles, Houston households have been hit harder — 63% — than those in New York (53%), Los Angeles (56%) and Chicago (50%). Across Houston, more than one-third of households said they had serious problems paying their utilities (37%), their mortgage or rent (34%) and affording food (33%). One in three Houston households also reported serious problems making car payments and affording medical care. A large majority — 72% — of Houston households with incomes of less than $100,000 annually also reported serious financial problems.
In Houston, the percentage of households facing serious trouble paying their rent or mortgage was almost twice that of the 19% of U.S. households overall; and more than double the 18% of households nationwide that reported serious problems paying their utilities.
Overall, a higher percentage of households in Houston has faced serious financial troubles than the other three largest U.S. cities. In all four cities, more Black and Latino households reported serious financial problems than white households, but the disproportion was greatest in Houston, where 81% of Black and 77% of Latino households reported major financial struggles, compared to 34% of white households surveyed.
Overall in Houston, 34% of households were having serious trouble making rent or mortgage payments. Again, a disproportionate number of Black and Latino households — 49% and 43%, respectively — had trouble paying for housing, compared to 13% of white households. Close to two-thirds (63%) of Black households and 44% of Latino households had serious trouble paying for utilities.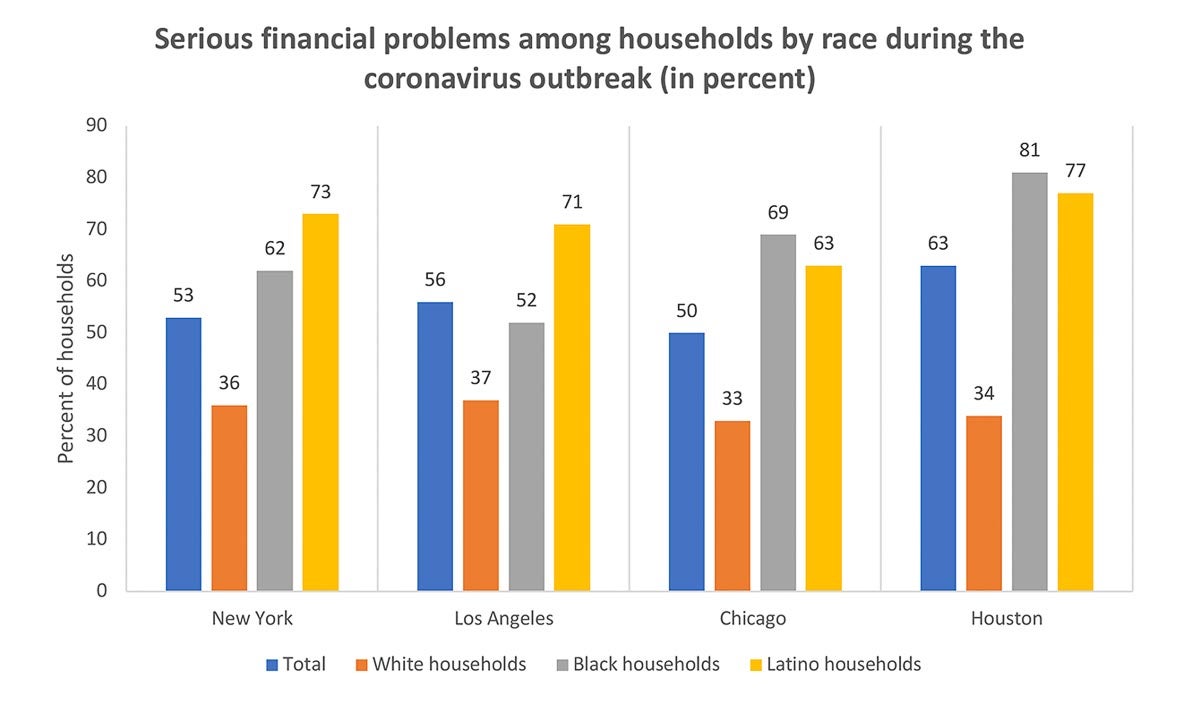 The results were reported in "The Impact of Coronavirus on Households in Major U.S. Cities," and are based on a five-part survey of the pandemic's impact on finances, employment, health care, housing, transportation, caregiving and well-being. The survey was conducted by NPR, The Robert Wood Johnson Foundation, and Harvard T.H. Chan School of Public Health between July 1 and Aug. 3.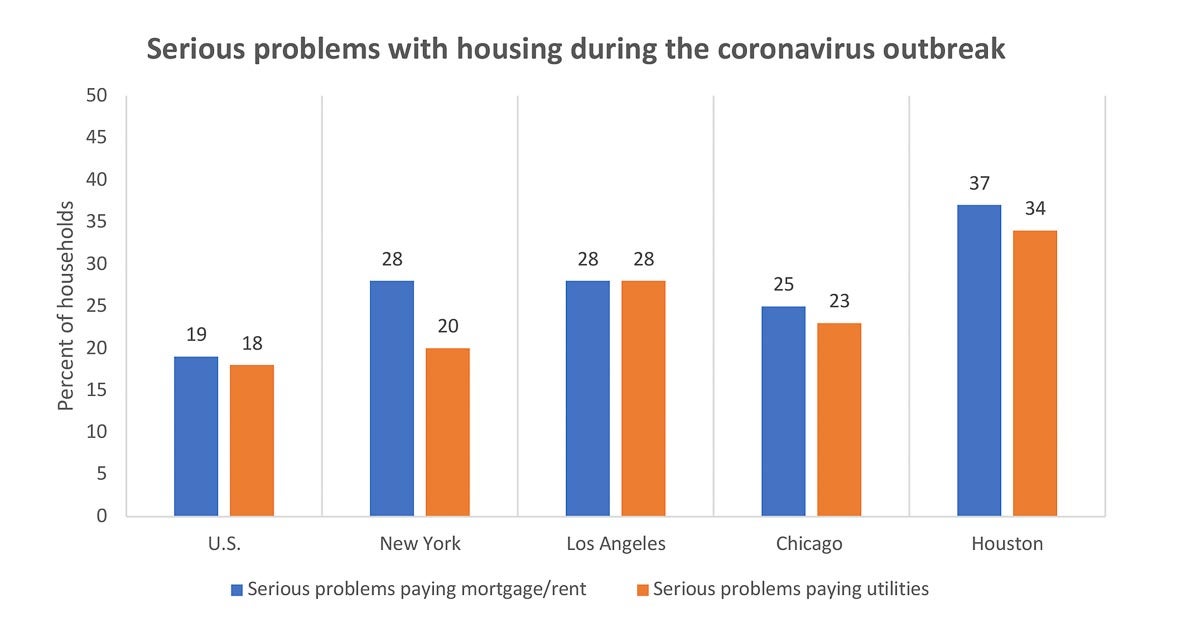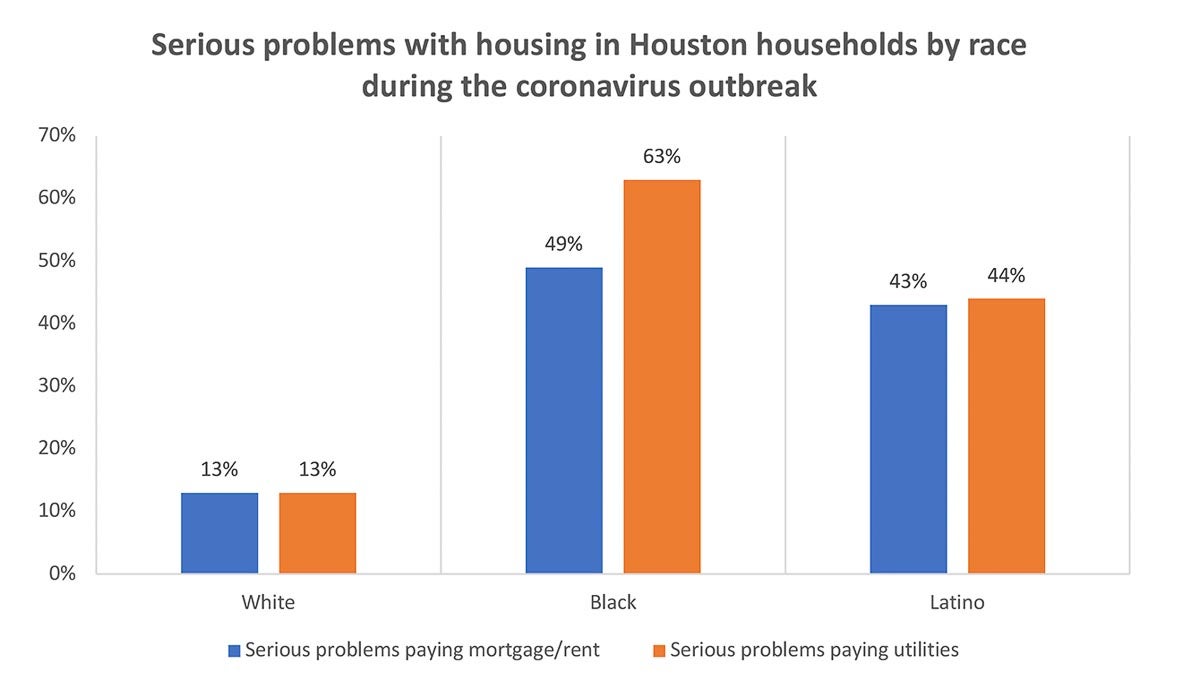 The survey was conducted using a representative, probability-based sample of 3,454 adults age 18 or older in the U.S. nationally and in the four largest U.S. cities — including 447 interviews in Houston.
Kinder Institute Director Bill Fulton spoke to Houston's NPR affiliate about the report's findings regarding the disproportionate economic impact on Black and Latino households and low-wage workers in Houston, as well as why ...
"In general, white-collar office workers have been more protected from financial declines. They have been able to continue to do their work and their organizations have continued to stay in business," Fulton told KUHF.
"Many businesses that require on-site employees have struggled much more to stay in business and to stay profitable," Fulton said. "We've seen 'essential worker' jobs decline more. There are simply more Black and Hispanic folk who work in those jobs. And so, they've been more heavily affected than office workers who are mostly white and also Asian."
"Even before the pandemic, people who make $30,000 to $50,000 to $70,000 for a household were already struggling. They can't afford to buy a house — the housing market was deeply affected by Hurricane Harvey. In many cases, they've had to move from central locations to outlying locations, which means they're more dependent on cars, which are very expensive. So those folks were hanging on the edge."
Fulton also drew parallels between the challenges faced by Houstonians during the pandemic and following Hurricane Harvey …
"Well, I think they build on each other, right? Hurricane Harvey was a disastrous event, especially for low-wage workers. A very large percentage of low-wage workers live in apartments in the floodplain. Many of them lost their homes or their cars, so they were already under tremendous financial pressure. Now, COVID comes along and in many cases, they lose their jobs or their hours are cut.
"So, the two events together, it's not so much comparing the two. It's the fact that one followed the other so closely, when so many families were already struggling, that has made this such an extremely difficult situation here in Houston."