UPDATE: As of 3 a.m. Wednesday morning, the Deer Park fire has been extinguished, according to an Intercontinental Terminals Company press release. "Crews continue to spray foam and water on the tanks to facilitate cooling and prevent reigniting of the remaining material," the release said. "Although fires have been extinguished at this time, steam and smoke may still be visible from the area and the possibility for reigniting still exists."
According to the Houston Chronicle, area hosptials report no plant-related injuries have been reported. Houston's air quality is at moderate levels, according to AirNow.gov, and Judge Lina Hidalgo's priorities remain watching air quality and keeping the community informed, according to Harris County Public Information Officer Francisco Sanchez.
Original story:
On Sunday morning, two tanks containing Naphtha and Xylene, two components used in gasoline, caught on fire at Deer Park's Intercontinental Terminals Company facility, which stores petrochemicals for companies including Chevron, Phillips 66 and Exxon Chemical Company.
More than 48 hours later, the fire had spread to a total of eight tanks, though officials controlled the fire back down to six as of Tuesday afternoon. Toluene, a chemical used in nail polish remover, glues and paint thinner, was stored in one of the additional tanks.
The smoke plume has spread across the Houston area and up towards southeast Cypress (seen in the graphic below), according to the National Weather Service.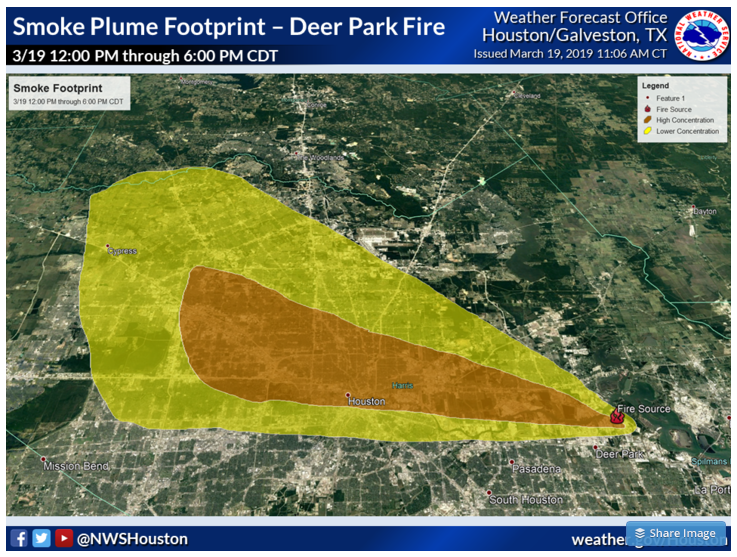 On Tuesday afternoon, Harris County Judge Lina Hidalgo told citizens that there isn't a health concern at the time since the fire is approximately 4,000 feet of altitude, but officials are actively monitoring the air quality.
"The plume is staying high enough that the impacts on air quality right now are not measurable. We are not measuring a level that is cause for alarm," Judge Hidalgo said during the press conference.
The Harris County Public Health Department notes since the smoke is "several thousand feet above the ground," there continues to be a low risk to the community. Though, they recommend that any individuals experiencing symptoms should contact their health provider.
"Common symptoms may include coughing, difficulty breathing, burning, irritation and redness to skin, eyes, nose and throat," the HCPH said in a public health update Tuesday morning. The department notes elderly, children, pregnant women, those who have respiratory issues and those who are immunosuppressed may be "especially impacted."
The Harris County Pollution Control is actively testing for Volatile Organic Compounds through handheld monitors and each monitor is returning no readings of volatile organic compounds above typical levels, according to their online map.
"We are testing for the different volatile compounds that are under concern," Judge Hidalgo said. "Our partners are out monitoring the situation and providing all the support that they can."
During the same press conference, Deer Park Mayor Jerry Mouton Jr. said of the fire, "It is evolving. It is a dangerous situation, but all of us are here for one reason today and that is to work together, to find solutions to put this fire out and find a conclusion to this event."
"I know the cloud of dark smoke seems ominous as it spreads over parts of Houston," Houston Mayor Sylvester Turner said during Tuesday afternoon's press conference. "But we want to assure everyone that the air quality has been monitored around the clock.
"And what I will say to the general public if we detect that there is any problem and cause for alarm, we will be the first to let you know. Until then, we just ask people to pay attention to the reports," Mayor Turner said.
Within a mile of the fire, there are 19 schools, and many parents have expressed concerns for their children returning to school on Tuesday, according to KTRK. One parent saying in part, "My kid will not be in class until the fire is out. My son's school is a couple of miles away. I will not gamble with his life."
"Of course, ITC is very sorry for this unfortunate event. This isn't an event we wanted or planned. Many of my employees in the city of Deer Park, they live in Deer Park, they're out there fighting this fire the best they can," ITC spokeswoman Alice Richardson said during a press conference Tuesday. According to the Houston Chronicle, ITC has a history of violating state and federal environmental rules.