As our city begins to reactivate with the loosening of the COVID-19 restrictions, we find ourselves seeking meaningful and uplifting activities. Public art in outdoor spaces provides access to such opportunities and is conducive to current safety guidelines.
Houston boasts a wealth of public art, including world-class sculpture, murals and fountains.
The city's high-profile districts, such as downtown and the Museum District, and its flagship parks, like Discovery Green, Hermann Park and Buffalo Bayou Park are known for their expansive environs created and maintained to give everyone free, almost unlimited access to public art.
The quality and appeal of the public art in Houston are symbolic of the region's dynamic diversity, sophistication and independent spirit. But what about the millions of residents who don't live or work in those premier districts, or aren't frequent Theater District patrons and museum members?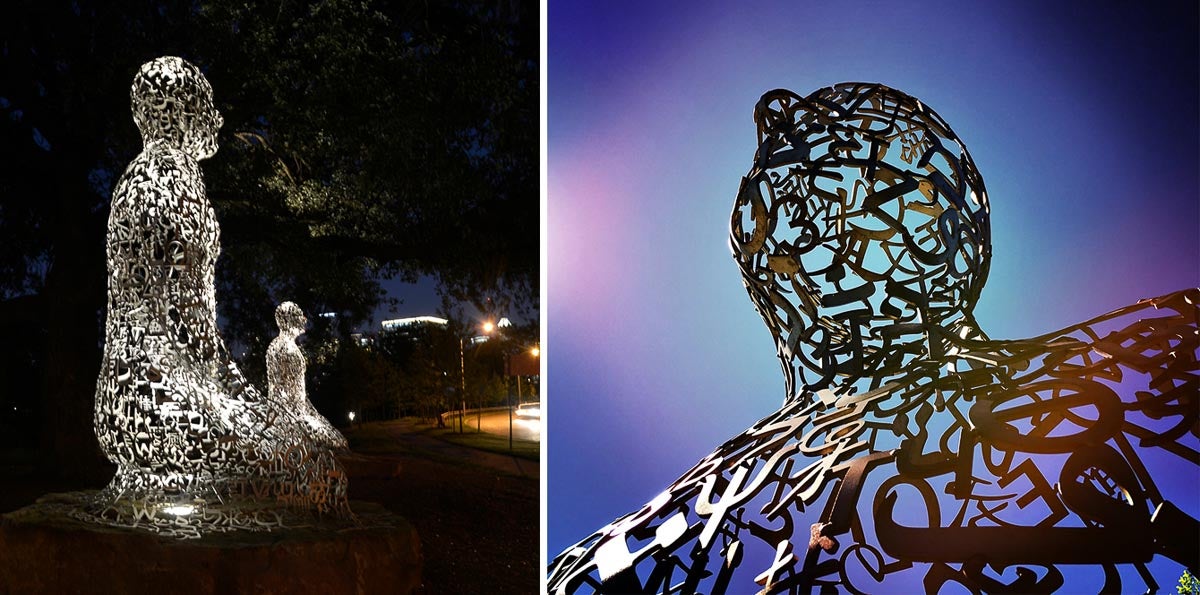 The benefits of public art in rapidly changing neighborhoods
Art in public spaces contributes to a community's sense of place and identity. It serves as a source of pride for residents and businesses, and imparts a broader understanding of the community to the world outside the neighborhood.
Houston Mayor Sylvester Turner has often stated that we should not be "a city of haves and have-nots."
In April 2017, Turner announced the city's Complete Communities initiative, which seeks to elevate struggling communities by addressing a wide spectrum of quality-of-life issues. Initially, the plan launched with five neighborhoods designated as "under-resourced" — Acres Homes, Gulfton, Second Ward, Near Northside and Third Ward. The program has since expanded to include Alief-Westwood, Fort Bend Houston, Kashmere Gardens, Magnolia Park-Manchester and Sunnyside.
Third Ward is a neighborhood steeped in Houston history. The famed Eldorado Ballroom was central to the jazz and blues scene that flourished from the 1940s into the 1970s. Third Ward also anchored the civil rights movement in Houston.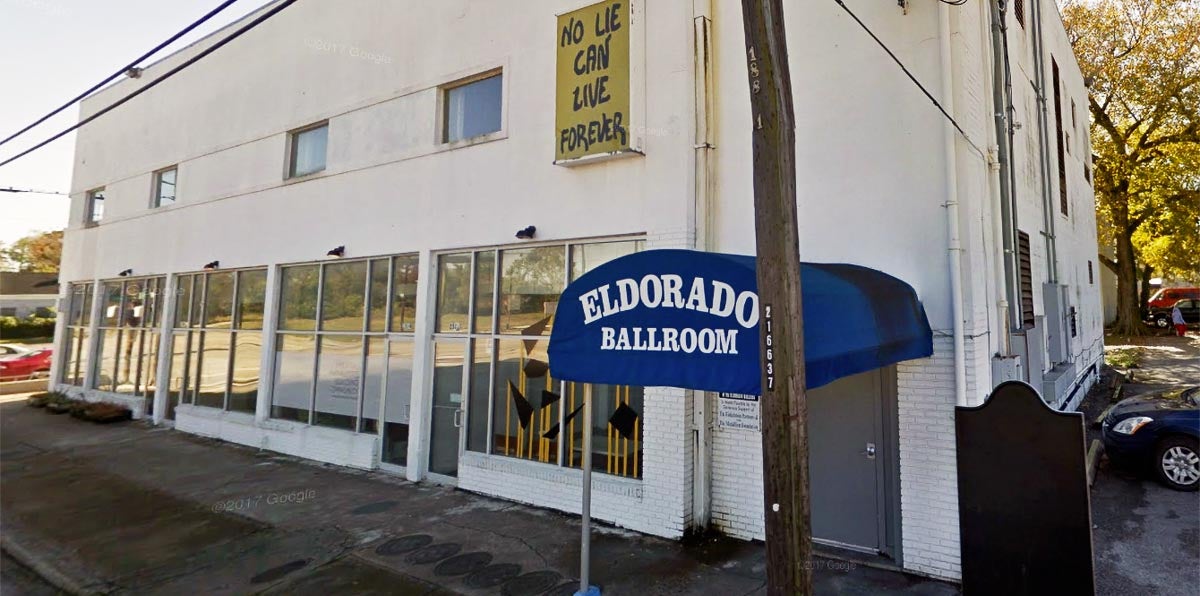 "Public art is a visible, tangible representation of values, which is important during times of rapid change and gentrification," says Ed Pettitt, a Third Ward resident and activist, who works as a pediatric AIDS project coordinator with Texas Children's Hospital.
Pettitt urges proponents of development to think about how — or if — new development in the area benefits longtime residents. He also believes it's essential to consider how development impacts preservation of an area's cultural history.
"Some people see public art as beatification for the sake of improving property values," says Pettitt. "Other folks, including me, see public art as an opportunity for the community to make a statement about its values and the cultural heritage of the neighborhood."
These artistic moments in the landscape stand as symbols that communicate the neighborhood's strengths to newcomers and developers alike, Pettitt says. And he emphasizes the importance of not conflating a community like Third Ward with some of the issues confronting it, such as crime, homelessness and drug use. That's a mistake that can be made by those who don't actually know the neighborhood or the enriching reality of life there.
"Third Ward is not just a place full of challenges, we have many assets, too, including a tremendous history to be preserved," says Pettitt. "New folks need to realize they are moving into an established neighborhood and culture."
At the recently renovated Emancipation Park — the oldest public park in Texas — Houston artist Reginald Adams' tile mosaic pillars depict the park's founders, Richard Allen, Richard Brock, the Reverend Jack Yates and the Reverend Elias Dibble, who raised $1,000 to purchase 10 acres of land for the park in 1872. Adams also created the 88-foot "Sacred Paths" mural on the side of Pilgrim United Congregational Church, which faces Columbia Tap trail.
Third Ward has higher rates of social cohesion than many neighborhoods in the Houston area, Pettitt points out. In other words, caring for your neighbors is not reserved just for times following a natural disaster.
"Neighbors help each other on a regular basis," he says, "offering rides to work, watching kids when needed."
That level of social cohesion is evident in Project Row Houses, another great art asset in Third Ward. It was launched in 1993 by artists-turned-advocates who championed the idea of converting several neglected shotgun houses into a canvas where art could ignite social transformation.
More than 25 years later, Project Row Houses spans five blocks and its 39 structures offer artists, young mothers, small businesses and Third Ward residents a supportive environment for their ideas and empowering them with the tools and capacity needed to bring about positive impacts for others.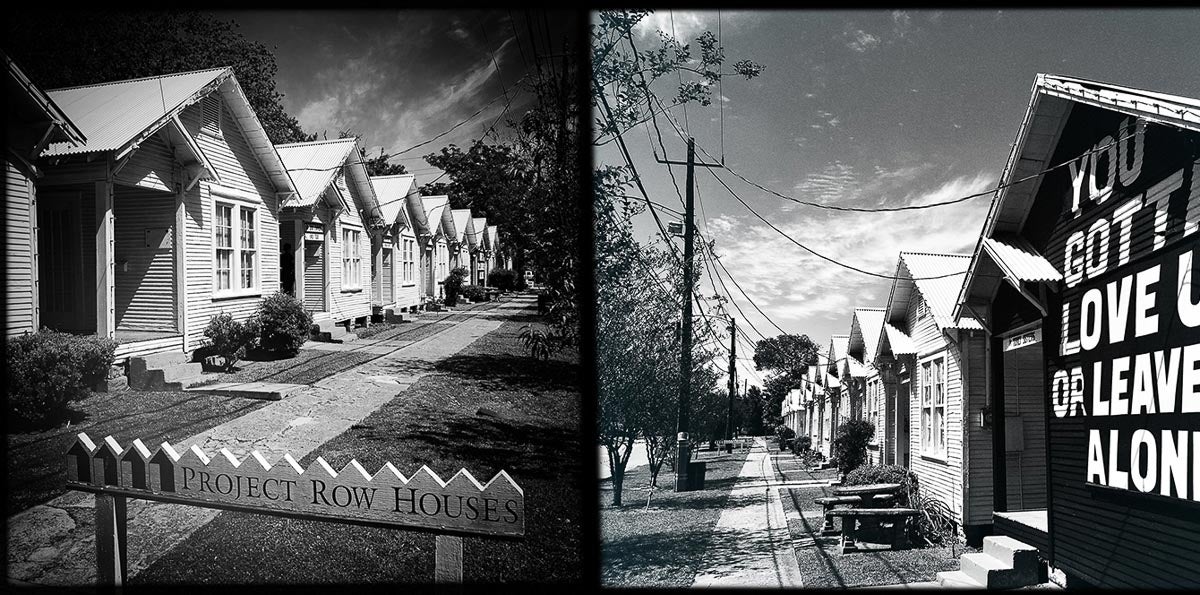 Changing behavior with environmental design
In addition to preservation, civic pride and beautification, another encouraging by-product of creating space for public art is crime prevention through environmental design (known as CPTED). An example is the Third Ward Chess Park, a project led by Pettitt that transformed a scruffy vacant lot at the corner of McGowen and Live Oak into a lively gathering spot for the community.
Before being reclaimed by the community, the lot had been popular with drug users and dealers.
Now it features colorful picnic tables, garden planters painted by artists from iMiTs Art and the invitingly interactive "Star Bench," a climbable sculpture created by Max Syron. In mid-April, a touch-free hand-washing station was installed in the park.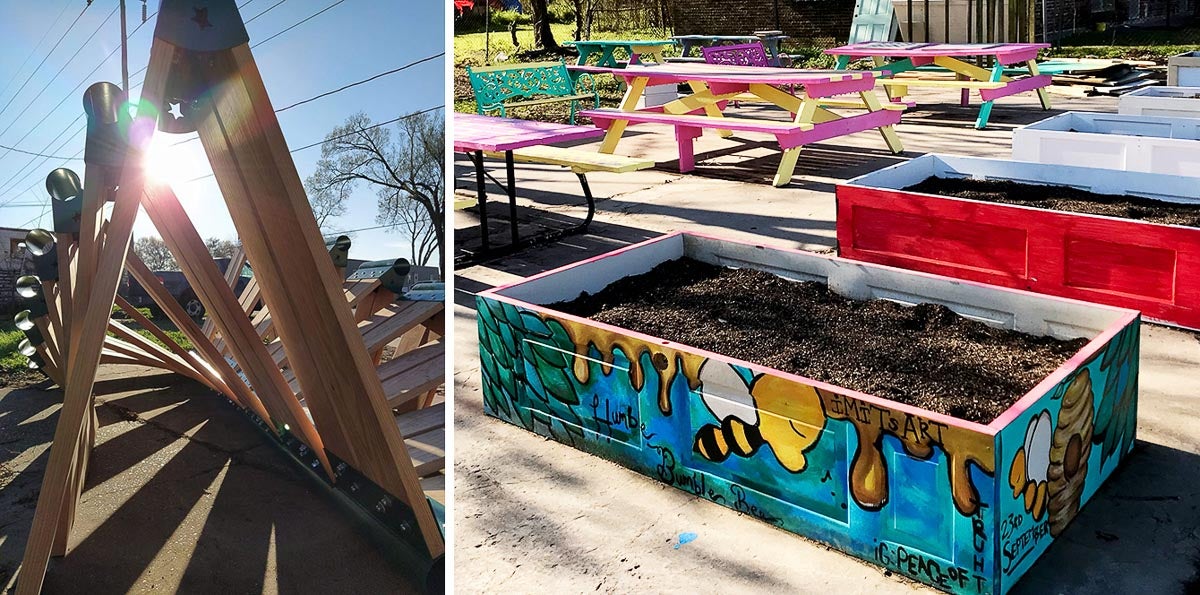 Public art calms traffic in Gulfton
On the city's southwest side, community leaders in the Gulfton neighborhood have also seen the power of public art projects. Located just outside the Interstate 610 Loop, between U.S. 59 and Bissonnet, Gulfton's approximately 46,000 residents are largely Latin American and Middle Eastern immigrants who live in the area's 90 apartment complexes, which total more than 15,000 units. The neighborhood is often described as the Ellis Island of our time.
Dr. Aisha Siddiqui, who has lived in Houston since 1989 who holds a doctorate in public health, founded the nonprofit Culture of Health – Advancing Together (CHAT) in 2015 in an effort to improve the health and well-being of immigrant and refugee communities through arts, education and access to care.
Through the Complete Communities program, Siddiqui worked with the Mayor's Office of Cultural Affairs and Houston Arts Alliance to develop and deploy the Gulfton Story Trail Mural Project. Initiated in 2017, the project took inspiration from poems submitted by students from schools in the area.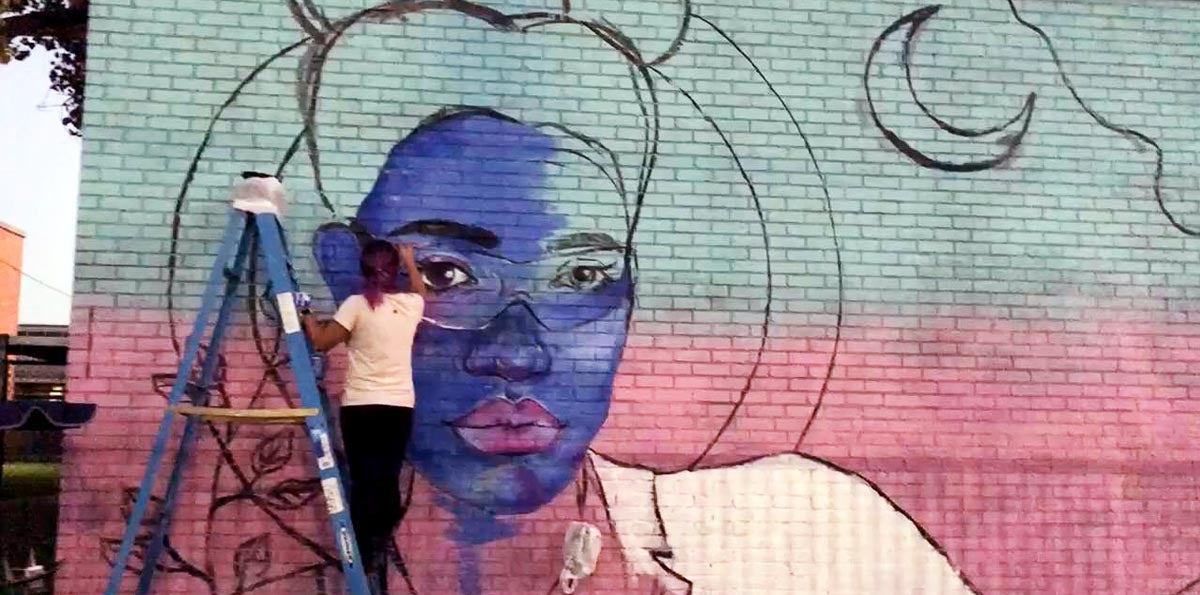 By the end of 2018, the project's 12 murals had transformed a dozen walls that had long been either lackluster or frequently tagged with graffiti.
Siddiqui says the benefits of the artwork include deterring graffiti and slowing traffic in one of Houston's most densely populated areas, which is also one of the most dangerous areas for pedestrians. Between 2010 and 2017, 149 pedestrians were killed or injured walking in Gulfton.
"The vast majority of this community relies on walking [to get] from place to place, with many of the children and parents walking to and from school," Siddiqui says. "It's now widely known among the residents that the presence of the murals reduces graffiti [and] reduces speeding, which makes their trips to school and to the store safer and less threatening."
The murals were so well-received by the residents and the local business community that an additional mural — depicting a child's concern for her mother during Hurricane Harvey — was completed in 2019.
"The school murals yield opportunities that positively influence children's attitudes about education, while art in the public realm deters crime," Siddiqui says. "Funding remains a serious issue for these projects, but we continue to pursue them to help further our mission."
Sandra Cook is a writer based in Houston.
---
More examples of public art found throughout the city ...
This weekend's forecast doesn't look promising for a day of exploring the city's broad range of art in the public realm, but when the weather clears, consider visiting some of the following ...
Downtown
Market Square Park (numerous sculptures and fountains)
Discovery Green (a number of sculptures)
Buffalo Bayou Park (numerous sculptures and fountains along trails)
Museum District
MFAH Sculpture Garden (numerous sculptures amid shade trees)
Hermann Park (numerous sculptures along the park's shaded trails)
Heights Area
Heights Boulevard Park (True North sculpture series)
The Silos at Sawyer Yards (Art Alley features dozens of outdoor murals)
Southwest Houston
Gulfton Story Trail (13 murals throughout the Gulfton neighborhood)
HPD South Gessner Division Station (sculptures by Tara Conely)
HFD – Fire Station 37 (stained glass windows by Jeff G. Smith)
North Side
Veterans Memorial Park (sculptures and mural by Rosalinda R. Toro)