Kristin Bennett is trying to reduce the size of a Houston food desert that's home to 38,000 people.
To do this, she and a team of fellow volunteers launched a regular farmer's market in Acres Homes this past summer following a year of intense preparation, three pilot markets and a considerable amount of community engagement. The market has been a success but it isn't enough by itself to solve the food access problem in the historically black neighborhood.
"I think with Houston's climate — anytime we have these weird fluctuations in temperature or have a lot of rain and it's really cold and then it's really hot — it really messes up what they're able to grow," Bennett says. "And with Houston's land being brought up so fast, we are up against the problem of a lot of farmers not having as much access to land as they'd like. Fortunately, we're a small market — we only function once a month.
"We are nowhere close to being able to feed or solve food insecurity in Acres Homes but I think we're off to a good start."
Last week, the city released "Resilient Houston," its overarching plan to tackle the social, economic and environmental "shocks" and "stresses" hindering its neighborhoods and communities. The underlying rationale is that building a stronger city starts with addressing problems — specifically, 27 stresses and 13 shocks — at the neighborhood level.
To do that more effectively and efficiently, city leaders want to connect community organizations from across Houston with each other and outside partners to continue and expand the invaluable work already being done to improve the quality of life in many neighborhoods.
The "Resilient Houston" framework also seeks to align community-level initiatives with broader citywide plans and projects such as Complete Communities — launched in 2017 to support five historically underserved neighborhoods: Acres Homes, Gulfton, Near Northside, Second Ward and Third Ward. Each community in the program, which was expanded this past summer to include 10, completes a six-month process of gathering input from residents and stakeholders — as well as city departments and citywide planning strategies — resulting in an action plan that lays out a vision and the policies, goals and projects necessary to help the community reach its "full potential."
The work being done to build resilience in the five pilot Complete Communities is highlighted in Community Resilience Initiatives: Building Stronger Neighborhoods in Houston, a report released by the Kinder Institute for Urban Research this week. The report shows how the efforts of 21 current initiatives align with the frameworks of both Complete Communities and "Resilient Houston." It also identifies best practices and approaches that can be applied to future work in other neighborhoods.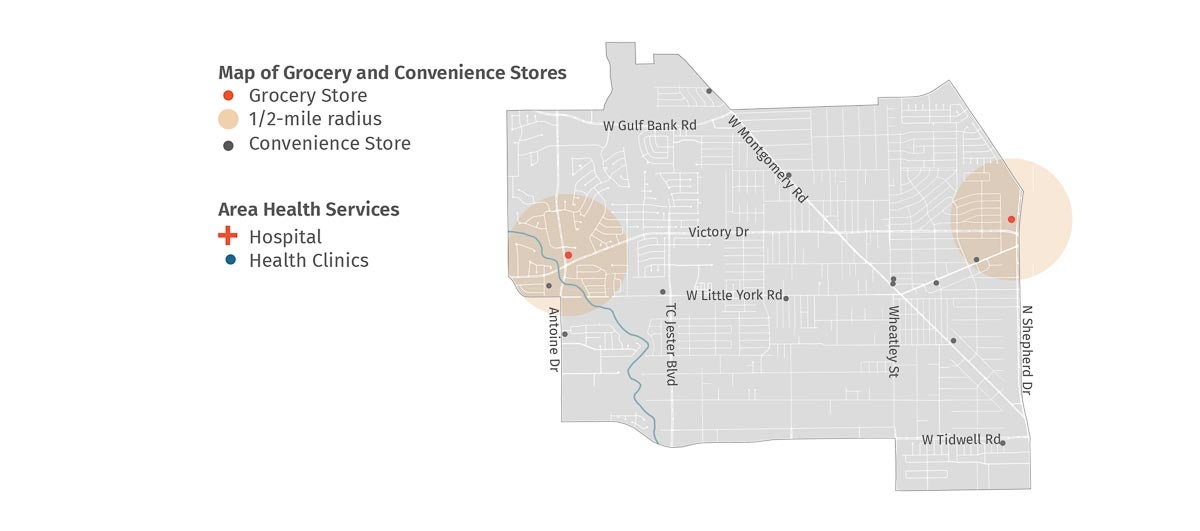 Understanding strengths and weaknesses in Acres Homes
In Acres Homes, the highest priorities identified during the Complete Communities planning process were "expanding economic development and opportunities, new affordable housing, safeguarding the history and character of the neighborhood and expanding civic leadership and engagement. Additional focus areas include education, health, parks and community amenities, safety and mobility and infrastructure."
Geographically, the Acres Homes Complete Community differs slightly from the Acres Homes Super Neighborhood, encompassing the Super Neighborhood and a portion of Great Inwood. As of 2015, it was home to a population of 55,000 that was 56% African American, 35% Latino, 7% white and 1% Asian.
To strengthen the health of the northwest Houston community, three health-related goals were set to increase access to fresh and healthy food, nurture healthy and active living and improve well-being.
Taking on the problem of food deserts in Acres Homes
The highest priority was given to the goal of fighting food insecurity through better access to fresh and healthy foods by bringing a new, centrally located grocery store to the area, building community gardens and hosting regular farmer's markets. The Kinder Institute report ties the goal to the "Resilient Houston"-defined stresses of food access, inequity, economic inequality and disparities in health.
To measure success in achieving the goal, community leaders set out to reduce the number of residents living in a food desert from 69% to 0%. A person who lives more than a mile from a grocery store lives in a food desert, according to the Agriculture Department. Seven of the 11 census tracts in the Acres Homes Complete Community area are in a food desert. That's approximately 38,000 people. In addition, more than 3,000 low-income families without a vehicle live a half-mile or farther from a grocery store.
There are only two grocery stores within the boundaries of Acres Homes — a Joe V's Smart Shop on the eastern edge of the neighborhood and a Foodarama on the western edge. There are a number of "grocery stores," "supermarkets" and "food marts" in the area but they are grocery stores in name only. In reality, these businesses are just convenience stores.
A complete community is a healthy community
During the process of creating the community's action plan, a working group called the Acres Homes Health Action Team (AHHAT) came together and took the lead on launching a farmer's market in the neighborhood. The team — mostly Acres Homes residents, community partners such as Pure Grace Missionary Baptist Church, other institutional partners such as the American Heart Association and a "sprinkle" of health care professionals — mobilized in early 2018.
"We planned for roughly a year or so of preparation and the market launched in the summer of 2019," says Kristin Bennett, a public health professional and chair of the Acres Homes Health Action team.
Two of the biggest challenges Bennett and the Health Action Team have faced are allocating funding and expertise — obstacles likely faced by groups in other communities. That's not surprising given the nature of an ambitious initiative like the Complete Communities, which relies in large part on the hard work of volunteers.
The Health Action Team benefitted from having members with experience starting a nonprofit and created Communities for Better Health — a nonprofit to provide strategic and fiscal support and leadership.
A collaboration with an existing community nonprofit called NationSync led to seed-funding for the market from the Houston arm of the Local Initiative Support Coalition (LISC). Securing the funding required writing a grant, which can sound intimidating to those who've never done it. Fortunately, Bennett, who holds a master's degree in public health and is pursuing her doctorate, is an experienced grant writer — a skill that has been a big asset to the team.
"There are small grants like the LISC grant we were awarded," she says. "A very simple application that probably took me 20 minutes to write. But when I presented it to the group and I said, 'grant,' everybody freaked out. So, showing the team members that it's not as difficult as it sounds, and building their own self-efficacy to take on some of this stuff will help us sustain the group over time."
Since the launch of the market, Communities for Better Health has landed another year of funding through the Episcopal Health Foundation and the Activating Communities grant program. The funding will support the expansion of the market and allow the organization to hire a staff member to build and promote community advocacy for healthy habits and education.
The team also had connections to key collaborative partners such as Urban Harvest, an area nonprofit that supports farmer's markets and community gardens. Urban Harvest was a valuable resource for technical assistance with setting up the program, including sharing its market rules and vendor applications.
In the year leading up to the opening of the market, the team did a lot of research into what community members wanted — conducting pilot markets and collecting input through Facebook polls and in-person surveys about the products people wanted to see and how much they were willing to spend.
"That's where we got a lot of (feedback), like the big green leafy vegetables," Bennett says. "They wanted to see eggs. They wanted to see honey vendors. They wanted to see small businesses that sold pastries or even small businesses that had skincare products or hair products and things like that."
Bennett says there also was a lot of effort put into informing residents about not only the health benefits of a farmer's market but its benefits for the local economy as well.
Maintaining a high level of engagement is a tall order
A farmer's market potentially could address two of the needs in Acres Homes: Providing a consistent source of fresh fruits and vegetables and supporting local businesses. By putting an emphasis on using vendors based in the area, the market also became an incubator space.
But, as the Kinder Institute's Kyle Shelton points out, "with many efforts that take place at a hyperlocal level, scaling up and sustaining a program is difficult. Community efforts often revolve around volunteers giving their own time and money. In many cases, communities don't have the chance to connect with those doing similar work in farther-flung parts of the city."
That has been the experience for Bennett and the Health Action Team in Acres Homes.
"With the farmer's market, we really wanted to partner with the economic and workforce team that was formed out of Complete Communities," she explains. "But they don't really exist anymore. We realized that there were a lot of entrepreneurs that were coming and interested in being vendors and they often use (entrepreneurial) support that is out of the wheelhouse of the Health Action Team."
Bennett says the Complete Communities initiative in Acres Homes could be more effective if a holistic approach was taken and teams with expertise in other areas such as economic opportunity.
"There are a lot of things that overlap when you look through the plan. And without those other action teams being as actively engaged in carrying out (the action plan), things kind of just fell by the wayside, I think."
Next up? Attracting a grocery store.
Bennett is excited about the next item on the Health Action Team's to-do list: Trying to attract a new grocery store to Acres Homes. Beginning in August, CAN DO Houston will provide advocacy training to her team and other residents interested in learning how to successfully advocate for bringing a grocery store to the area.
CAN DO Houston is a nonprofit promoting health equity throughout the city by working with residents in neighborhoods that have limited resources to launch initiatives that support changes in environmental policy, active living, healthy diets and civic engagement.
"I really wanted the community to be actively engaged in that process," Bennett says of the effort. "I also know that's probably going to be a challenge because there is obviously some underlying reason why a grocery store chain hasn't come to the community. I anticipate (it) probably isn't going to be the easiest lift. But with the training, I think we'll be able to better target our approach."