When is $100 worth more than $100? When you live almost anywhere in the U.S. South, Southwest or Midwest.
In one handy graphic, the stark cost-of-living differences throughout the country are readily apparent, thanks to data collected by the U.S. Bureau of Economic Analysis and crunched by the Tax Foundation, a Washington, D.C. think tank.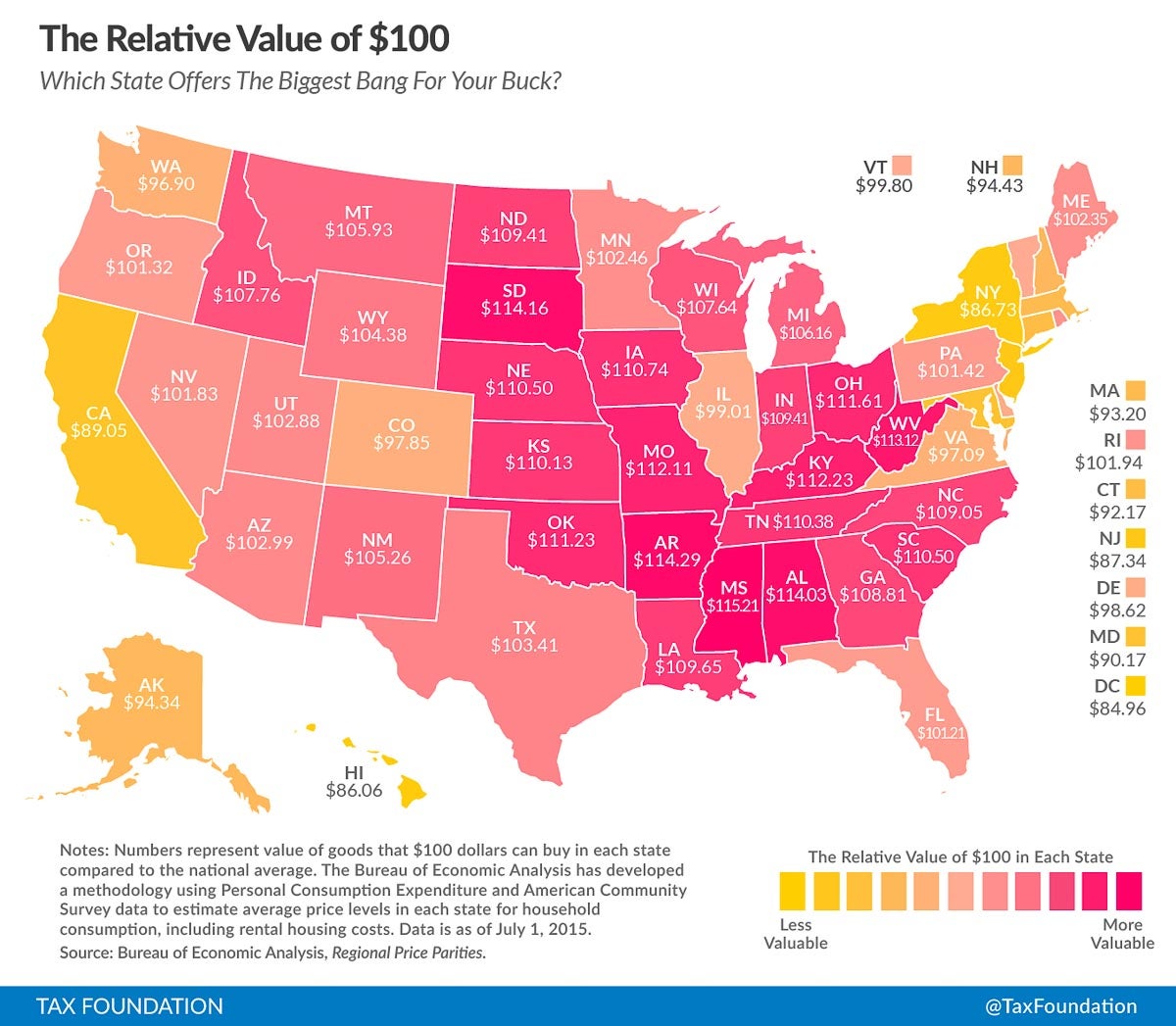 Immediately, it's clear just how expensive several places - namely California, New York and most Northeastern states - are relative to the rest of the country.
At the same time, it's evident that parts of the South and Midwest have dramatically lower costs of living than the country at-large.
The findings are based on the differences between the average price of goods purchased in a state and the national average cost of those goods.
The states with the highest prices were Hawaii (where $100 is essentially worth $86.06), New York ($86.73) New Jersey ($87.34) and California ($89.05.). Washington, D.C. was the most expensive place to live, but that's partly because it's not really a state, and it is entirely urban. There, $100 is essentially worth $84.96.
On the other hand, $100 goes the furthest in Mississippi ($115.21) Arkansas ($114.29) South Dakota ($114.16) Alabama ($114.03) and West Virginia ($113.12).
Texas is close to the middle of the pack. Here, $100 is the equivalent of $103.41.
If the findings make you think about running off to Mississippi to live like a king, you might want to think again. Generally, states with high costs of living tend to pay higher salaries.
Still, those effects don't always balance each other out. The Tax Foundation's analysis notes that Californians and Nebraskans earn about the same income, but when adjusted for purchasing power, Nebraskans' salaries go further.
Those types of disparities could have policy implications. As the Tax Foundation notes, some federal policies like the minimum wages and tax brackets are based on dollar amounts. But they don't always take into account regional variations in costs or purchasing power.
The most expensive metro areas, by the way, are Honolulu; New York; San Jose, Calif., Stamford, Conn.; Santa Cruz, Calif. and San Francisco.
The least expensive metro areas are Beckley, W.V.; Danville, Ill.; Rome, Ga.; Jonesboro, Ark.; and Valdosta, Ga.