It's been quite a week for Houston. First the announcement that Houston Independent School District's superintendent who started just 18 months ago was headed to New York City while the district confronts budget cuts, ongoing Harvey recovery, the threat of state takeover for a handful of struggling schools and deep-rooted equity issues.
Then the untimely death of City Councilman Larry Green, whose legacies include the mini-mural art initiative that decorated dozens of utility boxes across the city. He was also the first council member to represent District K, which was created in 2011. "He shared in the economic advances and public safety strides of the district without taking the credit for himself," Mayor Sylvester Turner said in a statement. "Houston has lost a groundbreaking advocate for equality, economic opportunity and neighborhood safety."
Here are some of the other headlines on our radar this week.
Title Page
Wave of women crashes Texas primaries. Texas Tribune.
Introduction
Austin Law Requires Jobseekers With Criminal Pasts Get A Fair Shot. But It's Not Being Enforced. KUT.
Staff with the city's Human Resources Department said they prioritized education over enforcement and have not had time to write rules dictating how to investigate complaints. Right now, if the city wanted to fine an employer violating the rules, it wouldn't have the process to do it.
Executive Summary
Gentrification research and policy debates often focus on displacement, which can be difficult to track. If people who would otherwise face pressures to leave could stay, the arguments go, then they could benefit from gentrification. Some studies have sought to quantify what those benefits might entail, but a new study from the University of Texas at Austin's Institute for Urban Policy Research and Analysis surveys some of those longtime residents who stayed despite gentrification in the East Austin neighborhood to get their perspective.
First, some terms. Gentrification here was measured by home sales, renovations, demolitions and new construction. The report also looked at changes in income, population age and race in the neighborhood, saying, "Many see the diminishing number of Black and Latino residents on the eastside as a sign of things to come for other Austin neighborhoods, where longstanding residents of all races are feeling increasingly priced out and compelled to move out of their homes."
But some people did stay, "mostly older, retired Black and Latino residents" and their overall experiences speak to the costs of gentrification beyond displacement.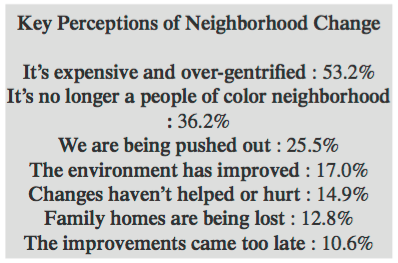 From the report:
The vast majority of longstanding residents surveyed hold a negative view of the changes taking place around them. They do not patron new businesses in the neighborhood and their access to essential amenities and facilities has not improved since the onset of gentrification. Many pay higher property taxes without experiencing an improvement in their overall quality of life.
They are also dismayed by what they consider a lost sense of community. Their new neighbors appear disinterested in building relationships with them and among the newcomers are very few families with children.
Read the full report here.
Conclusion
Advocates have voiced steady concerns about the fate of the United States Housing and Urban Development department. "Those concerns were exacerbated on Wednesday," writes Vox, "when the Department of Housing and Urban Development (HUD) confirmed that it was considering replacing anti-discrimination language in its mission statement with a reference to encouraging "self-sufficiency."
It's a significant gesture, says Diane Yentel, head of the National Low Income Housing Coalition; "Secretary Carson is sending a message to the country that he does not take discrimination in the housing market seriously."
But regardless of the mission statement language, the department's legal obligations don't change.
Endnotes
Fascinating: @sidewalklabs has released a series on 15 innovations that have shaped modern #cities. Do read Editorial Director Eric Jaffe's introduction before going to innovations themselves. https://t.co/ZBsgJudkht #urbanplanning #city #urban #innovation

— Amogh Arakali (@amogharakali) March 3, 2018