Back in May, when the national unemployment rate reached its lowest since 2000, the outlook for workers seemed to be largely positive. Average hourly earnings ticked up as payrolls expanded. But a new report from the Brookings Institution's Metropolitan Policy Program looks beneath the overall numbers, finding a lack of opportunity to access quality jobs in many metropolitan areas.
The analysis divides jobs into several categories: good jobs that pay at least the area's median wage and offer employer-sponsored health insurance, promising jobs that represent entry-level standing but provide pathways to good jobs, and other jobs that lack any of those qualities. In addition to characterizing the composition of jobs in the 100 largest metropolitan areas, the report also considers how many of those good and promising jobs are available to individuals without a four-year degree.
"The number of good or promising jobs held by sub-baccalaureate workers varies by place not only because those places have different kinds of occupations and industries, but also because their workers have varying levels of education," according to the report's findings. "Overall, about one in three (34 percent) of sub-baccalaureate workers in the 100 largest metro areas holds a good or promising job."
As for access to opportunity, the report again found variation across different cities. In Sun Belt cities in particular, the report noted, "the combination of faster growth and lower wage thresholds...creates more opportunities for incumbent workers and their lower wage thresholds help them reach good jobs faster."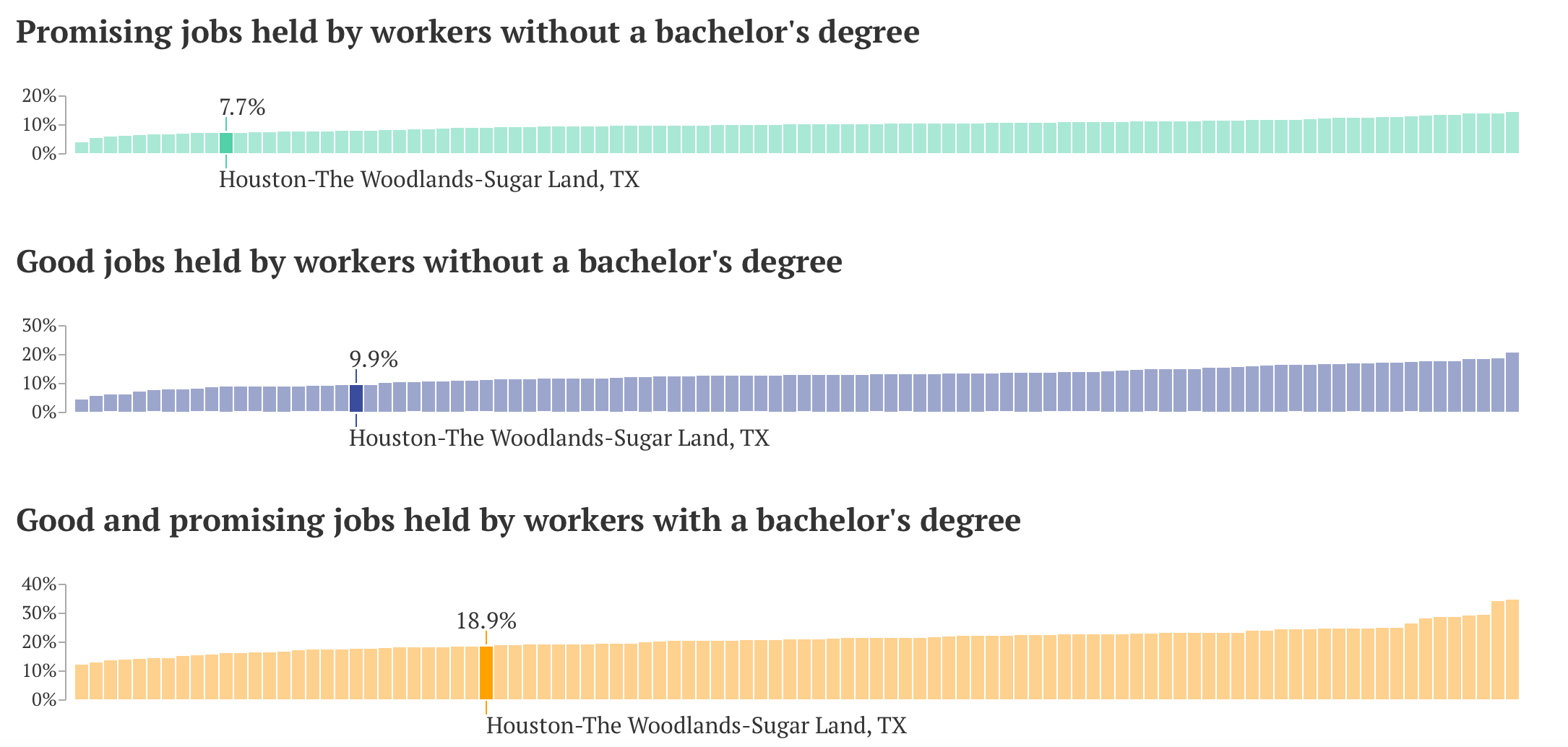 But a number of Sun Belt cities actually compare relatively poorly when it comes to their shares of quality jobs and opportunities. In Dallas and Houston, for example, roughly six out of ten jobs were not considered good or promising. The numbers were similar in places like Las Vegas, San Antonio and Memphis. In Houston, however, the share of good or promising jobs held by workers without a four-year degree was much closer to the share held by workers with a four-year degree when compared to places like San Jose, which had many more quality jobs for workers with degrees than for those without.
In the end though, the report found that "[n]o large U.S. metropolitan area providessuf cient high-quality labor market opportunitiesfor all the people who need them, especially workers without a bachelor's degree."
Still, the report identified ways workers have been able to improve their outlooks, including jumping between occupations. Indeed, "more than 71 percent of workers who are projected to obtain a good job by 2027 will move from one major occupation group to another, representing a significant career switch."
The findings, argued the report, "should inspire cautious optimism about the future of labor market opportunity in metropolitan America. Although we find a shortage of opportunity across metropolitan areas, the dynamism necessary for adapting to this period of accelerating economic change is already a fundamental part of how local labor markets function."