Apartment List released the first-ever "Renter Migration Report," which maps the potential migration flows of American renters based on data from the website's apartment search engine between January 2018 and May 2019.
According to the report, both Dallas and Houston are identified in the top 12 American metros attracting, at least in their searches, the most renters from elsewhere at 11 and 12, respectively.
The report features an interactive map users can play around with to learn anticipated inbound and outbound movement in American cities should the searches indicate planned moves. For Houston, residents from San Antonio, Dallas and New York are the top three searches for rentals in the Bayou City. On the flip side, Houston residents are looking for new places to live in Dallas, San Antonio and Los Angeles the most out of all metros in America, according to the data.
The search breakdown for Houston shows the percentage of search share within metro being lower than the out-of-metro share, 38.7 percent to 28.6 percent, respectively. This means that there is a higher percentage of people wanting to move into the country's fourth-largest city than there are people wanting to move out.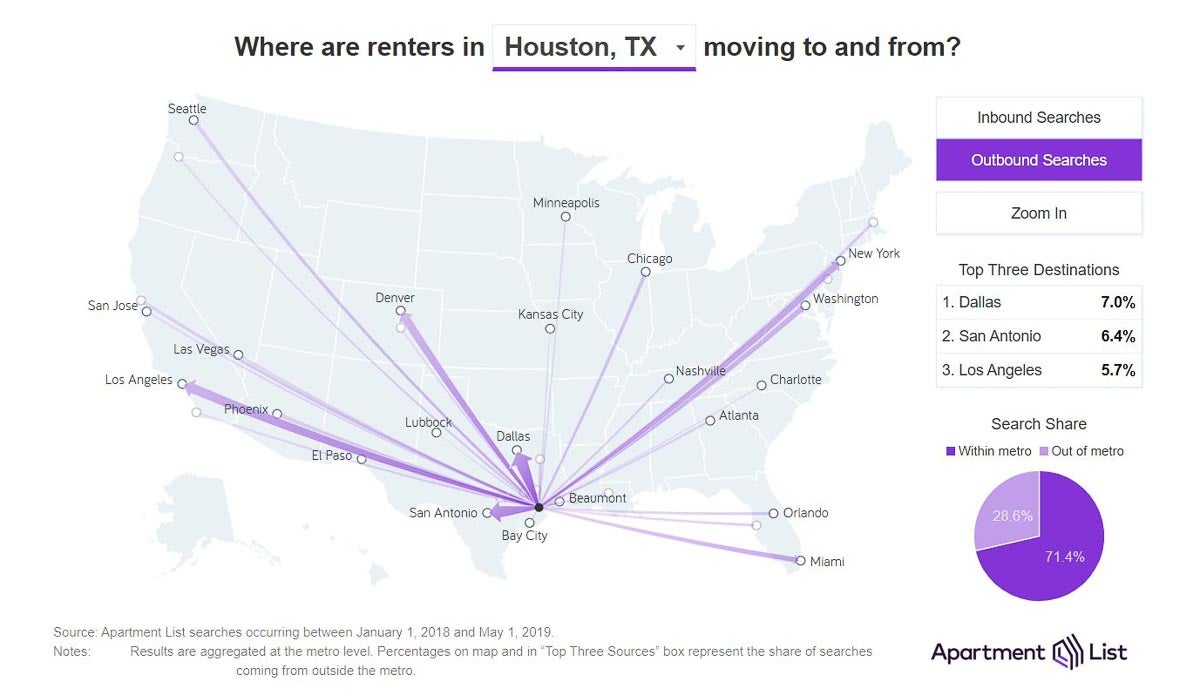 As for other Texas cities, Dallas might lose the most rental population to San Antonio, and gain the most interest from New Yorkers, according to the interactive map. Austin, on the hand, would both lose and gain the most residents from San Antonio.
On a national scale, the report shows renters are wanting to get out of Detroit and are looking for rentals in Denver and Tampa the most. The other top 25 in each category can be seen below.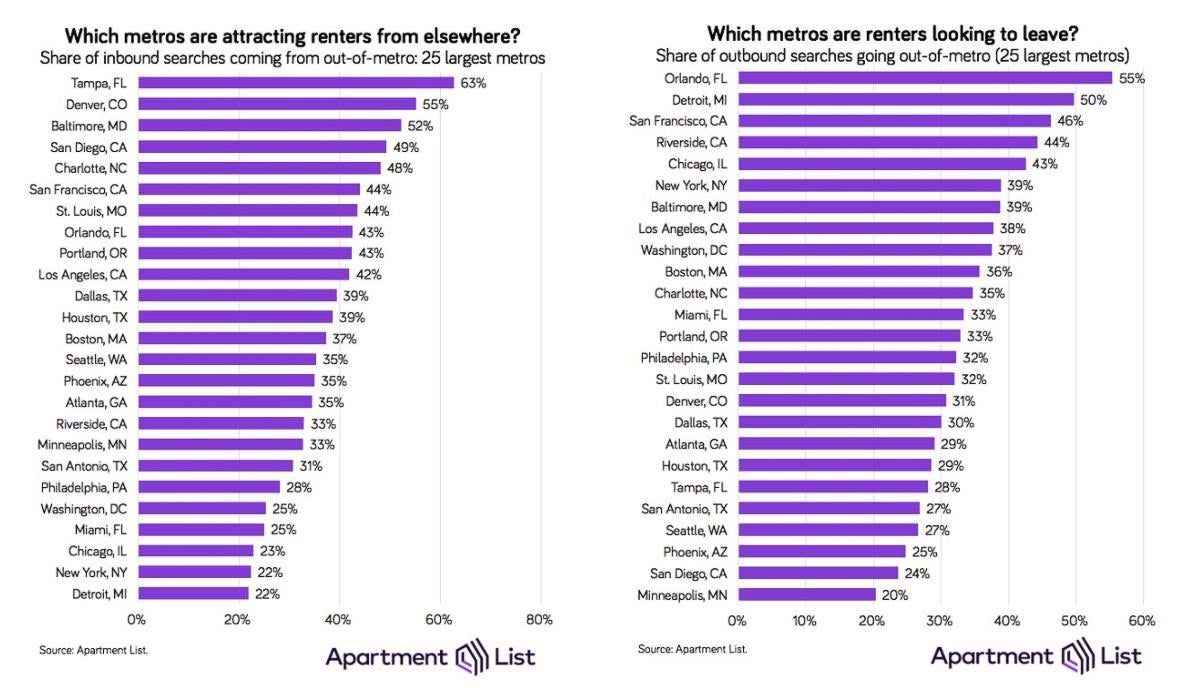 The reason Apartment List identifies Detroit as losing renters and not Orlando is because "Orlando, unlike Detroit, has a thriving local economy and has been experiencing robust population growth." Therefore, if a city like Orlando appears on both the outbound and inbound searches relatively equally, then the data indicates that the "area is experiencing a changing population rather than a declining population." Houston, San Francisco, Riverside, Baltimore, Los Angeles and others similarly fall under this category of a changing population, too.
The findings of the Apartment List varies from other migration reports in recent years and census data has Phoenix, San Antonio, Fort Worth, Seattle, and Charlotte as the fastest-growing large cities in America. The variation is due to where Apartment List's data comes from, which is internal apartment searches on their platform. Because of the data source, this means homeowners, immigrants, new babies and children, and people who die are excluded from the population data. Additionally, this data is pulled only from a single apartment search site.
"Publicly available migration data from Census tracks these trends, but that data source captures moves that have already occurred and is released with a fairly lengthy time lag," the report notes. "Search data from platforms such as Apartment List can help supplement our understanding of migration patterns by serving as a leading indicator that shows where renters are looking to move before those moves have actually occurred."