Though the complex doesn't officially open until April, residents have already starting moving in to New Hope Housing's latest complex located right off the light rail just east of downtown in Houston's Second Ward. New Hope has built just over 1,000 single room occupancy residences in the city, meeting a critical need.
Around for more than 20 years, New Hope Housing has made a name for itself elevating the typical single room occupancy complex to a breathable, thoughtful residence with an eye to design and attention to detail. "Our model is housing plus services," said Joy Horak-Brown, executive director of New Hope Housing. With seven properties, including the new location on Harrisburg, New Hope Housing is the leading provider of single room occupancy residences in the state. The latest addition, a replacement for the downtown location that was New Hope Housing's first, has many of the same elements shared across New Hope's facilities: it's colorful, mixes indoor and outdoor spaces, offers secure entry and exit and includes supportive services. But this property will be the organization's first mixed-use property, offering office and retail space as well.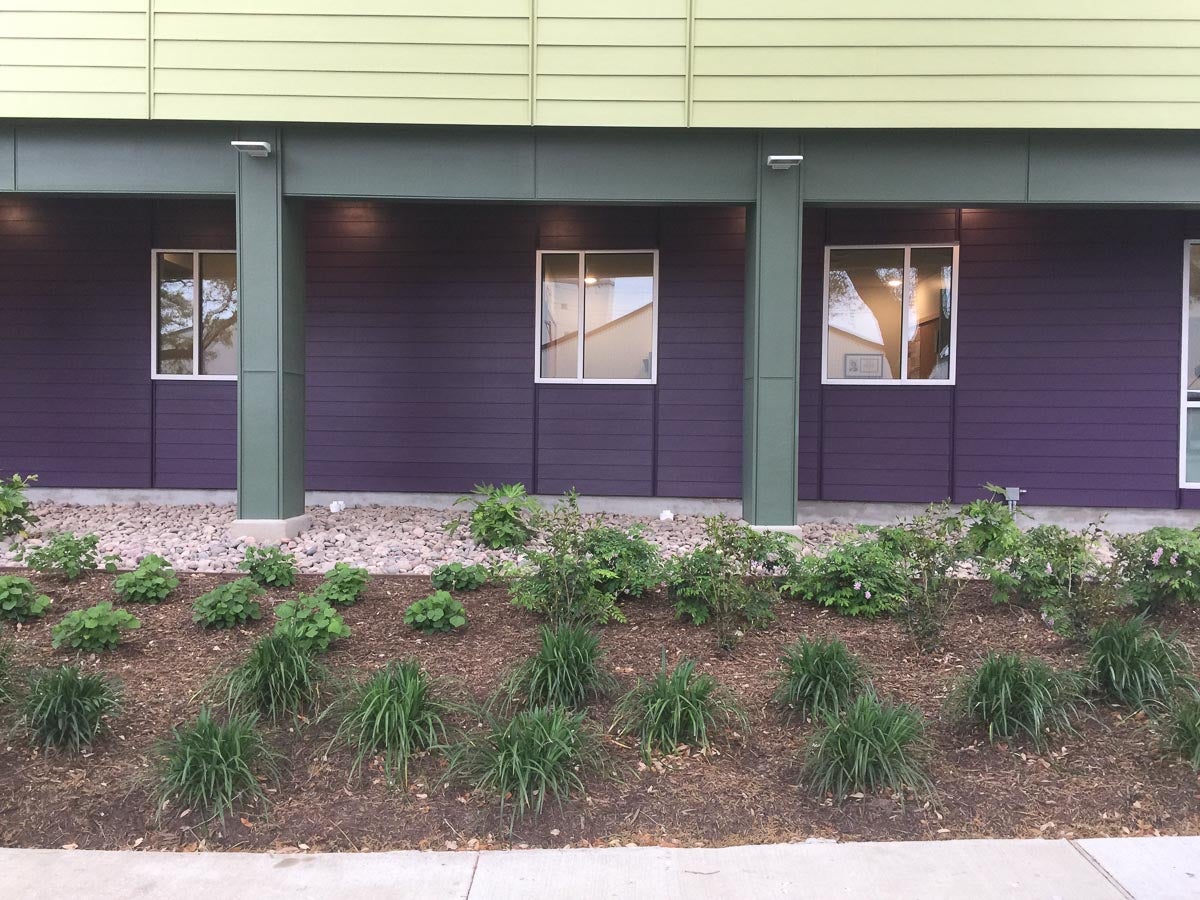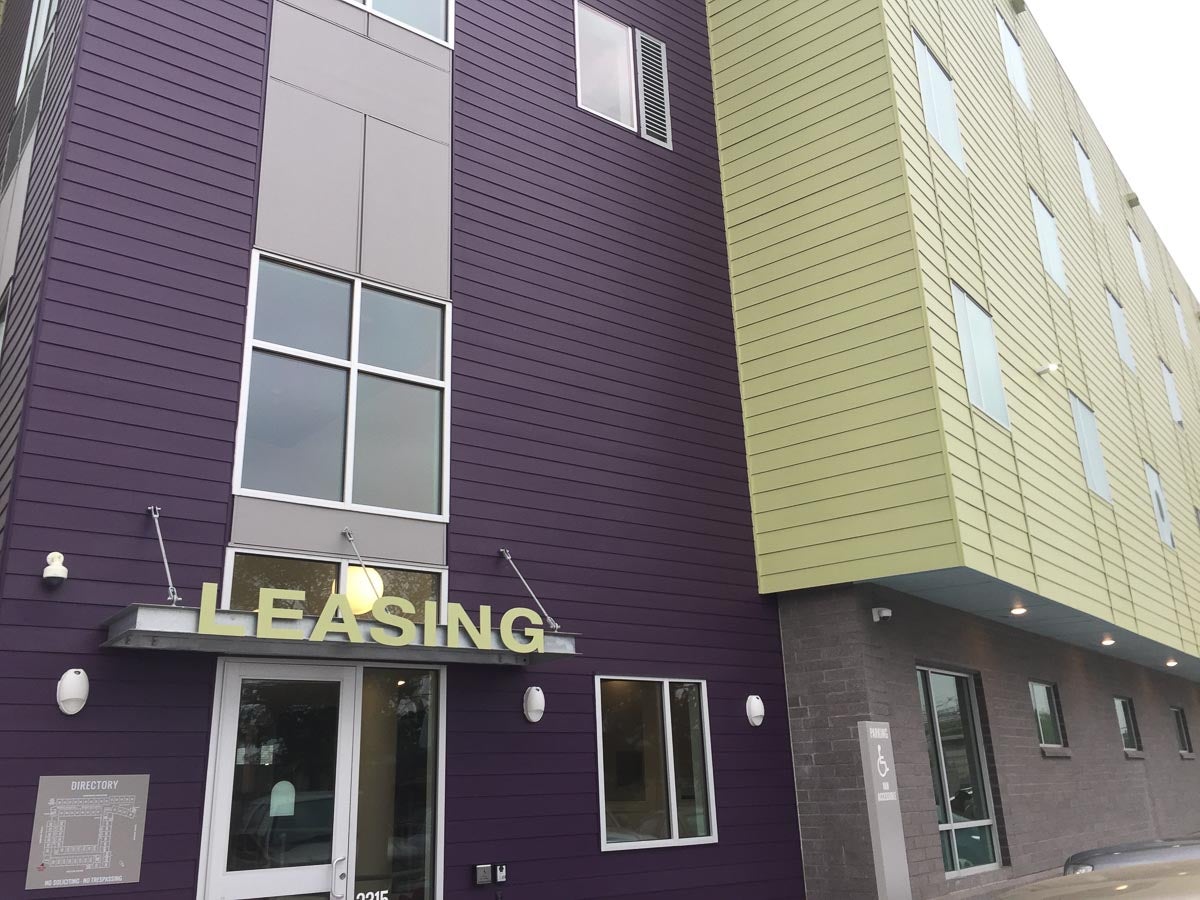 The efficiency apartments serve a population that is often not served through other affordable housing programs. The average annual income of a New Hope resident is $7,481. Some are transitioning from homelessness, roughly half according to Horak-Brown's estimates, while others are simply living on a fixed income with few options in the city. With rents rising in the Houston area, finding affordable and available options for people considered to be extremely low-income, or earning less than 30 percent of the area's median income. The metropolitan area only has 18 available and affordable units for every 100 extremely low income renter households, according to the latest report from the National Low Income Housing Coalition. The fair market rent for an efficiency apartment in the Houston metropolitan area is $772, according to guidelines set by the federal housing department.
But that covers a wide swath of territory, not just transit-oriented, centrally located properties. At New Hope's Second Ward complex, financed through the low income housing tax credit, grants from the city and state as well as private funds, rents start at $500 and include utilities. Many of the residents are also voucher holders, through the federal program that helps low-income households cover rent without being cost-burdened.
Debra Letchworth lived at New Hope's downtown property since 2015. But when that was sold and turned into a parking lot, Letchworth looked forward to moving to Second Ward. For one, the units here were bigger. The standard room size at the Harrisburg location is 260 square feet. The complex also has a larger option that's about 100 square feet bigger in addition to12 ADA accessible units. "I called it my cubby hole," said Letchworth, who came to New Hope after a period of homelessness. "I made it a positive situation," she said, of her time making do in between shelters. "I held on until I got my place at New Hope." And when she moved in, it met her immediate needs. "It kept me safe," she said.
But here at the Harrisburg location where she's lived for about a month, she said she's been able to flourish. She's started to socialize more. She got herself a cat for her birthday and named her Serenity. "I've got a full size refrigerator, a freezer I can put stuff in. I've got a big-sized kitchen sink. I've got a bathroom sink and a bed I can sleep in," she said, complaining that the beds at the old location weren't comfortable. She learned the light rail lines and goes out frequently. The Walmart and her doctor are close by.
The rooms are simple but in addition to coordinating case management and other services, New Hope has a budget to help new residents decorate and stock their homes. There's a kitchen space, no oven or stove, a fridge, a small desk, bed, closet space and bathroom. There are no doors inside the units, a move designed to, in part, cut down on repairs. But as one resident put it, "It's better than where I was before," where he didn't have any space to himself.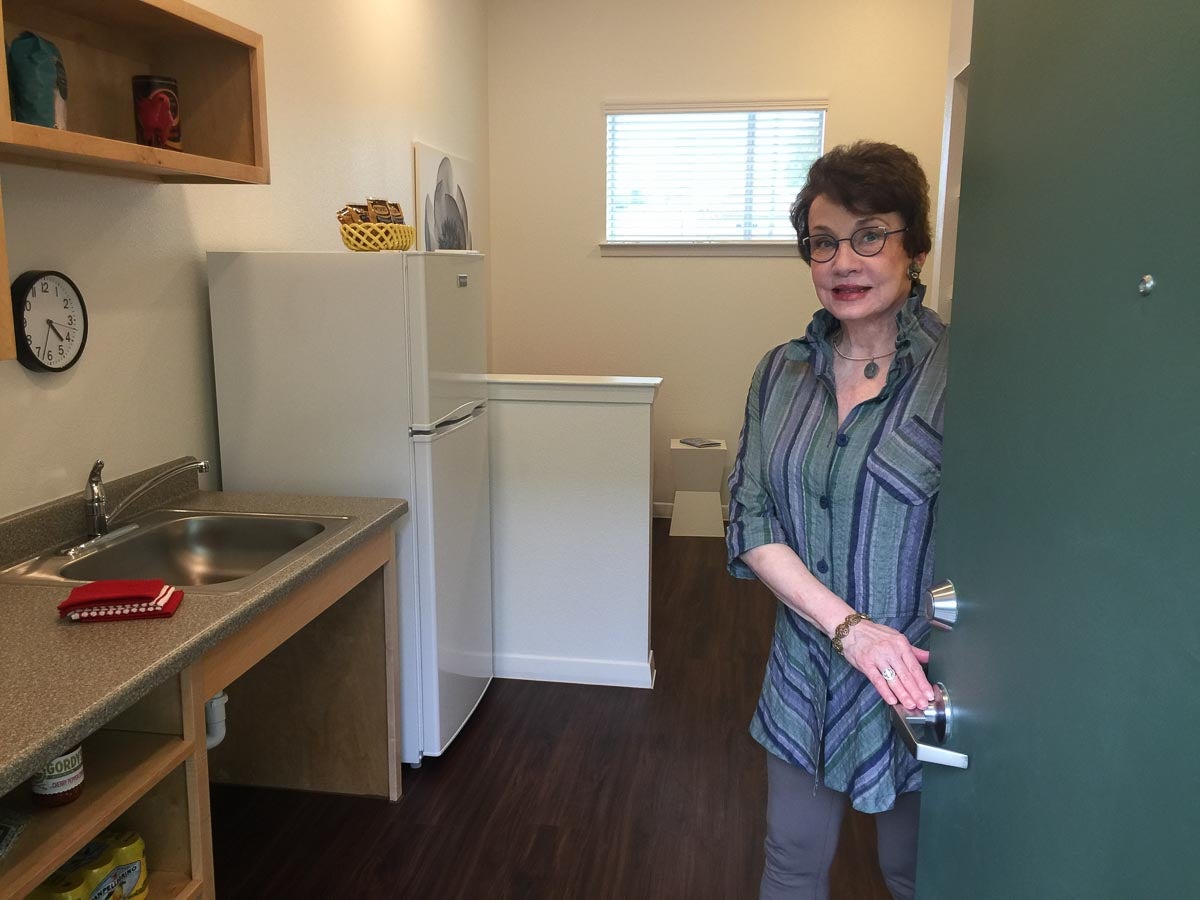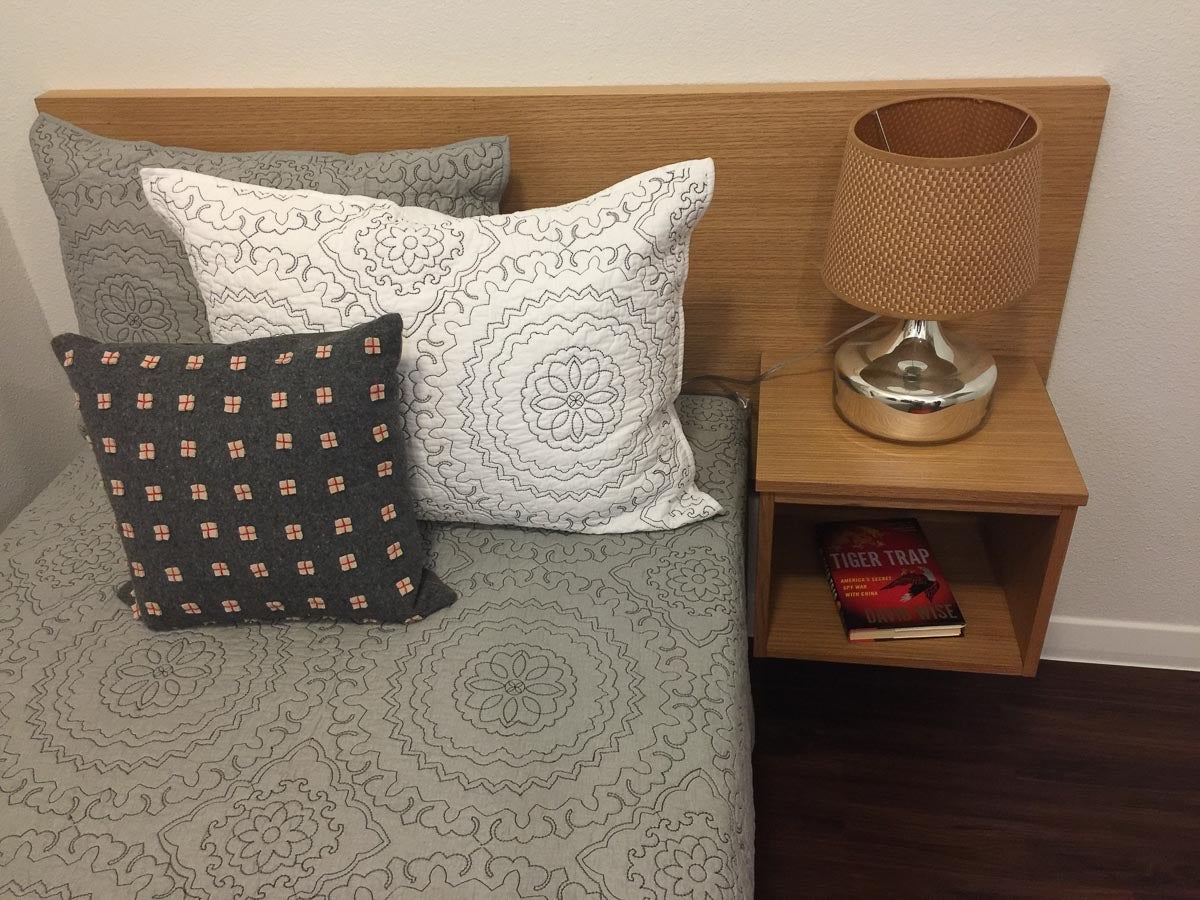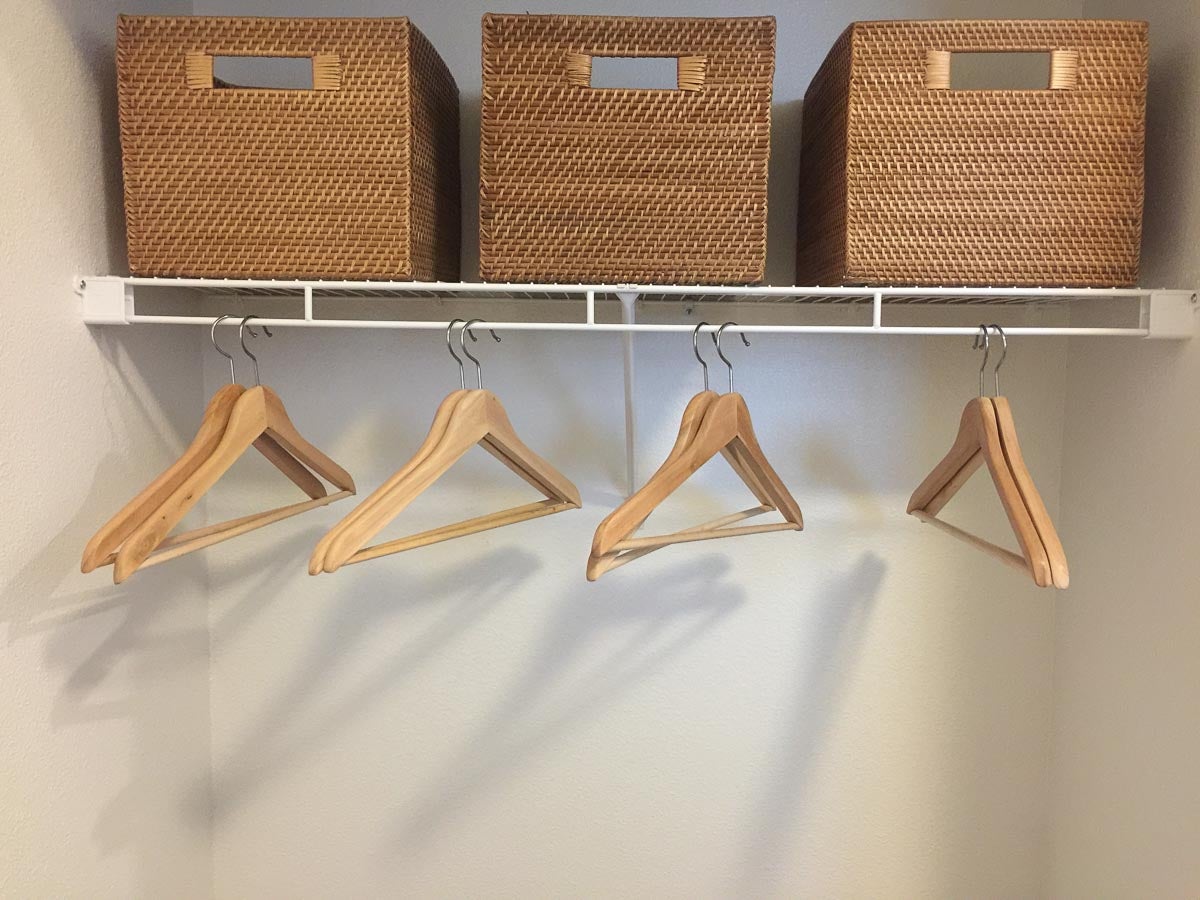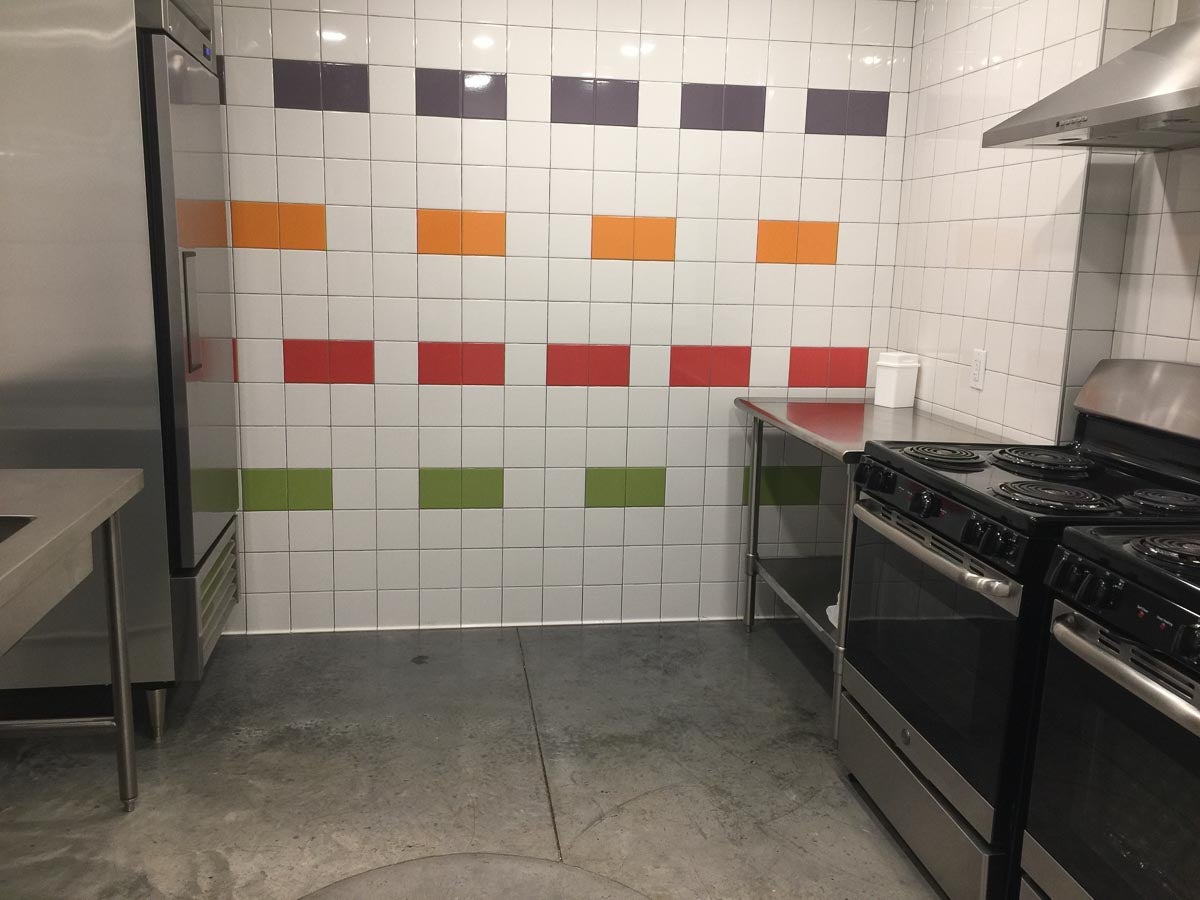 "I don't want a house, I don't want a big apartment," said Jacklynn Hoffman, another Harrisburg resident who found herself homeless after several health setbacks and what she described as getting scammed by landlords.
The facility is designed around a central courtyard and includes a computer lab, a training room, a communal kitchen where residents can cook as well as office space and retail space on the ground-level. Though Calvin Morris mostly keeps to himself, he said he's grateful to have a place like New Hope's Harrisburg location. After struggling with drugs, he said making his way here was a "learning experience" but it's not his last stop. "I thank God for this place, but I'm in the process of moving forward," he said.
New Hope Housing has also helped relocate people affected by Hurricane Harvey. In the wake of the storm, the organization set up and ran an improvised temporary housing on Emancipation Avenue for almost 300 people, some of whom have moved into the new Harrisburg location. Though New Hope has been focused on single room occupancy units over the years, the organization plans to start building properties that offer a mix of options. Expected to open in September, the 187-unit complex off State Highway 288 near Sunnyside will include a mix of efficiencies, one-, two- and three-bedroom units.
For now, Letchworth is happy with her space.
"I want to get a recliner," she said. "I've got time to do that. I'll save my money. I've got the most important part: Serenity."