The first-of-its-kind project, a residential community called Robins Landing, will have many of the same attributes as some of the region's sought-after master-planned communities: green space, walking trails and a convenient "town center" where residents can shop, see a doctor or visit a library.
But most of the homes in Robins Landing will be built for Houstonians who can't afford to buy in many of those communities, where home prices have shot up in recent years.
One of the unique aspects of the community is its developer: Houston Habitat for Humanity. Like a traditional master-planned developer, the nonprofit homebuilder is putting in all the streets, utilities, drainage and other infrastructure work. And it will sell lots to single-family home builders, businesses and retailers, and developers of multifamily and senior housing.
Of the 468 single-family homes planned for Robins Landing, Houston Habitat will build 100, which will be reserved for Houstonians earning 80 percent or less of the city's average median income. That amounts to less than $63,000 for a family of four.
The remainder of the homes will be built by for-profit companies CastleRock Communities and Chesmar Homes. Those homes will be built for buyers earning 120 percent of the average median income or less— around $95,000 for a family of four.
When the community is completed, it won't be obvious which builder built which house. All of the homes will use similar materials, be it stone, brick or siding, and each builder will be represented on every street, said Allison Hay, executive director of Houston Habitat for Humanity.
"It's never been done this way," she said. "Kids riding on the street, when they go into their houses at night they're all on the same street."
Robins Landing is being developed on 127 acres just north of Tidwell Road between Mesa Drive and Greens Bayou. Through fundraising, public support and other partnerships, Houston Habitat, which has owned the land since 2008, was recently able to secure $33 million to fund the infrastructure.
The funding came from a variety of sources, including a $4.79 million investment from the city of Houston and $1.5 million from Habitat from Humanity International. Investment fund Arnold Ventures provided a $7.5 million interest-free loan and the Houston Housing Finance Corp. is providing a low-interest loan of $2.5 million. The remainder will come from traditional development funding, including lot and land sales for single-family homes, multi-family housing, senior living units and commercial businesses.
Habitat has launched a $10 million capital campaign to fund "above the ground" elements, including parks and greenspace with trails, lighting and public art. So far it's raised about $4.2 million. The funds will also be used for lot preparation, landscaping solutions that help with flood mitigation and for short-term support of the homeowners association and a management district as the development grows.
"Once the majority of homes are occupied and the HOA has enough income to do their work, we will leave it for the community," Hay says.
Construction of the homes is scheduled to begin in the fall with the first homes ready within the first few months of next year. The Habitat homes are expected to be priced at around $170,000, with the builder homes at about $246,000. The entire community is expected to be completed in about five years.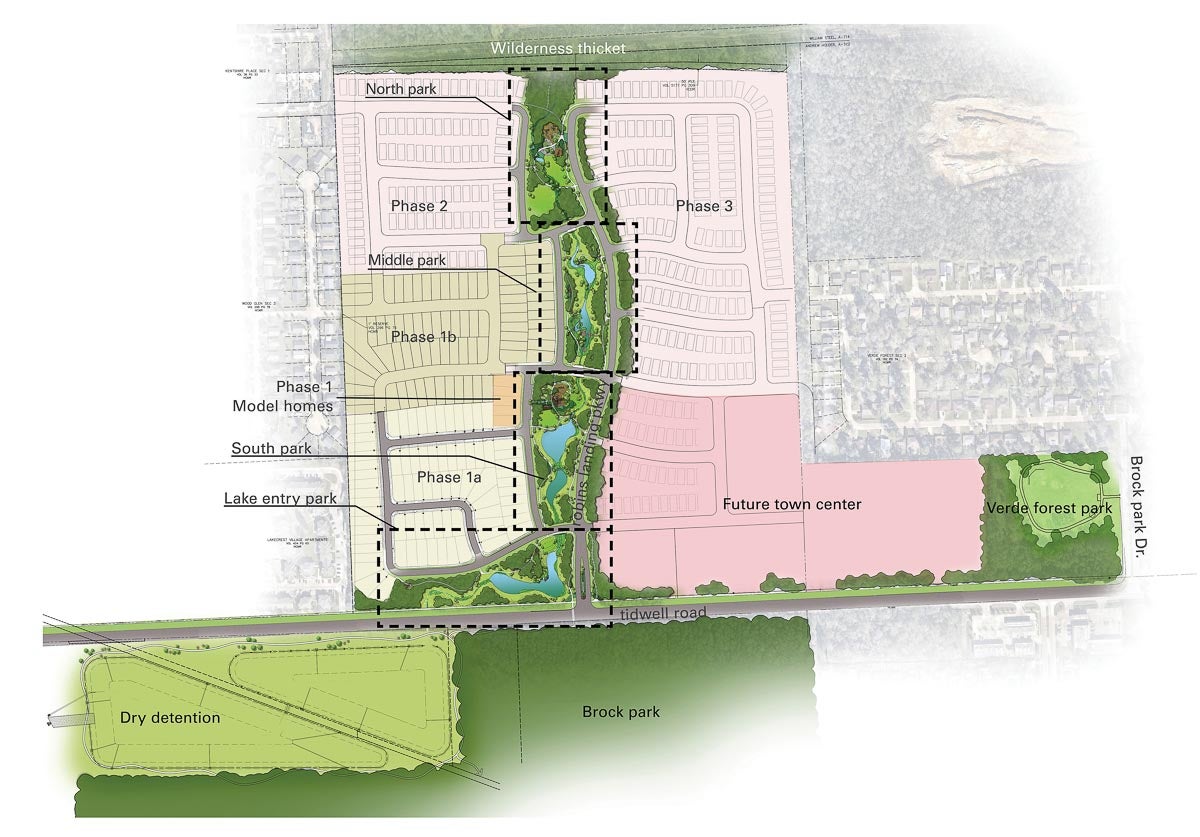 Houston-based Hines, the international real estate firm known locally for building the Galleria, Williams Tower and a bevy of downtown towers, will serve as an advisor on the project.
"Robins Landing is a significant step in transforming Houston Habitat from a homebuilder to a community builder," John Mooz, senior managing director at Hines, said in a statement. "The offerings and amenities will help build a vibrant sustainable neighborhood and Hines is thrilled to be involved."
Robins Landing is based on the idea that everyone deserves an opportunity to live in a thriving community in a home that can be had at an affordable price and with access to amenities and everyday resources, Habitat said.
The community is designed for mixed incomes as well as mixed generations. And it is meant to remain affordable for years to come. One way that will be achieved, Hay said, is through a city program that offers up to $30,000 to qualified first-time homebuyers through an interest-free loan that's forgivable after five years.
For families in the Houston Habitat program, affordability is secured with a 10-year forgivable lien. And families with incomes at or below 80% of the area median income can purchase homes and have them placed in the Houston Community Land Trust, a tool that provides permanent affordability to help lower-income buyers purchase homes.
Habitat also has the right to purchase a home it built if the owner is no longer able to pay the mortgage.
The land where the homes are being built is not in a flood plain, but Hay is cognizant of building on property that has never been developed.
"Whatever concrete you put down, whatever you do, you can't have it run off into another neighborhood," she said.
The detention for the project is being built to standards of Atlas 14, post-Hurricane Harvey maps from the National Weather Service of that estimate where flooding is most likely.
Community gathering places and greenspace are key elements of the project's design. A 12-acre central park is planned with access to hike-and-bike trails, a community garden, and other amenities, Habitat said. A town center is slated to house a Legacy Community Health Clinic, a Houston Public Library branch, retailers and other services.
Several groups have expressed interest in having a presence in Robins Landing, including banks, commercial kitchens, and nonprofit makerspace TXRX Labs, Hay said.
A groundbreaking ceremony for the project was held on Monday.
"Affordable housing is about more than simply providing a roof over someone's head," Mayor Sylvester Turner said in a statement. "We must work in a collaborative and holistic fashion to improve access to transportation, high-quality grocery stores, and opportunity to address the underlying causes of inequity. Robins Landing is positioned to do just that."
To Hay, Robins Landing represents a 2022 version of Habitat. Historically, the builder has kept its costs down and prices low by using a limited number of materials and buying in bulk. It has always bought just two types of brick, and the facades of Habitat homes, more or less, have had the same look: four-sided brick, slab-on-grade with a single-car garage and a porch.
By collaborating with the for-profit builders and increasing its materials budget though savings elsewhere, Habitat is able to build upon its original designs.
"Right now we're looking at five different types of brick. We're looking at different elements," Hay said. The homes, "will not look the same at all."
Despite challenges throughout the development process—most recently COVID-19 and rising costs related to the pandemic, Hay said she is already thinking about the next project.
"We see this is a very viable model that you can take and replicate. I'm advocating for other Habitats to look at it as well," she said. "That was the whole goal, too—don't do one-offs. One-offs do not address our affordability crisis."
Nancy Sarnoff, a longtime Houston business and real estate journalist, is a contributor to the Urban Edge.