The report, "Place Matters: Small Business Financial Health in Urban Communities," aims to highlight the different factors of small businesses' financial success across communities in the largest metro areas in America, including Houston, Dallas, Austin and San Antonio.
"Within metro areas, communities vary widely in economic and social characteristics that could create different experiences for the small businesses that operate in them," the report said. "Understanding the nature of this variation and its effect on small businesses is critical to the development of policies that promote small business success."
The report analyzed more than 1.4 million small businesses in 25 metropolitan areas in America that held a Chase Business Banking deposit account at any point between October 2012 and December 2018. Six cities were chosen as featured cases, including Houston, Miami, San Francisco, Chicago, Detroit and New York City. For each city's small business population, the report highlights their profitability and cash liquidity, median profit margin for their ZIP codes, the area's home values and other demographics.
For Houston, the report found a large majority (69%) of small businesses were profitable in the Bayou City, though cash liquidity was limited – 46% had a cash buffer less than two weeks. Cash buffer days are the number of days of cash outflows a business could pay out of its pocket without any additional cash inflow.
Additionally, the median small business profit margin in Houston was 12.4%, somewhat lower than the other five metros featured in the report (at 12.9%, New York was the second highest, with San Francisco having the highest median profit margin at 18.4%).
The report also revealed the correlation between racial demographics and the industry concentration in a ZIP code.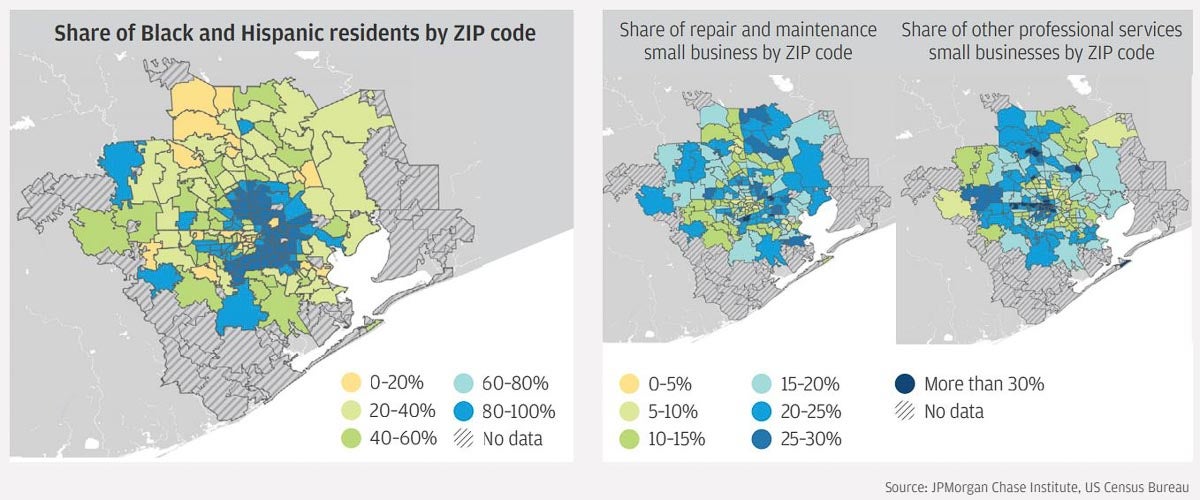 The first map above shows the share of black and Hispanic residents in each community. The second shows the share of small businesses in the repair and maintenance industry, and the third shows the share of small businesses in the other professional services industry. As the maps show, there was a larger share of repair and maintenance small businesses in northeast Houston, which has a large share of the black and Hispanic minority population. In contrast, other professional services firms had a higher share in the communities in western Houston south of Interstate 10.
"While we didn't explicitly evaluate the impact of specific policies, the large between-community differences we found in small business cash liquidity and profitability suggest that there is an opportunity for Houston's policies to target communities where small businesses are succeeding less often," said Chris Wheat, the director of business research for Chase and an author of the report. "In particular, our results suggest a linkage between household financial wealth and education and small business outcomes, with the implication that small business policies aimed at these areas could also meaningfully impact local small businesses."
Overall, the report's findings focused primarily on the profitability of businesses based on external factors like a business' neighborhood's housing prices, college graduate levels and resident demographics. A summary of the findings are below:
In the typical community, 29 percent of small businesses were unprofitable, and 47 percent had two weeks or less of cash liquidity.
Nearly 70 percent of communities where small businesses had limited cash liquidity in 2013 also had small businesses with limited cash liquidity in 2017.
Small businesses in low home value communities had seven fewer cash buffer days than those in high home value communities. However, they had similar exit rates.
Profit margins for small businesses in communities with few college graduates were over 10 percentage points lower than those in communities with many college graduates.
In all majority black or Hispanic communities, most small businesses had fewer than twenty-one cash buffer days.
Communities where small businesses had limited profits and cash liquidity rarely had large high-tech or other professional firms, but often had large retail or health care services firms.
"Our data show that community home values and education are both correlated with small business cash liquidity," Wheat said. "In other research, we have seen that cash liquidity is important to small business survival and growth, particularly to the extent that small businesses experience volatile and uncertain cash flows."
He said this means small businesses may be more constrained in funds in neighborhoods with less household wealth and education, and that some businesses in these communities that might otherwise have flourished may not do so.
"We'd hope that people in cities interested in supporting the small business sector would consider a broader range of potential contributors to small business success, especially to the extent that they are targeting their programs / policies toward specific communities or neighborhoods," Wheat said when asked how he hopes the report's data is used. "For residents, if they are small business owners, we hope our findings are helpful for them thinking about their own small business outcomes in comparison to other businesses."