There are more than 60 law enforcement agencies in Harris County spending around $1.6 billion annually. That presents the potential for overlapping services between the agencies as well as a shift in responsibility to sheriff's office as unincorporated communities of the county boom.
A new report from the Kinder Institute sheds light on the law enforcement landscape in the Houston area as well as possible options for consolidation and collaboration. The report found, for example, that the county "could save considerable administrative expenses by consolidating the patrol services of the sheriff's office and the eight constable offices in some way." Many of the area's smaller cities, with 29 separate police forces, could also consider consolidating. And the report found opportunities for "back-office" operations consolidation, including sharing training facilities, evidence and property rooms and other systems.
"Duties such as patrol responsibilities and highway enforcement are split between multiple agencies and in many cases, patrol jurisdictions overlap," the report notes. "Simplifying and streamlining patrol duties would not only clarify responsibilities for agencies but for residents as well. Likewise, realigning patrol duties within the county would free both officers and funding up for additional duties, or could simply reduce costs."
Because law enforcement agencies tend to represent such a large portion of local general funds, the report argues, it's important to identify potentially duplicative activities driving up costs as well as other inefficiencies. Consolidation is not a new concept. Airport and parks forces, for example, were merged into the Houston Police Department years ago and the soon-to-open Joint Processing Center will speed up the booking process. Former Harris County Sheriff Adrian Garcia wrote in the Houston Chronicle after the bond measure was approved, "The new hub will allow us to book inmates faster. This means the officers who arrest them and drop them off at the jail will get back to the business of patrolling your neighborhood more quickly." The report also suggests smaller changes, like aligning county constable and justice of the peace precincts with county commissioner precincts to reduce confusion among residents and equalize workloads.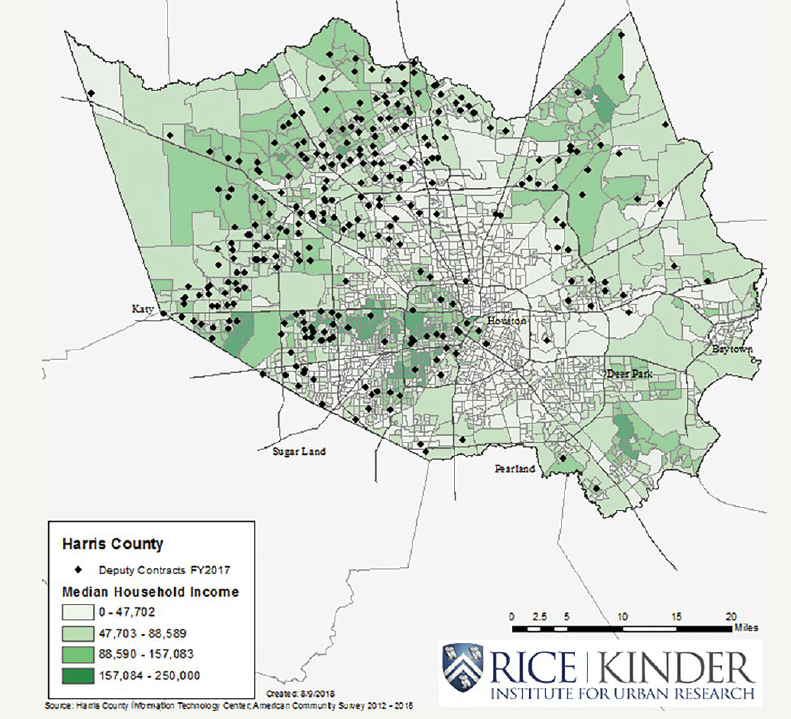 The current law enforcement landscape includes other challenges, among them the contract program that allows neighborhoods to contract with the sheriff and constables for local patrols. All told, contracts make up 24 percent of the overall constable budget, according to the report, and eight percent of the sheriff's patrol and administration budget. Between municipal utility districts, homeowners associations and other private entities, there are some 298 contracts with the sheriff and constable in the county. This service tends to benefit wealthy communities, presenting concerning equity issues.
The report presents several consolidation options, including consolidating within governments, consolidating governmental entities and consolidating functions across an array of law enforcement agencies, including specialized agencies like Metro Police. Though the report lists pros and cons for each scenario, it remains neutral about implementation.
"It is not our intent to recommend an overhaul of the law enforcement system, but rather to provide information for those interested in seeking greater collaboration, efficiency and cost-savings in that system," the report reads.
The report does not go into detail about response times, community trust, agency diversity, case clearance rates or other metrics, both those would be important inputs and outputs to weigh while assessing potential changes.