The Community Bridges program partners with community-based nonprofits working in various Houston neighborhoods with relatively high concentrations of poverty, including Near Northside, Fifth Ward, East End, Gulfton and more. Rice University sophomores, juniors and seniors join Community Bridges as fellows to collaborate with these nonprofit organizations and conduct active fieldwork and research related to education, financial literacy, housing, community development, environmental justice, healthcare and other issues.
For the 2019-2020 program year, Community Bridges established two new partnerships that expand the breadth of the program, both in terms of its geographic footprint and topic areas. LINK Houston and the YMCA of Greater Houston's South Texas Office for Refugees have joined the ten other partners that host Rice Community Bridges fellows every spring.
LINK Houston advocates for a robust and equitable transportation network so that all Houstonians can reach opportunity. The organization couples its own data-driven research with community voices to shape transportation policy issues, maintaining that transportation options are inherently linked to other aspects of life like housing, education, work, healthcare and financial stability. LINK Houston's work focuses on three areas: ensuring better transit; improving safety and access for people walking and biking; and keeping communities connected in the face of the I-45 highway expansion.
The YMCA of Greater Houston's South Texas Office for Refugees (STOR) is one of four federally-selected Regional Replacement Designees in Texas that administer assistance to populations served by the Office of Refugee Resettlement (ORR). These programs include a host of social services, cash assistance and medical assistance for refugees who are resettled through the U.S. Reception and Replacement program under the U.S. Department of State. The Replacement Designees, including STOR, make up the Texas Refugee Programs Coordinating Body. This collaborative and its partners ensure that all ORR-eligible populations have access to the critical resources they need to rebuild their lives in Texas. STOR is also the statewide database manager for all refugee services data collection.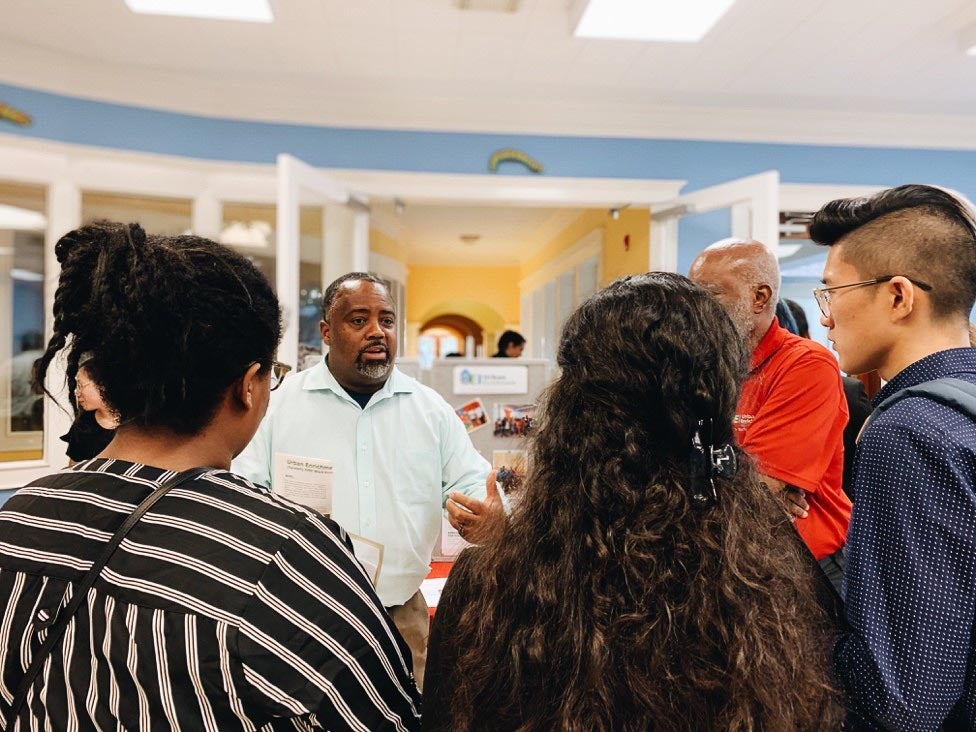 In addition to an expanded array of partners, the 2019-2020 Community Bridges program includes a cohort of students that is about 35% larger than last year's group. 2019-2020 fellows come from 18 different undergraduate majors—many are pursuing humanities and social sciences degrees like social policy analysis, history, sociology and psychology, while others hail from natural sciences disciplines such as biochemistry, ecology and evolutionary biology, neuroscience, kinesiology and more.
The wide-ranging interests, skills, passions and experiences of the 2019-2020 Community Bridges cohort—along with the expertise and on-the-ground work of partner organizations—are the makings of innovative and effective projects that can change the lives of Houstonians for the better. In line with Rice's new Vision for the Second Century, Second Decade, Community Bridges looks forward to another year of extending the university's reach and impact and empowering Houston's success.
Explore an interactive story map of last year's Community Bridges projects here.