"Lulu! Lulu, get back in here," said Angie Palmer-Davis of McDugald Steele after her Maltese-mix pooch tried to make an escape from the miniature dog park, aptly nicknamed the "barking spot." Within minutes, Lulu was joined by two other dogs, cocker spaniel Cabs and French bulldog Boots.
The park was part of an annual event that transforms parking spots into miniature parks. Meant to call attention to the need for green, interactive spaces in urban landscapes, such as downtown Houston, the goal of PARK(ing) Day is to produce a dialogue "around how public space is created and allocated, and to improve the quality of urban areas." Though Houston has hosted the event in the past, this was the first event since it was cancelled in 2017 following Hurricane Harvey.
Several organizations and design firms, including Perkins+Will, Rice Design Alliance (RDA), TBG Partners, American Society of Landscape Architects (ASLA), and others, gathered along parking spaces on McKinney Street between Caroline and San Jacinto. The eight parking spots on the block were transformed into miniature parks and urban landscapes - some including cornhole, giant Jenga, and the dog-friendly "barking spot."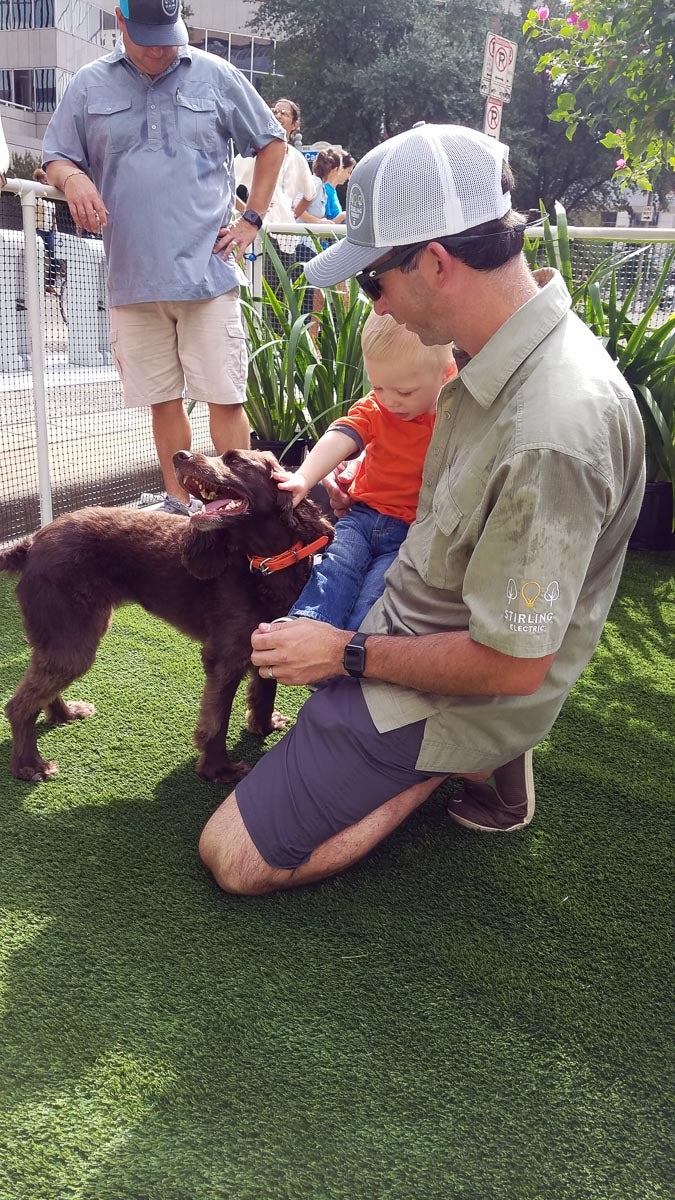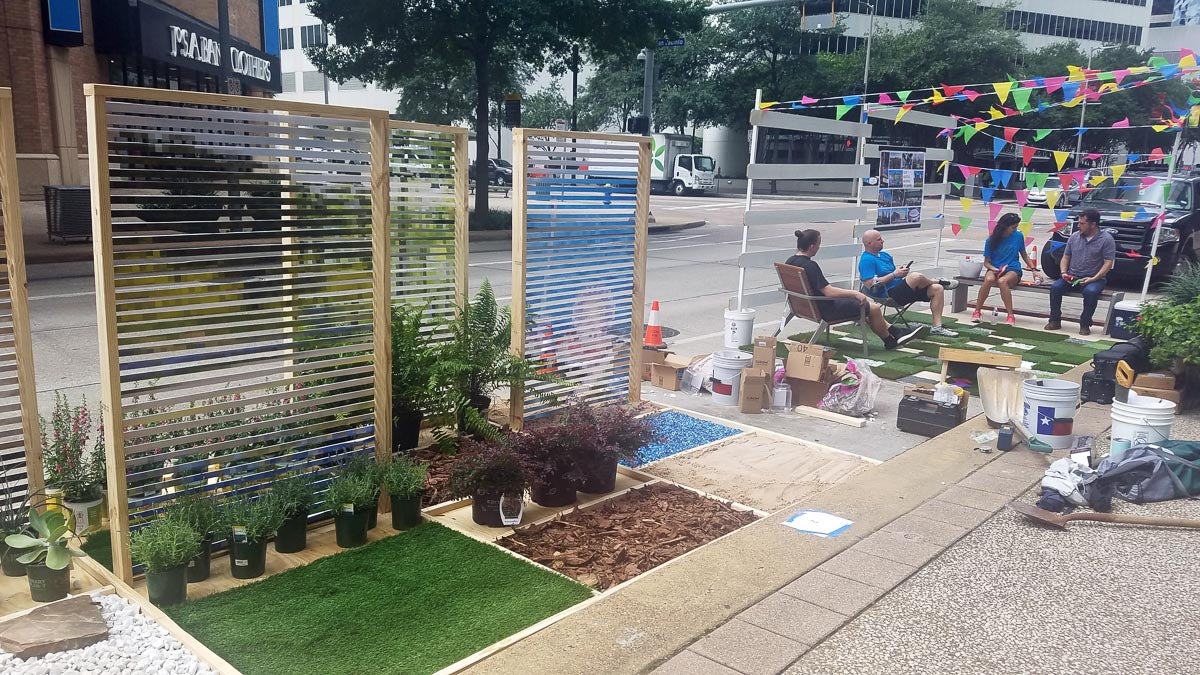 Once lunchtime rolled around, a white poodle and a miniature poodle joined in with Lulu's gang. Along with the extra dogs, came extra people to interact with the booths. Some just passed staring at the whimsically-designed parking spaces, while others were lured in with a friendly "hello" and a cold bottle of water from booth planners.
"We are just being nosey," said one woman who worked across the street, but she didn't stop to play with the dogs or start a game of cornhole.
The original idea for PARK(ing) Day came about in 2005 thanks to Rebar, a San Francisco-based art and design studio. John Bela, Blaine Merker and Matthew Passmore of Rebar staked out a spot and fed the meter in the California city, but it wasn't for their car. Instead they set up a miniature park with a tree, grass and a bench. Since then the movement, which is held every year on the third Friday of September, has spread to other cities, including Austin, Honolulu, Washington, D.C., and others.
"We are glad now the city and the community view this as an exciting event, rather than a hassle," said Lisa Girard, who helped organize the event with the regional chapter of ASLA and RDA. She was among the original organizers of the event four years ago.
This year was the first time Maria Nicanor, the executive director of RDA, participated in Houston's version of the event. "In other cities, the street is closed to traffic to promote pedestrian interaction and freedom - which is kind of the point," Nicanor said. Girard, a landscape architect with TBG Partners, said the organizers haven't thought to close off the street to traffic in the future, she admitted that it would be great to totally shut down the street like in other, more established cities.
Around 2 p.m., organizers started to clean up the mini-parks, returning them to parking spots before rush hour commenced Friday evening.