Governor Greg Abbott announced Thursday the designation of 628 Opportunity Zones across the state for consideration by the U.S. Treasury, including 150 in the Houston metropolitan area. Designated zones include the City of Houston's five Complete Communities neighborhoods, in addition to Greenspoint, Sunnyside, Jacinto City and the Port of Houston among others. The zones, created by the Tax Cuts and Jobs Act of 2017, are an economic development incentive intended to steer passive capital to distressed urban and rural communities. Policy experts tracking the initiative claim trillions of dollars in private capital are sitting on the sideline and investors are keen to benefit from the proposed tax deferrals -- making this one of the most significant place-based incentive tools available to date. But questions about the designation process as well as potential unintended consequences remain.
Governors were given 90 days since the new tax code was signed into law to designate up to 25 percent of eligible census tracts as Opportunity Zones for a 10 year period. To be eligible, a census tract must have a poverty rate of at least 20 percent and a median family income less than 80 percent of the area's median income or be contiguous to low-income tracts with a median family income that does not surpass 125 percent of the low-income tracts' median family income.
In Texas, that means the governor could designate 628 tracts out of the state's 3,190 eligible tracts. A total of 435 eligible low-income tracts and 51 eligible contiguous tracts sit inside Harris County, covering most of Houston's North, East, South and Southwest neighborhoods. Wealthier, ineligible areas include portions of Northwest Harris County and the 'arrow' of high-income neighborhoods west of downtown between Westheimer Blvd. and I-10.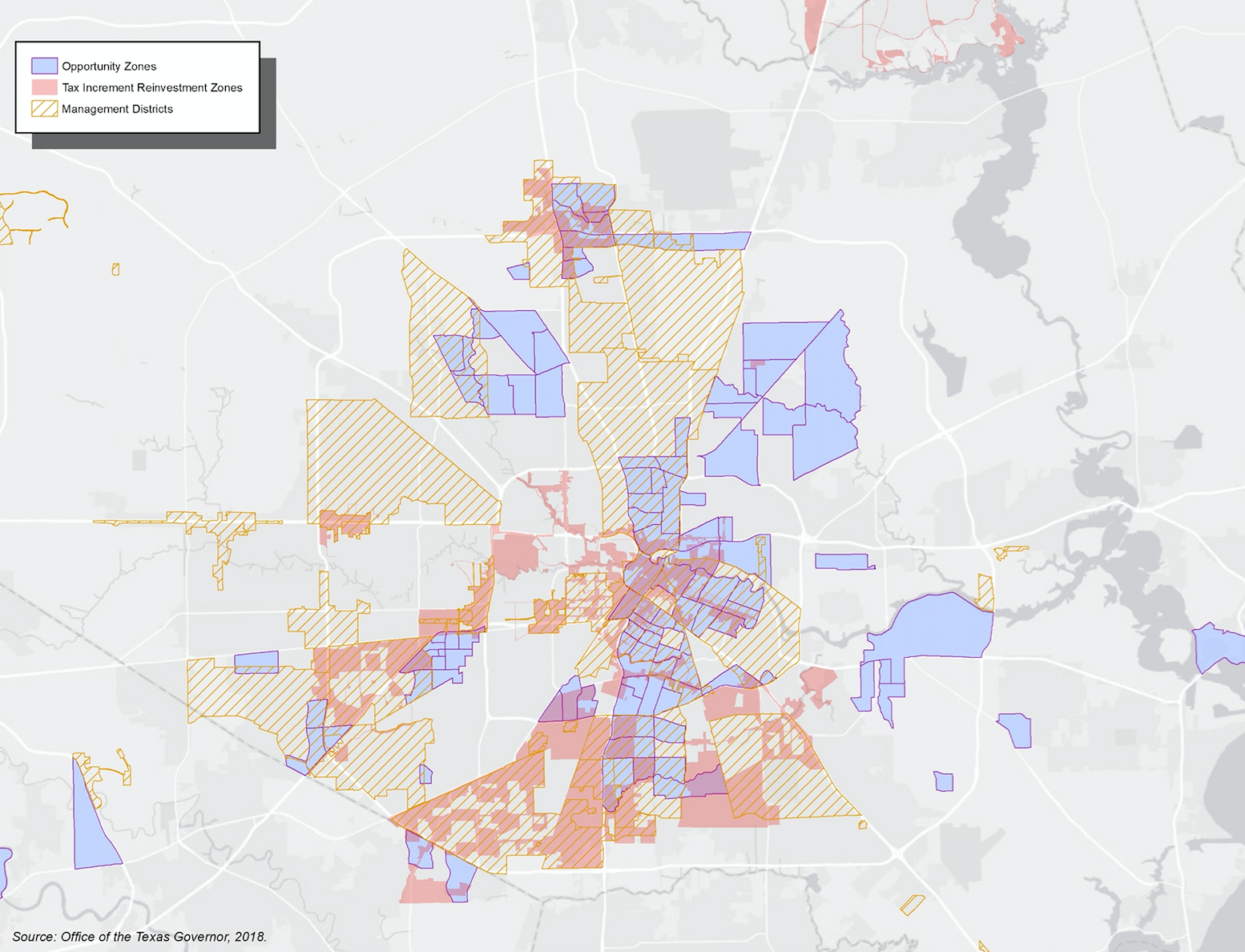 Opportunity Zones are funded by an investment vehicle known as 'Qualified Opportunity Funds.' Investors can defer and reduce capital gains taxes by rolling investment earnings into Opportunity Funds, in comparison to traditional stock portfolios. Opportunity Funds provide investors a 10 percent step-up in basis available after a five-year investment, with an additional 5 percent allotted after seven years and permanent exemption of capital gains from taxable income after 10 years -- including for the sale of property. Funds will vary in their investment approach and could pool various zones into investment portfolios, to mitigate risk. Each fund is required to invest 90 percent of its holdings in Opportunity Zone assets, which may include investments in business equity, real estate, infrastructure and housing.
At the moment, much remains unclear regarding the volume of investment and how it will occur. But the intent is clear -- provide investors a tax break and hope reinvestment can help solve the pressing challenges facing underserved communities nationwide.
In principle, directing investment to traditionally underserved neighborhoods sounds promising. This investment could provide capital for local businesses and help improve the quality of the building stock. However, directing outside investment to underserved neighborhoods without clear direction or community ownership may also have unintended consequences such as advancing gentrification and displacement, or stimulating investment in undesirable or polluting industries.
So how to protect against that? There are a few mechanisms for advancing positive outcomes and minimizing unintended consequences.
Tie Opportunity Zone Investments to Local Priorities
Areas that have existing community plans and high-capacity community organizations may be better positioned to direct Opportunity Zone investments toward positive outcomes. Various communities selected in the Houston region have undertaken or are developing comprehensive and small-area plans -- providing an ideal starting point for inclusive redevelopment. Examples include: Livable Centers Studies by the Houston-Galveston Area Council (H-GAC); mobility studies by area cities; the previously mentioned City of Houston's Complete Communities neighborhoods; Central Houston's Plan Downtown; and consistency with aspirational principles established in both the regional framework Our Great Region and Plan Houston. The area's numerous special-purpose districts -- Tax Increment Reinvestment Zones (TIRZs, also known as TIFs) and Management Districts (similar to Business Improvement Districts elsewhere) -- also provide natural partners for reinvestment. TIRZs and Management Districts are driving hyper-localized infrastructure development throughout the region and provide opportunities to leverage additional resources and cost-sharing for Opportunity Zone dollars.
Democratize the Selection Process for Opportunity Zones
Opportunity Zone designations could make for accountable, transparent dialogue in the selection process between economic developers, elected officials, planners and the general public. Unfortunately, the fast turnaround tied to this year's Opportunity Zone designations has undermined public debate. If additional Opportunity Zones are designated in the future, a transparent and inclusive process would solicit input from prominent industries and communities across the state and track progress in selected Opportunity Zones along various socioeconomic indicators and performance measures. For example, some overarching questions about Opportunity Zones during an open, transparent process could focus on understanding, Who is benefiting from these investments? Are we expanding equitable outcomes for people in selected zones? Is there a net-positive fiscal impact to local governments and metropolitan economies? Are Opportunity Funds investing in 'high-road' employers and industries? Are regionally-significant industries increasing their share of local employment and growing the local economic base? What is the net economic impact across markets and localities?
Opportunity Zones are a new and untested mechanism for increasing private investment in underserved and low-income communities. Now that zones are designated, it will be critical for community organizations, the public sector and the private sector to work closely together to ensure that these zones are truly creating opportunity for existing communities rather than displacing low-income residents in favor of new investment.
Luis Guajardo is a member of the American Institute of Certified Planners and a senior planner with the planning, urban design and landscape architecture firm Asakura Robinson in Houston, Texas. Also with Asakura Robinson and a member of the American Institute of Certified Planners, Alexandra Miller is a New Orleans-based urban planner and community development professional who specializes in planning for inclusive, equitable economic development and community revitalization.