In no county or metropolitan area can a full-time worker earning minimum wage afford a two-bedroom rental at fair market rent. That's according to the latest report from the National Low Income Housing Coalition that documents the gap between full-time minimum wage work and affordable rents across the country, underscoring that severity with which the affordability crisis hits low-income renters in particular. Even in those localities with minimum wages higher than the standard state or federal minimum wage, the report notes, no local minimum wages are sufficient to afford a one-bedroom rental at the fair market rent with a 40-hour work week.
In Houston, the amount a full-time worker has to earn to afford such an apartment without spending more than the recommended 30 percent of their income on housing varies by zip code. In some zip codes, like 77007 west of downtown, a worker's hourly earnings would have to exceed $30 while for others, like 77011 on the east side, earnings would have to be around $16 per hour. The minimum wage here is $7.25, the federal minimum.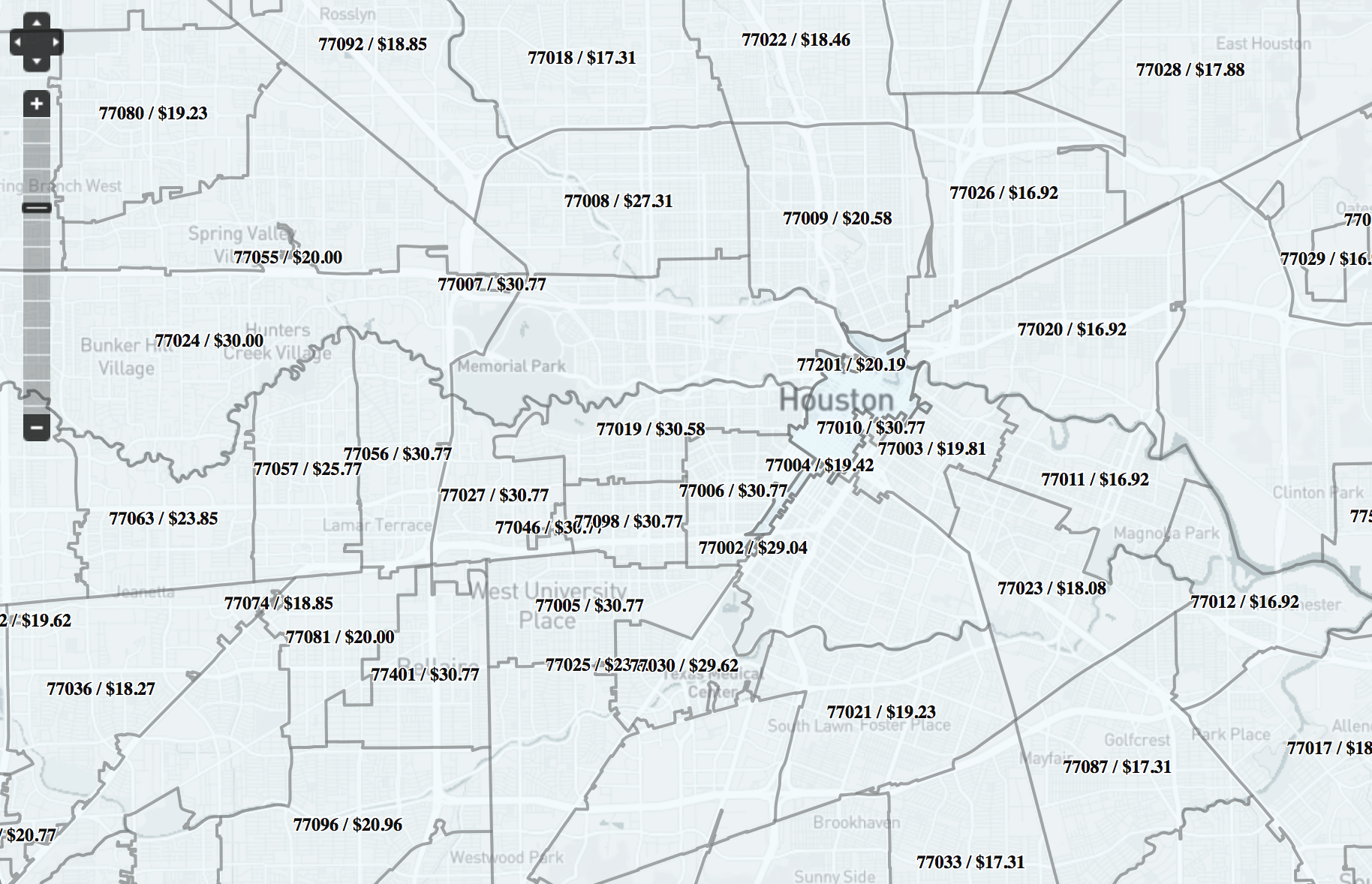 As a state, Texas ranks in the middle of the pack, at 21. The average renter wage is $18.20, according to the report, not far from the hourly wage of $19.32 needed to afford a two-bedroom apartment. For folks earning minimum wage, however, they would need to work 86 hours just to afford a fair market one-bedroom rental home without spending more than 30 percent of their income.
But that picture changes in the state's metro areas. In Harris County, for example, where 45 percent of residents are renters, a worker would need to earn $20.50 to comfortably afford a fair market, two-bedroom rental, which rent for about $1,066 per month, according to the federally-determined fair market rents used to conduct the analysis. A worker earning minimum wage would need to work 113 hours per week to afford that without spending more than 30 percent of their income on housing. Meanwhile in Travis County, home to Austin, 48 percent of residents are renters and those renters need to earn around $24.06 per hour to afford a fair market-rent two-bedroom apartment there. Someone earning minimum wage would need to work 133 hours a week to afford that comfortably.
For Houston's low-income renters, this is not news. The metropolitan area recently ranked third worst when it came to affordable and available units for extremely low income renters, who earn 30 percent or below of the area's median income.
The solution? "Congress must address this gap by fully funding key federal housing assistance programs," according to the coalition. "These programs include Housing Choice Vouchers, the national Housing Trust Fund, public housing, project-based rental assistance, and other federal rental housing programs serving the lowest income households."