To vote, or not to vote … is not the real question facing America.
Voting, a fundamental right in the United States, has long been used as a means to limit or otherwise disenfranchise Black Americans from having a voice in how our government runs and who gets to run it in the name of the people.
I am a proud fourth-generation Washingtonian. Although my father's side of the family could be traced to a plantation in northern Virginia, my father, grandfather and great-grandfather were born in the District of Columbia. Growing up in Washington, D.C., in the 1950s and '60s, the importance of voting confronted me in several ways. I would overhear my parents' and grandparents' conversations about how cruelly Blacks in the South were treated when they tried to vote. The images I saw on our 13-inch black-and-white television set reinforced the stories I overheard.
Most members of my family, including my parents and my grandfather, worked for the federal government in some capacity.
After several years working as a messenger on Capitol Hill and a bartender for congressional functions, my grandfather, who has a degree in pharmacy, worked his way to a supervisory role in the proofreading division of the United States Government Printing Office (now known as the United States Government Publishing Office).
My father worked as a technician in a private dental lab for several years before he was able to work in dental labs at two veterans hospitals, Mount Alto and Walter Reed.
As native Washingtonians, neither could vote — a fact that wouldn't change until 1961 with the passage of the 23rd Amendment.
My mother was born and raised in Asheville, North Carolina. Her grandfather had worked to acquire a large section of land, enough to give two acres each to his children and grandchildren. My great-grandfather traded some of his land to the Vanderbilt family so they could build the Biltmore Estate. My mother, the second youngest of nine children, maintained her North Carolina residency when she moved to Washington to become a secretary in the Department of the Army. A fact that loomed large in our family because this meant she could vote!
A mother's determination was an inspiration
It was against this backdrop that mom would travel back to Asheville every four years to cast her vote for president. One of my earliest memories is traveling with her by Greyhound bus to vote. On my second such trip, when I was 8 years old, we traveled by train so mom could vote in the 1956 presidential election. It was my first experience traveling by train. My mom, my baby sister, who was less than a year old at the time, and I rode in what was referred to as the colored car.
Although I saw it as an adventure, I still remember some of the indignities we faced in our journey. One highlight that sticks with me was when my mom needed to warm up my sister's bottle. The Black porter snuck me into the restroom of the white car to heat the bottle of milk using the hot-water spigot. In that brief moment, I was confronted with yet another example of the stark inequalities based on race.
On our arrival in Asheville, we were picked up by relatives and stayed with family, who lived in and owned most of the homes in the Shiloh section of the city. I was relieved to be among extended family as I struggled to remember names and meet new relatives who were telling me how much I had grown.
After sharing news and family updates over dinner, it didn't take long for the adults to turn their attention to the local, state and national elections. Meanwhile, my cousins and I found a place to talk and play, teasing each other playfully about our different accents and word choices. For example: "soda or pop or soda water."
I recall a few white men coming by the house asking for the family to vote for them in the local election and making promises. Once the men left, I overheard family members critiquing their records and whether or not to vote for them. As a child, these conversations seemed endless. On election day, the adults dressed in their Sunday finest and drove off to vote.
On my third trip to Asheville with mom, dad was able take time off from work to drive us in his new 1956 Ford Fairlane 500. The difference this time was being careful to know when and where we could stop for gas and food. Mom and dad would meticulously plan our trip using the AAA trip map and calculate where it would be safe to stop along the way. It wasn't until many years later that I understood they may have been using the Negro Travelers' Green Book, which helped them determine where it was safe for Blacks to stop.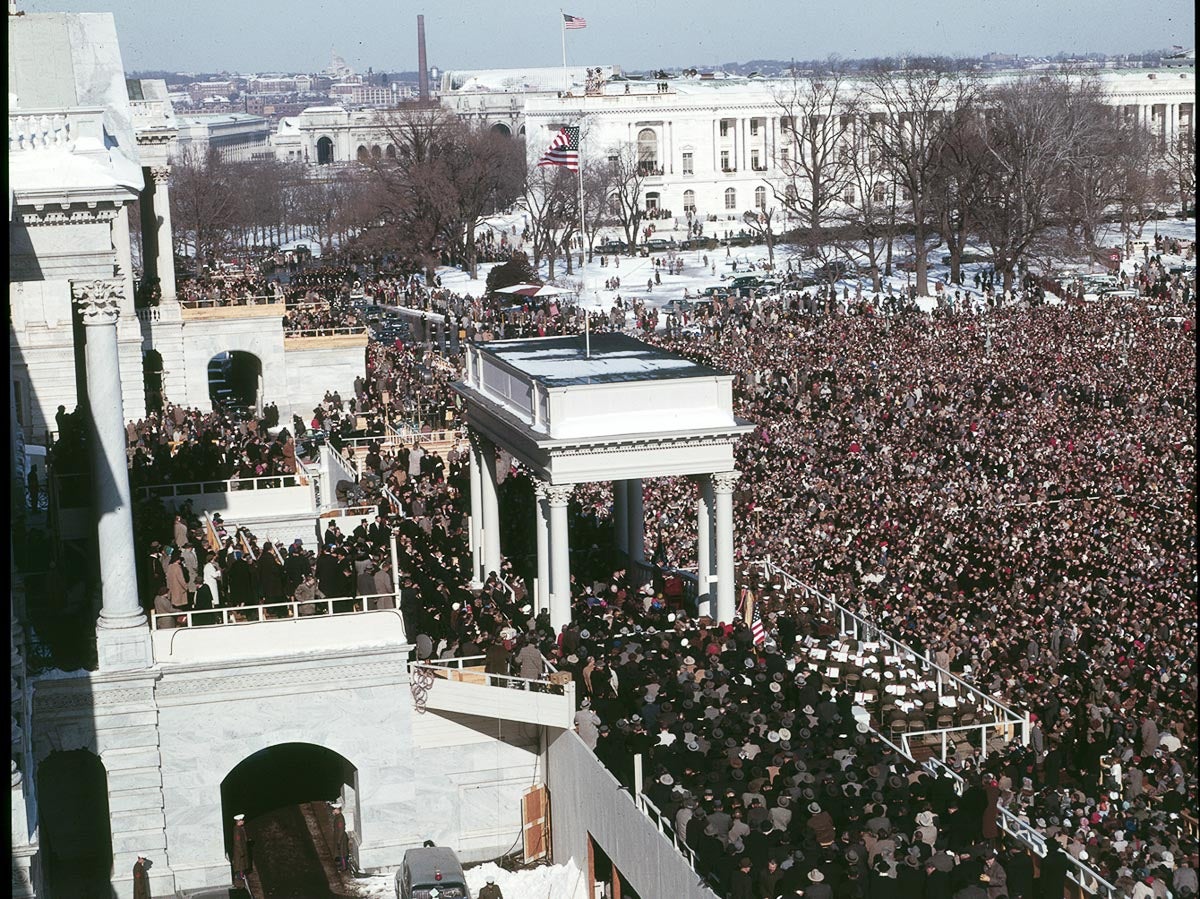 1964 election was a major milestone
When the 23rd Amendment was passed, residents of Washington, D.C., were granted the right to vote for president. And on Nov. 3, 1964, Washingtonians voted in a presidential election for the first time. (It was not until the District of Columbia Home Rule Act was passed in 1973 that D.C. residents were able to hold local elections for a mayor and city council.)
For my family, the 1964 presidential election proved to be consequential on many levels. It represented the first time that members of my family in Washington, D.C., could vote for president of United States. Mom did not have to travel all the way to Asheville to cast her vote. And Dad did not have to use his vacation time to travel with her to North Carolina.
One year earlier, we experienced the shocking assassination of President John F. Kennedy, followed by the installation of Lyndon Baines Johnson as president. By this time, I was fully engaged with the electoral process and could not wait until I could participate in the voting process. As a high school student at the time, I listened and participated in family discussions speculating on what kind of president Lyndon Johnson would be.
By the time of the 1964 election between Johnson and Barry Goldwater, my family supported Lyndon Johnson. Goldwater appeared to align himself with conservatives and segregationists. Johnson won by a huge landslide.
Upon reflection, these experiences and events in the context of the long history of voter denial and suppression ingrained in me the importance of using my right to vote in favor of fairness, justice, inclusion and equality. The question we must ask ourselves is: What are our responsibilities as citizens in seeking a more perfect union? Key among those responsibilities is to vote! Vote! Vote!
---
Roland B. Smith Jr. is the associate provost for Diversity and Inclusion and an associate professor of sociology at Rice University.