If you spend any time at all in cities, you've noticed the boom of bike-share programs, networks of bike docking stations that let residents check out bikes for short trips.
But our understanding of how city dwellers use bike share systems comes from old and dense cities like D.C., New York, Boston and Chicago. We know less about how those systems are being used – and therefore, how they're benefiting – cities that are younger and more car-centric, like those in the southern and western parts of the county.
Kinder Institute researchers Kelsey Walker and Kyle Shelton looked to fill that void by delving into data from systems in Austin, Denver, Fort Worth and Houston, all run by the same organization, BCycle.
Denver is the most-used system, followed by Austin, Houston and Fort Worth.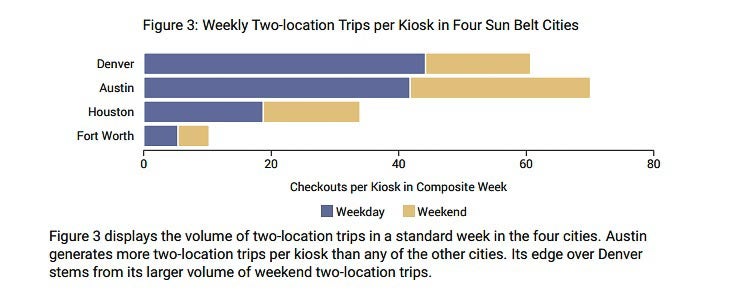 But in addition to being the most used, generally, Denver and Austin are also most likely to be used for "two-location" trips, those in which a bike is checked out from one kiosk and returned to another. More than half of the trips in both cities' systems are two-location, weekday trips, the most likely to be work related.
The increased use of the system for point-to-point rides, Shelton and Walker write, is at least partially accounted for by Denver and Austin also being larger systems in general.
"Because the Denver and Austin programs are bigger than the programs in Houston and Forth Worth, bicyclists have more options regarding where to return their bikes," they write in their newly-published report.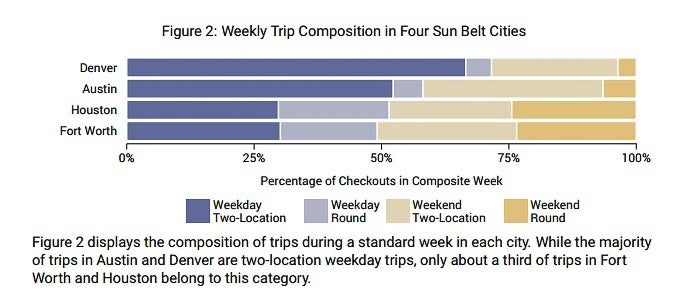 Houston and Fort Worth, meanwhile, see roughly half of their trips happening on weekends, and nearly half of their checkouts are for round-trip rides, meaning the bikes were checked out from and returned to the same station. Weekend and round-trip rides are the most likely to be recreational, rather than work related.
Part of the reluctance of residents to use bike share for point-to-point trips in Houston and Fort Worth, Walker and Shelton surmise, could be attributed to the relative safety of riding on city streets in those places. Denver and Austin outrank Houston and Fort Worth the Bike Score index, intended to measure how cycling friendly places are. But the researchers conclude that more study needs to be done to understand the differences between the cities.