My life revolves around Midtown. I've explored, tasted, and experienced almost every angle of this wonderful neighborhood. I cherish its walkability, organization, and commitment to culture.
But there's more here than a gloss of urban planning. For instance, there's a historic building few of us are aware of, a building that wears the gravitas of the Latino Civil Rights Movement. It lives on 3004 Bagby St. — the LULAC House.
Whether we know of it or not, the LULAC House is significant for all of us as Houstonians. The National Trust for Historic Preservation has only highlighted two buildings worth saving in Houston: One was the Astrodome, the other was this modest white stucco building in Midtown.
How could this simple two story home be on par with the Eighth Wonder?
First, it's important to note that LULAC stands for the League of United Latin American Citizens, the oldest existing Latinx advocacy group in America. Activists formed LULAC in Corpus Christi in 1929 after merging three existing groups, all in reaction to violence against Latin American citizens in Texas.
As this group grew from 1929 onwards, it spread in the form of local councils, each carrying their own number. There are now over 600 LULAC councils across America, the oldest ones with lower numbers. LULAC Council 60 is located in Houston and historically has been one of the most impactful councils in the organization's history. Their headquarters up until recently was at the LULAC House at 3004 Bagby.
The story of the LULAC House begins in 1955 when LULAC Council 60 members purchased the building They had just finished supporting LULAC's efforts in the Supreme Court case of Texas v. Hernandez, where Mexican Americans argued in front of the Supreme Court for the very first time and successfully expanded the 14th Amendment's coverage to all ethnicities.
In short, Council 60 was on an advocacy and policy tear, looking for a place to ground their political and social work.
From grassroots fundraising that started with around two dollars, the building was purchased and became the LULAC "clubhouse." Most notably, this house was the launchpad of three transformational local social programs that grew into national service programs.
The first thing they developed in 1957 was the "little school of the 400." This initiative taught Spanish-speaking preschool children 400 English words, easing the transition into English-speaking Houston schools. This program is often considered one of the inspirations for the widely celebrated federal Head Start program, which helps prepare a million children a year for their K-12 education.
Next, in 1965, the council launched SER Jobs for Progress out of the house. This program would eventually become one of the largest job placement and training organizations in the country. Today the national SER network serves over 1 million people annually across the country.
Finally, the LULAC National Housing Commision was launched in 1968 from within the house, helping Hispanic families find and purchase affordable housing. The organization partnered with the Department of Housing and Urban Development to expand the program dramatically.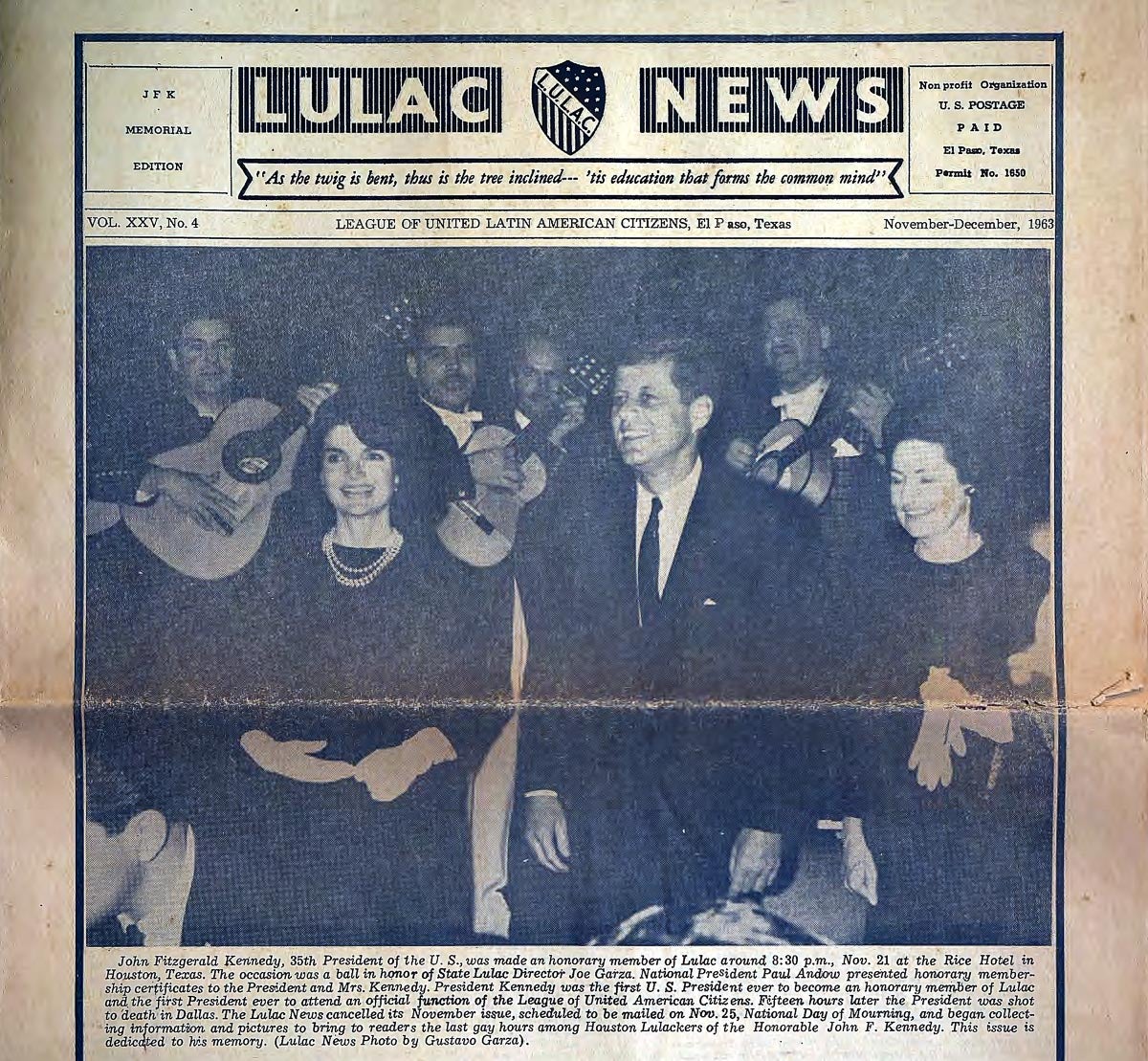 Beyond these three epic programs, this building galvanized the political and social capital of the Latinx community in Houston in a number of ineffable but powerful ways. One example was that individuals in that building organized a meeting with President John F. Kennedy and Jackie Onasis at the Rice hotel. It would be the first time a sitting president met with a Latino advocacy group. In short, countless functions and discussions of political import for the community happened in that building. It essentially served as the headquarters for the burgeoning LULAC organization until a formal presence was established in Washington, D.C., in the 1990s.
Unfortunately, within the last decade, the clubhouse has deteriorated and ceased to host LULAC meetings. More recently LULAC members were forced to gut and level the building after Hurricane Harvey to save it from an inevitable demolition. A temporary chain link fence surrounds the house.
The Houston Latinx community needs this building again. The house should be revived as the lodestar for the political and social movement of Latinos in Houston today as it once was.
Many blame what they see as fractious politics within the Latinx community on fiefdoms or diversity of perspectives and backgrounds. However, diversity of opinion and ideas are not a weakness in themselves, nor are a number of strong leaders. These are assets that create thoughtful and robust policy to help people in need.
What's more, the Houston Latinx community is much better equipped now than we were before to create political change. The community makes up 45% of the Houston population, according to the recent Census.
While the power is there, the moment couldn't be more urgent to organize around the house. Relative to other ethnicities in the metro area, we have a high number of individuals over 25 without a high school diploma (38% as calculated by the Greater Houston Partnership) and only 14% of Houston-area Latinos had a college degree, according to 2017 American Community Survey Estimates, compared to 26% of Black people, 46% of White people and 57% of Asian people. As a near majority ethnic group, our first obligation to the future of this city is to ensure we are receiving the highest quality education at every age and every economic strata. Grassroots organization and leadership within the Latino community began with education rights at the LULAC House and expanded into other social programs and politics.
Part of the problem is, Houston is expansive. There are 655 square miles of Houston, which means we are spread out over a gigantic space. It is so large that you could fit the cities of New York, Washington D.C, Boston, San Francisco, Minneapolis and Miami within our borders. This creates an organizing problem that this house could help solve. The LULAC House was once the epicenter for community leaders and advocates to brainstorm ways to improve the city and develop a vision for our shared future.
This house could once again bring it all together for Houston's Latino community and address the challenges facing us as it did before. Houston is ready for this and needs the LULAC House. Latinos are disproportionately under 18, and represent the future of this city, but they are underserved.
While the building has been spared demolition under Houston's historic landmark designation, its future is in the hands of the community at large. With the help of engaged community members and donors, it can become the national historic treasure it deserves to be and a beacon for a renewed Latino Civil Rights movement. This is a step towards rebuilding a center for community activation in Houston that is so needed after almost two years where we've all pulled apart. Our world has become more complicated than it was in 1955, but the need for people to come under one roof and discuss the future hasn't changed at all.
A grassroots fundraising effort is underway to rebuild the historic house, moving it closer to being placed on the National Register for Historic Places where it belongs and an incubator for all community advocacy efforts across Houston.
Jesus Davila is a member of LULAC Council No. 60. He is the founder of the nonprofit and government management consulting firm Landing Advisors and has served in multiple strategic advisory roles for the city of Houston. He holds a master's of public policy from Harvard University.
The views, information or opinions expressed in this post are those of the author and do not necessarily represent those of the Kinder Institute for Urban Research.