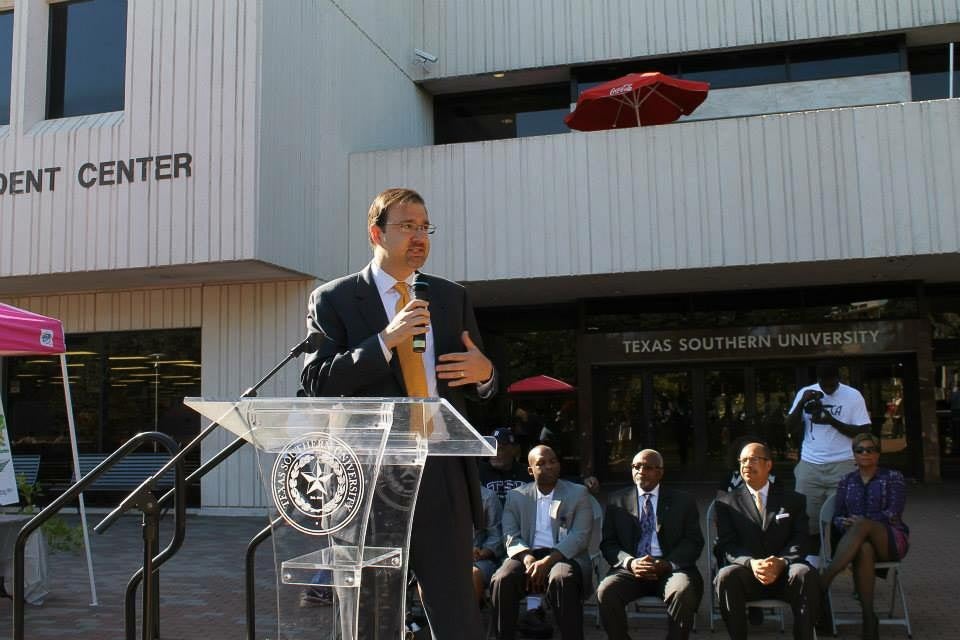 The Houston Housing Authority announced Wednesday it would have to freeze its housing voucher program through at least the end of the year and rescind vouchers it had extended to some 900 families who had not yet secured housing amid a $9 million budget shortfall.
The actions, first reported in the Houston Chronicle, were taken in response to a notice from the U.S. Department of Housing and Urban Development, which funds the housing voucher program for low-income families, letting the Housing Authority know that in order to be eligible for shortfall funds, the agency would have to "take every possible action to reduce costs."
"The message for families is: We don't have the resources to pay for the voucher you've been given, and we need to put you back at the top of the waiting list," said Tory Gunsolley, president of the Houston Housing Authority. "We are hopeful that we'll be able to get to [those families] at some point in the future but until a budget is actually passed we don't actually know when that will be."
The agency had recently opened its waiting list in August after four years and received a rush of applicants that far outnumbered the 30,000 available spots. The Harris County Housing Authority, facing similar constraints, also had to rescind 53 vouchers that had already been issued, according to Timika Simmons, director of public affairs.
Houston isn't the only city facing uncertainty about vouchers. After Congress extended 2016 funding levels to the voucher program through April 28 with a continuing resolution, it was estimated that agencies would have to cut voucher assistance to some 100,000 families nationwide, according to the Center on Budget and Policy Priorities, a nonpartisan research institute that analyzes federal budgets.
Gunsolley said he had a choice to make. Some housing authorities, he said, became much more conservative in the number of vouchers issued. But, because future funding depends on past expenditures, Gunsolley was reluctant to underestimate. "If I underutilize in any one year," he said, "that underutilization gets locked in in the following years," which means fewer people served, he reasoned.
"We could try to maximize the number of people that we serve or we could be very conservative and say, 'well worst case, the funding is going to be 95 percent proration and that means we need to take drastic actions today to save money.'"
So he took a bit of a gamble, estimating that HUD would fund the voucher with a 99 percent proration rate. HUD told the agency on Wednesday it should be using a proration factor of 97 percent, after sending a letter to all authorities in March warning of potential shortfalls as the deadline for the continuing resolution approached. In Houston, the gap helped produce a $9 million shortfall by the end of the year.
"This, in some ways, was an avoidable situation," HUD spokesman Brian Sullivan said of the situation in Houston. "But to be fair to the housing authorities, it is an uncertain budget time that we find ourselves in," he added, saying other agencies had received similar notices from HUD this year. In total, he estimated roughly 200 hundred housing authorities across the country could receive similar letters, though he added Houston, which operates a particularly large housing voucher program, represented an extreme example.
"While we recognize that HUD does not have final 2017 appropriations," a supervisory program analyst with HUD'S Housing Choice Voucher Shortfall Prevention Team wrote in a letter Wednesday to Gunsolley published in the Houston Chronicle, "we have estimated a likely funding level and concluded that your agency will be in a shortfall position by year-end."
But there were other factors that contributed to the shortfall as well. Each month, the agency forecasts expenditures into the next two years, updating the formula with the numbers of people who returned their vouchers or who signed a lease with their voucher, as well as rents, among other variables.
"All three of those factors," said Gunsolley, "had some significant changes very rapidly." Gunsolley suspects that uncertainty about other social benefits made some voucher holders reluctant to graduate off the program. Or perhaps, he said, the job market was feeling uncertain or the rental market softened, meaning more people were able to successfully lease a place with a voucher.
Those sudden changes, along with the overly optimistic estimate of what funding from the federal government might look like, meant that the agency's update projections showed them running out of funds by the end of the year.
"There's a lot of dynamic forces at work in a voucher program," said Sullivan. "A higher income family leaves, a lower income family moves in, the cost of the program increases," he explained, noting that households have to contribute 30 percent of their monthly income toward rent.
And program changes also affected the balance in Houston. The agency introduced its new "mobility payment standard," meant to help families move into neighborhoods that would have otherwise been too expensive. And it's been working with the city, which announced in March that it would help secure housing for 500 chronically homeless individuals in the next six months.
"I've tried to be transparent and open and say it's not HUD's fault," said Gunsolley, "but the biggest driver really is, I'm running this mammoth program, and I don't know what target I'm shooting for, and I have to make this choice: Do I keep trying to serve people? And when we have a push to serve the homeless, do I say "yes," or do I start taking drastic cost saving measures thinking it's going to be one thing it may or may not turn out to be."
Gunsolley also said the situation highlighted the growing need in Houston. He said the situation is tragic for the 900 families losing vouchers, as well as 28,000 people on the waiting list who will continue to wait for an unspecified period of time.
As for HUD's budget going forward, Sullivan said, "We have no idea how the government is going to behave after this continuing resolution expires after the end of this week." He said some people expect Congress to extend the resolution.