Data from this year's Kinder Houston Area Survey showed that 93% of Harris County residents supported requiring background checks on all gun sales and 81% favored a handgun registry. But Houston cannot take either action on its own, as Texas state law does not allow municipal governments to regulate the possession or use of firearms.
Alternatively, there are policies the city can enact — and that residents support overwhelmingly — that avoid running afoul of the Second Amendment and state law. Many of these policies have been shown to be effective in addressing some of the conditions that contribute to gun injuries and violence.
A survey of more than 4,000 Houston residents in August and September found over 95% supported education in proper gun storage, and 91% supported funding community violence interruption programs that aim to de-escalate conflict, provide mediation and build supportive relationships among those most likely to experience violence. Over 86% of residents supported funding research on gun violence and 88% supported programs designed to increase employment opportunities in neighborhoods experiencing high rates of gun violence. The level of support for all of these measures was similarly high regardless of respondents' age, income, race and ethnicity, and education level.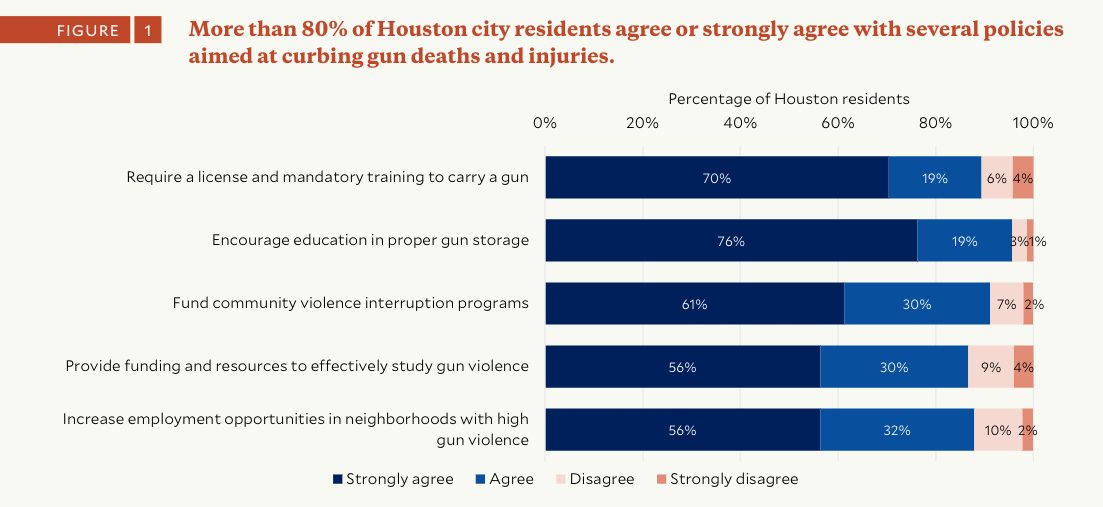 Importantly, research from around the country shows these policies work.
A study in 2005 found that proper gun storage was associated with a reduction in accidental injuries and deaths among children and teens by as much as 85%. Proper storage also reduces the chances of theft — a 2017 study estimated that about 380,000 firearms are stolen nationwide annually — at a time when gun thefts from cars are on the rise in Houston. To help address these issues locally, over 1,000 gun safes were provided to area residents earlier this year.
Violence interruption programs in other cities have been associated with more than a 60% decrease in incidents in which someone was shot, and efforts have been made to bring those benefits to the Houston area. The Community Violence Interruption Program, a pilot program from Harris County Public Health estimated to cost about $6 million, explores solutions to gun violence that work with law enforcement and engage in community outreach and hospital-based intervention. "Credible messengers" trained in conflict resolution and mediation work with individuals in areas at risk for gun violence, and they engage with communities and residents to promote neighborhood cohesion and public education. The Harris County program could be complemented with a citywide program adopted by the Houston City Council and the next mayor, or the city and county could explore a joint initiative that shares resources.
Finally, improving economic conditions and job opportunities has been shown to reduce gun violence and improve public safety in other cities. Specifically, in Chicago, when job opportunities and support programs increased for individuals who were at a higher risk of gun violence involvement, arrests for shootings and homicides decreased. Such investments in Houston neighborhoods that experience high rates of gun violence would create safer and more economically vibrant communities.
Whatever policies local leaders might consider, it is important that data and research are used to help us understand what is working, where it is working, and for whom.
One Safe Houston is an example of such an initiative, which invested $53 million toward violence reduction and crime prevention, outreach opportunities, building community partnerships and crisis intervention. Because One Safe Houston was tied to American Rescue Plan Act funds that will not last much longer, leaders should use a data-informed approach to determine which investments should continue.
And as Rice's Kinder Institute for Urban Research continues to grow and expand its capacity, it can play a central role in understanding the root causes of gun violence in the area, which is necessary for developing solutions that promise long-term results rather than temporary fixes.
Further local research, investment and policymaking around gun violence is urgently needed. According to a report published earlier this year by Rice University's Baker Institute for Public Policy, between 2018 and 2021 in Harris County, there were over 1,800 gun deaths, 8,700 nonfatal injuries and over 40,000 crimes committed with a gun where there was no discharge (such as robbery, aggravated assault or gun theft).
Gun violence is a growing concern, but Houston does not need to wait for state or federal leaders to tackle it. Widespread support among area residents for measures that address the issue should be a mandate for the city's next mayor to take action and create a safer city for the future.