As Hurricane Harvey made its way along the Texas coast, it showed the region's vulnerability to such devastating events. Dozens of counties were affected by the storm, some more than others. And while Houston, as the largest city in the storm's path, got much of the attention, new survey findings suggest it's not just Harris County residents who feel flooding is a major challenge facing the area.
Each year, the Kinder Houston Area Survey asks respondents in Harris County, and for the past several years in Fort Bend and Montgomery counties as well, to identify the biggest problem in the Houston area. Traffic, crime and the economy are regular favorites and traffic still got the largest share of responses in 2018. But this year, for the first time in the survey's almost 40-year history, 12 to 14 percent of respondents in the three counties said flooding was the region's biggest problem.
"Respondents in the three counties were equally likely (by 12 to 14 percent) to name the devastation of Hurricane Harvey as the biggest problem in the Houston area today," the report notes, "despite the substantial differences in the degree to which their populations were directly impacted by the storm itself." The survey, which reached some 800 people in Harris County and 350 in both Fort Bend and Montgomery counties, found that Harris and Fort Bend counties reported similar levels of home damage, while Montgomery County respondents were the least likely to report home or vehicle damage.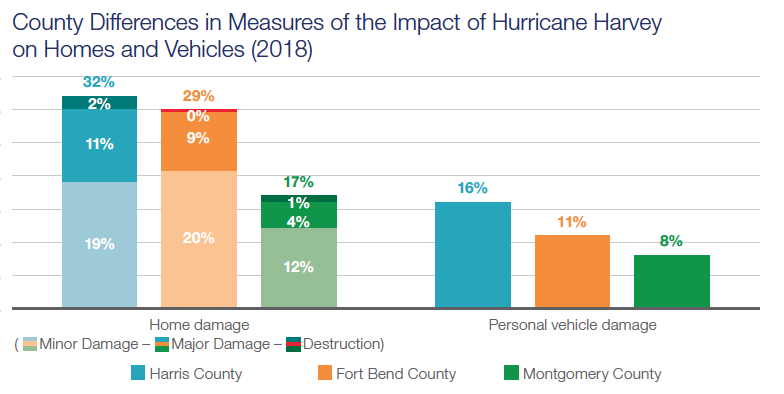 Other studies have documented the reach of the storm as well. In a 24-county survey, the Episcopal Health Foundation found that some two-thirds of residents reported being affected by Harvey, whether directly through damage to their home or car or indirectly through lost employment or income. That study also found geographic differences when it came to impact. While 15 percent of Harris County residents, for example, reported their homes were either seriously damaged or destroyed, 22 percent of residents in the surrounding 12 counties, including Fort Bend and Montgomery counties, said the same. That number was even higher east of the Houston area.
"When I'm in Houston, it's all about Houston," said Sam Brody, director of the Center for Texas Beaches and Shores at Texas A&M University at Galveston and a Kinder Institute fellow. "If you look at the numbers, particularly households impacted, Beaumont comes out higher and if you look at the rainfall, not just over the days Houston got rain but over the storm period, Beaumont got more rain than Houston, Harris County and Galveston County and so the proposals that are being considered in the impact area of Harvey need to consider not just Houston and Harris County but a more regional perspective."
Though Houston often got the headlines as the largest city affected by Harvey, flooding is increasingly being viewed as a regional problem.
"Everyone I've talked to across the region does seem to have a similar level of urgency," said Christof Spieler, an urban planner and project manager with the recently formed Greater Houston Flood Mitigation Consortium, of which the Kinder Institute is part. "I think that's a little unusual."
There also seems to be agreement around issues of development and regulation. The majority of respondents in all three counties surveyed by the Kinder Houston Area Survey were in favor of "better land-use planning to guide development in the Houston area." The question was not asked in the context of flooding specifically but concerns about unchecked development were immediately raised in the wake of Harvey and debated during Houston's recent adoption of stricter floodplain development regulations. Though Harris County respondents were less likely to say so, 67 percent were still in favor of better planning.
The survey also found broad support for a variety of flood mitigation measures, regardless of whether the respondent's home was affected by Harvey or not. "None of them are predicted by whether you were personally affected," said Stephen Klineberg, founding director of the Kinder Institute and the author of the annual survey. "In all cases, a majority of people are saying, 'We need to do that.'"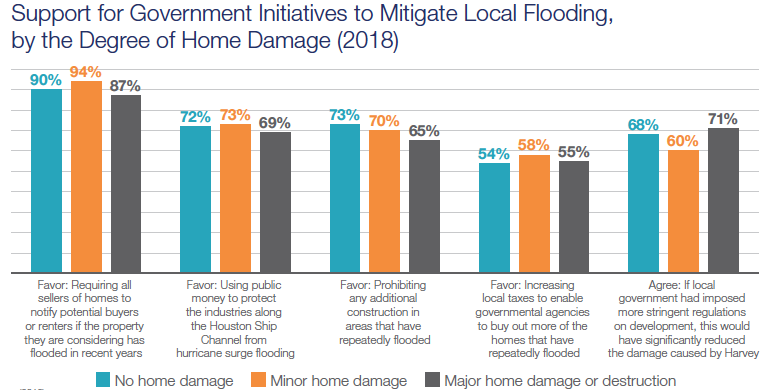 "This is such a huge event and it's not just Harvey," said Brody, reflecting on his experience discussing and studying flood risk and mitigation across the region. "It's every year, somewhere in this area floods. That tangential experience is showing up in people's perceptions."
But it hasn't yet showed up in long-term decision-making. One of the early recommendations after Harvey, championed by Harris County Judge Ed Emmett among others, was for the creation of some sort of regional flood control body.
"Right after Harvey I could've sworn I heard everybody say this is the most important issue we have to deal with going forward," said Emmett at a flood mitigation conference in February. "Where the hell are they? They've got to show up."
Though Brody says he's seen widespread acknowledgement of the issue as a regional one, formal collaboration has yet to be systemized. That's part of what he plans to share with the state in a set of upcoming recommendations.
"Collaboration, to some degree, has to be motivated from the bottom but can be enabled and incentivized from the top," he said, pointing to models in Louisiana and Florida. Working on a set of recommendations for the state, Brody said the state could do things like offer financial or technical assistance incentives or work with existing entities organized by watersheds, like the Texas Water Development Board to strengthen collaborative efforts.
But those jurisdictional dividing lines remain significant.
"County boundaries continue to be a real issue in dealing with these problems," said Spieler. "The watersheds cross county lines and the tools we have to deal with flooding generally don't," explained Spieler.