Six out of 10 adults in America live with a chronic illness such as heart disease, cancer, diabetes or lung disease. Unhealthy lifestyle choices, including smoking, eating poorly, not exercising and drinking too much, significantly elevate a person's risk of joining that growing majority.
These diseases are the leading cause of death and disability in the U.S., Texas and Houston. They're also the No. 1 contributor to the $3.5 trillion in health care costs racked up each year in this country.
Is this alarming? Extremely. But stories of the threat and expense they pose aren't going to rank high on Google's Year in Search recap. Because they present themselves and do their damage slowly over many years, they attract less attention than something surprising and unfamiliar such as the recent rash of vaping-related illnesses and deaths.
Many in Houston are on shaky ground
It's not unlike the poor fiscal health of so many in this country, where the number of households living a financially precarious existence has reached epidemic proportions. Yet there seems to be no sense of urgency to tackle the issue.
Last month, the Urban Institute released a report that diagnoses six of every 10 families in Houston with the financial equivalent of a chronic illness. According to the Family Financial Security Matters for Cities report from the Urban Institute, 518,000 — or 62% — of Houston families are financially unhealthy or insecure. Financial security is defined in the report as having nonretirement savings of at least $2,000. In comparison, the national average is 52%.
Almost 40% of Harris County residents don't have $400 in savings to cover an unexpected cost in case of an emergency, according to the 2019 Kinder Institute Houston Area Survey. That percentage is consistent with nationwide findings from the Federal Reserve.
With no savings, an already vulnerable part of the population is even more vulnerable to unexpected economic events such as losing a job or a serious illness.
"We understand that in our community, financial insecurity impacts many of us and our neighbors. And we have a responsibility to work together collectively to tackle this enormously complex challenge," says Becca Fritze, a manager with United Way of Greater Houston's THRIVE — a collaborative effort by nonprofit partners, government agencies, employers, community colleges and others to provide comprehensive services and resources that help families move toward financial stability.

ALICE families struggle to cover basic living costs
Last year, the United Way of Texas ALICE Report — Asset Limited, Income Constrained, Employed — showed 42% of Texas households struggle to make ends meet despite being employed and making more than the Federal Poverty Level (FPL). In 2019, the FPL was $12,060 in earnings for a single person and $24,600 for a family of four.
That rate jumped to 50% for Houston, while 40% of households in the Greater Houston area were considered ALICE.
An ALICE household is one with income greater than the FPL but less than the basic cost of living — the cost of six basic household necessities including housing, child care, food, transportation, health care and a basic smartphone plan. The basic cost of living in 2016 for a family of four (two adults with one infant and one preschooler) was $52,956, and $19,428 for a single adult, according to the ALICE report. That's a significant amount more than the 2016 FPL — $24,300 for a family of four and $11,880 for a single adult — but the United Way considers it to be a more realistic and current standard.
"The FPL is no longer a realistic measure of financial hardship in households across each county in the U.S. Developed in 1965, the FPL no longer reflects the actual current cost of basic household necessities."
The United Way's basic cost of living or Household Survival Budget doesn't include savings of any kind. The fact is, many families aren't able to cover their expenses, much less put money into savings.
City may be paying the price of economic instability
The financial insecurity of Houston residents is costing the city at least $39-90 million each year, according to the Urban Institute's report, which came out in November. That's because, with no savings to fall back on if they lose a job or get hit with an unexpected expense, they may not be able to afford their housing costs, which could lead to unpaid utility bills and property taxes or eviction.
The odds of a financially insecure household being evicted following a disruption in income is 14 times greater than a financially secure household, the report shows. And they are three times more likely to miss both a housing payment and a utility payment. The report, however, offered no specific data on eviction rates in Houston.
Urban Institute researchers also used credit data such as credit score, delinquent debt and credit use to gauge financial health in Houston. They found that:
More than 40% have delinquent debt, indicating "trouble meeting financial obligations."
One in six residents have medical debt in collections. That's similar to the national average of 16% but less than the 25% average in Texas.
Subprime credit scores and the unbanked
Credit scores range from 300 to 850, and a score of less than 600 is considered subprime. The Urban Institute report reveals nearly half of Houstonians have a subprime credit score, which increases the cost of living by increasing the cost of things like car loans, auto insurance, home appliances and car repairs. For example, a $10,000 car loan paid out over four years would cost a person with a low credit score a total of $13,987. A person with a prime credit score (660 and up) would pay $11,031 for the same loan.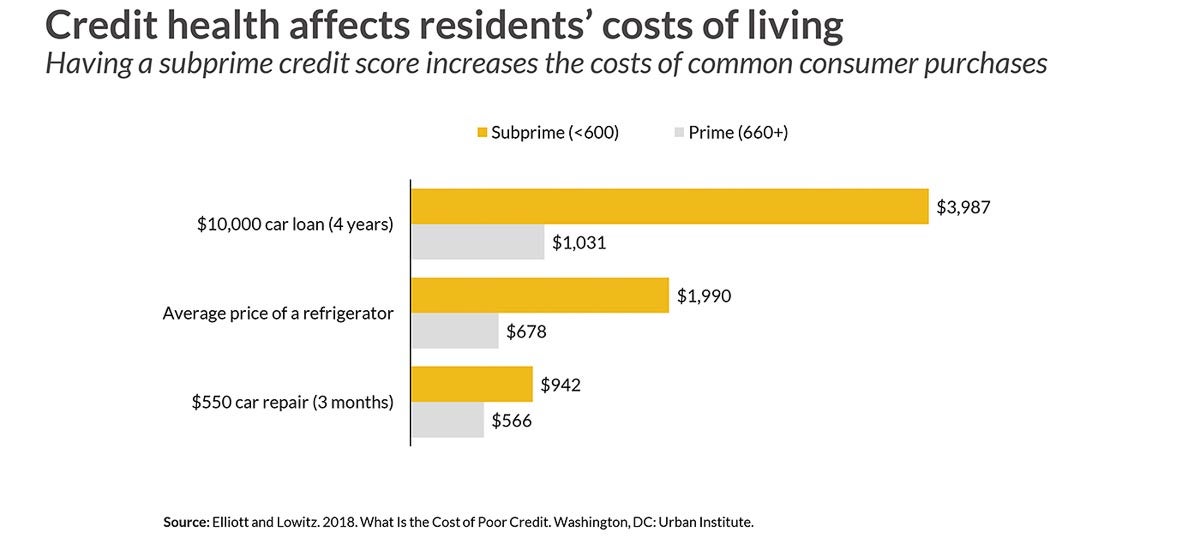 Of course, all of these things — credit scores, access to credit, credit use, debt and delinquent debt — are closely connected. A low credit score makes it hard to borrow money and access credit; delinquent debt can lower a person's credit score; a low credit score increases interest rates, which can increase debt and the possibility of delinquent debt.
Then, there's the problem of the unbanked and underbanked. The Houston area has one of the nation's highest rates of unbanked (11.8%) and underbanked (22.4%). And a disproportionate number of the unbanked are low-income households.
Having a bank account has been shown to lower financial delinquency and increase credit scores. And borrowing from a bank is the most common way to access credit. Without a bank account, people also face extra fees for things like prepaid debit cards and check-cashing services.
Resources available to help families
What can people do to improve their financial health and stability?
There's financial coaching and counseling, and strategies for building a savings cushion in case of emergencies, as well as gain traction for long-term financial stability. Programs like United Way THRIVE and Bank on Houston offer comprehensive, one-stop shops that can help connect residents with all of the resources they need in one place.
"A focus on building savings habits, rather than the amount of savings, is the best way to build long-term savings," says THRIVE's Becca Fritze. "We can help you access incentivized savings products such as matched savings programs or prize-linked savings to jumpstart these savings habits."
THRIVE also offers …
Workforce development services that provide skill-building such as resume writing and mock interviewing, accredited certifications, employment coaching and connections to employers
Financial coaches who work alongside individuals and families to reach financial goals that they set for themselves, rather than prescribing a set of solutions through a "one size fits all approach."
Fritze also recommends not focusing on past problems but to look ahead toward building good credit going forward:
"Often, when we have a poor or subprime credit score, the first reaction is to focus on fixing our credit, and focus on the past or on our negative credit history," she says. "In THRIVE, we take a credit-building approach where we help you focus on building a positive new credit history through access to safe and responsible credit-building products and strategies."
Though not easy, the good news is, just like the chronic diseases plaguing so many in America, financial instability can be treated and managed, or prevented altogether.