In Texas, convicted felons are allowed to vote after serving their sentence, but House Bill 1419 aims to allow convicted felons to vote if they are not currently incarcerated. If it becomes law, felons sentenced to parole, supervision, probation or other sentences not involving jail time would be able to vote. The bill, authored by Rep. Senfronia Thompson, D-Houston, would be Texas' first law since 1997 to address felony disenfranchisement.
Reginald Smith, a policy analyst for the Texas Criminal Justice Coalition, told the Austin-American Statesman felons contribute millions of dollars in taxes, yet current laws prevent them from voting for local, state and federal offices sometimes years after they have rejoined society. In Texas, more than 84,000 felons were on parole as of Aug. 31, 2018, according to the Texas Department of Criminal Justice.
January Advisors founder Jeff Reichman found an additional 30,000+ Harris County residents would be eligible to vote by the 2020 election despite still being incarcerated or on probation. Reichman figured of the 30,000 potential registered voters, more than 3,800 would vote in a municipal election and more than 18,000 would vote in a presidential election (both are based on voter turnout percentages from past elections).
"What would happen if another 3,800 people voted?" Reichman said in his article. "Could that influence how elected officials make policies that affect ex-offenders?"
Untapped voters — regardless of their political views — have the potential to change election outcomes, especially in a city where the 2015 municipal election for mayor came down to 586 votes, Reichman argues.
Reichman also mapped out the demographics of the 30,000 potential voters in Harris County. His heatmaps show the number of disenfranchised ex-offenders per Census block group. The findings include:
Nine of the 15 block groups are majority Black, three are majority Hispanic and three have no majority. None of the 15 block groups have a White majority.
Seven out of 15 block groups are at least 66 percent Black, with five of them at least 80 percent Black.
Ten out of 15 block groups are below the 2017 Texas threshold of 200 percent Federal Poverty Level ($49,200).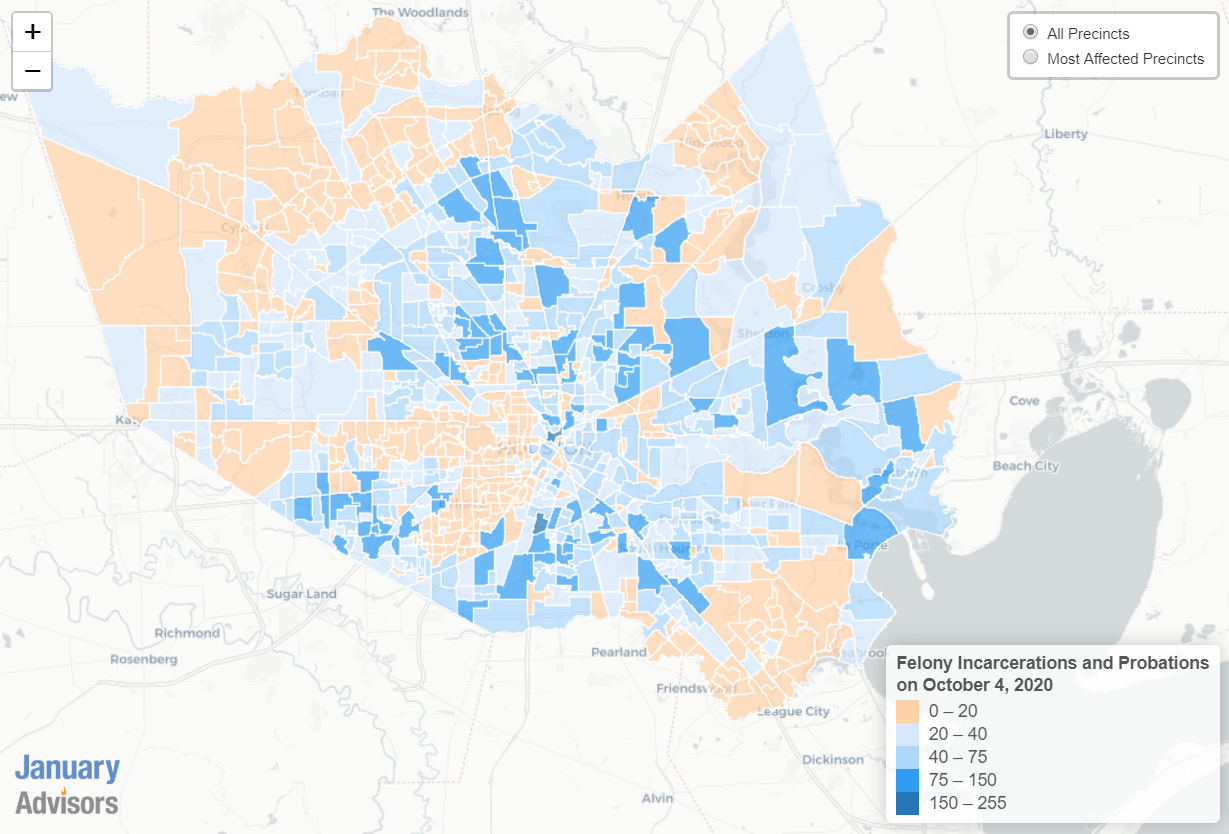 There is no federal law on felons' voting rights, so the decision is left to state governments. Iowa and Kentucky allow felons to vote only if they get the permission of the governor. Felons in 14 states and the District of Columbia lose voting rights while in prison but reclaim them after serving their sentences. In another 22 states, felons lose voting rights while incarcerated but regain them after completing their sentences and parole or probation.
Reichman predicts the debate over felons having the right to vote will continue and presidential candidates will have to make their stance clear. Last week, Bernie Sanders said felons should have the right to vote across the board — incarcerated or not — though, his competition says he's wrong, with some saying "voting is not a fundamental right; it's a privilege."