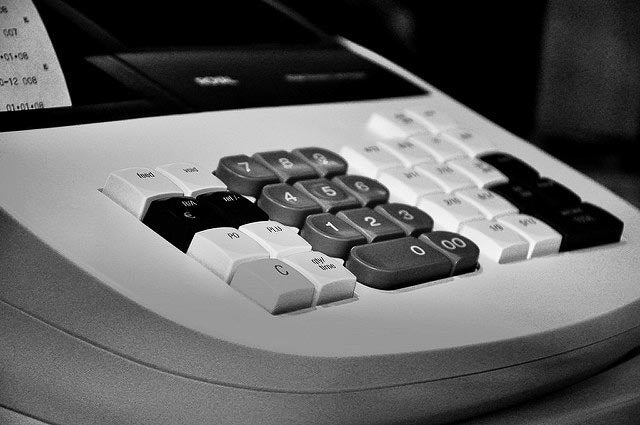 Austin may be the nation's startup capital, but Houston ranks much higher for minority owners of entrepreneurial businesses, according to a new report from the U.S. Census Bureau.
Thirty-one percent of all entrepreneurial business owners in Houston are minorities, according to the Census Bureau's Annual Survey of Entrepreneurs, released Thursday. That means Houston ranks sixth among the 50 largest metro areas, behind only four California metros and Miami.
Austin, by contrast, ranked 20th with only 17 percent minority entrepreneurs. San Antonio ranked eighth with 29 percent and Dallas-Forth Worth ranked 11th with 23 percent.
Houston did especially well among Hispanic and Asian entrepreneurial business owners. Some 16 percent of entrepreneurial business owners are Asian, landing Houston seventh nationally and first in the South by that metric. Hispanic business owners represented 10 percent of entrepreneurs, ranking Houston sixth nationally. San Antonio ranked second behind only Miami for Hispanic entrepreneurial business owners.
Article continues below the chart. Click for larger view.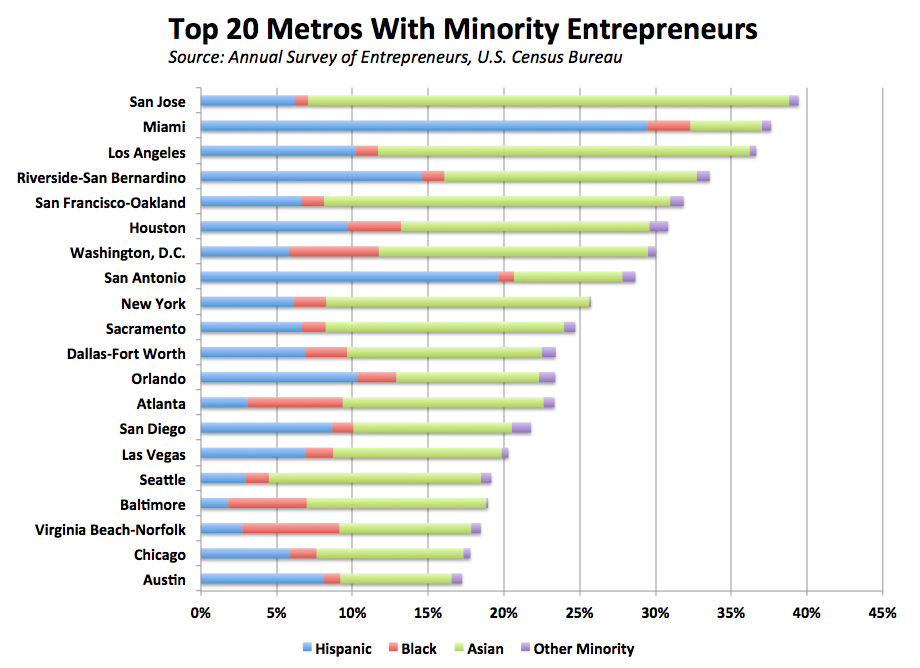 The difference between Houston and Austin may be due to Austin's tech-heavy startup sector, as technology industries are not as racially or ethnically diverse as many other industries.
Despite its significant African-American population, however, Houston did not rank especially high in black-owned entrepreneurial businesses. Only 3 percent of entrepreneurial business owners in Houston are black, even though roughly 17 percent of the greater Houston population is black. Memphis led the nation for black entrepreneurship with 7 percent. Dallas also had 3 percent, while San Antonio and Austin each had 1 percent.
However, Austin ranked better among women-owned entrepreneurial businesses than Houston, though the percentage difference was not great. Austin ranked 12th with about 21 percent, while Houston was 23rd with about 19 percent. Denver ranked first with about 23 percent. The differences among metros for women-owned entrepreneurial businesses was much smaller than the differences for minority-owned businesses.
The data was derived from the Census Bureau's American Survey of Entrepreneurs, a survey of approximately 300,000 businesses in 20 business sectors, which excluded such sectors as public utilities, the postal service and some other business sectors. The survey was funded in part by the Ewing & Marion Kauffman Foundation, which focuses on business entrepreneurship.
In March, the Kauffman Foundation released a separate report ranking U.S. metro areas by the number of startups. Houston ranked seventh nationally, Dallas ranked 12th and San Antonio ranked 13th.
The Annual Survey of Entrepreneurs used a somewhat broader dataset, including most private businesses and their owners, not just startups.
The Annual Survey of Entrepreneurs also broke down entrepreneurial business owners by business sector. The Kinder Institute will examine that data in a future blog.